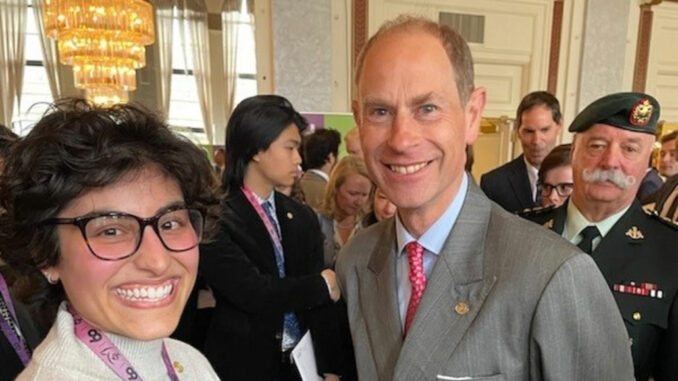 Thirteen days before he witnessed his oldest brother King Charles III crowned at a coronation ceremony in London's Westminster Abbey, the newest Duke of Edinburgh was in Toronto to honour a group of youth who had not only earned bronze and silver in a coveted program that bears his name, but also gold.
Among them was Rachel Smith, a 20-year-old Leaside resident who recently completed her second year at the University of Toronto's Faculty of Arts & Science and who, along with a group of 65 gold winners, had some tete-a-tete time with Prince Edward, who is now the patron of a worldwide program that his late father, Prince Philip, launched.
A global leadership award program designed for youth between the ages of 14 and 24, the program itself was founded in the U.K. in 1956 and has since expanded to 144 countries.
Smith, a graduate of Leaside High School, says the overall award experience has helped "push me past my limits and made me realize that if I put my mind towards something, anything is possible."
She started in March 2017 and with the focus on voluntary service, physical recreation skills and a series of outdoor adventurous journeys, earned her bronze award, which takes six months to complete, and then moved on to the silver level, which takes upwards of one year.
That was followed by a quest to reach gold, which requires a minimum of 78 weeks. While it took longer to complete due to the pandemic, this quest included Skills Development – in her case, self-taught ukulele lessons – Physical Recreation – Smith is involved in Taekwondo martial arts training and successfully earned first degree black belt status – Voluntary Service – she was a weekly volunteer with the Terry Fox Foundation, and embarking on an Adventurous Journey – four days and three nights on a canoe trip in Algonquin Park with a group of friends who were also working on their award.
Last, but not least, was something called the Gold Residential Project, which she describes as "the final capstone to the award," which involves undertaking a shared purposeful adventure away from the comforts of home." In her case that meant attending the Passion to Purpose Conference last year, an event she says helped "me build important lifelong skills including leadership, teamwork, and communication."
The culmination of all that work resulted in an invitation to the Gold Award Ceremony on April 24 at the Fairmont Royal York for both her and proud parents Scott and Kim Smith.
The event featured a private reception with Ontario Lieutenant Governor Elizabeth Dowdeswell, who greeted and presented her and the other winners with their awards, followed by the appearance of Prince Edward.
"Having the opportunity to personally meet with him was an unforgettable moment," says Smith, who is majoring in pharmacology and immunology. "He was genuinely interested in learning about my award experience, making me feel proud of what I have accomplished."
This article was guest contributed by Paul Barker.