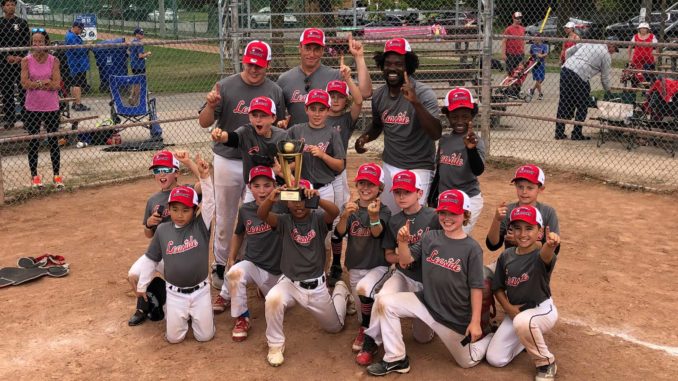 On Mon., Sept. 2nd, a group of thirteen 8-year-old boys made history.
For the first time since 2001, a Leaside Leafs AAA team won the provincial baseball championships.
Coached by Jeff Wolburgh, "Coach Single," Alex Hodgson, and Graydon Joyner, the 9U (2010) AAA team overcame a field of 16 teams and beat the expected winners, the Oakville A's, in a nail-biting 16-14 final game to bring home the trophy. Down by one run going into the final inning, the boys rallied to score three runs, while their solid defence prevented the A's from adding any additional runs.
The team finished third in the provincials last year and had made it their goal to win it all this time around. To this end, their off-season saw a strong emphasis on conditioning and positive reinforcement. Coach Single, an experienced mentor and coach at Baseline Sports, worked alongside the other team coaches to continue the development of the players as "complete" athletes (emotionally, mentally and physically).
Eric Stickney, executive athletic director and self-proclaimed "lifetime member" of Leaside Baseball, points out that this is a win that "the entire community can celebrate,"  and he believes it's a "strong indicator of things to come."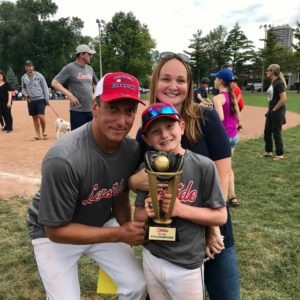 Head coach Wolburgh has a great wealth of experience with Leaside Baseball, having coached his four sons in the league for the last 14 years. He has worked with several of the players of this championship team for six years, while coaching this specific team for the last three.
The head coach greatly admires the players' dedication. These are kids, he notes, who are, "super-competitive, play their hearts out, and all support each other on the field." 
He also comments that it truly "takes an army to coach." He's grateful to the team parents who brought food, cheered in a positive and supportive manner, and organized meals and other details of the multiple tournaments the team played this season.
As for the post-win celebrations, the boys will all get turns to house the championship trophy during the off-season, and have received rings and hats, along with the enjoyment of a raucous pool party at the Wolburgh household.
Congratulations to the provincial champions!