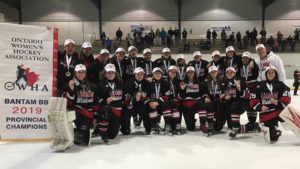 For the first time in 20 years, a Leaside Wildcats team has brought home gold from the provincial finals.
The Bantam BB team was coached by Steve Gross, Robyn Wheeldon, Jason Delgado, Emma Ritchie, Karen McKee, Brandon Parent, Cagla Baktiroglu, and Franky Palazzese.
The team, made up of Grade 8 and 9 girls, had an incredible year, winning two golds, two silvers, and a bronze in the five tournaments they played this year, as well as gold in the provincials.
The team included a player from China and one from Turkey, and was, as head coach Steve Gross noted, "determined, resilient, hard-working, and had grit." It was this grit that saw them persevere in the provincials with a triple overtime win in the eliminations and a double overtime win in the final game.
Player Amelia Campbell called this team a "close-bonded group," noting that it was the team's cohesiveness that made them a strong unit. She also pointed to the effectiveness and kindness of their head coach. Congratulations, Bantam BB girls!