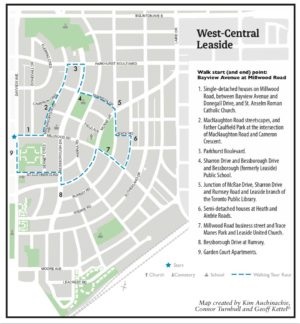 Yes, it's May. For many of us, the first weekend of May is Jane's Walk time – a chance to explore our own or a new neighbourhood, led by a knowledgeable guide. Leaside has been part of Jane's Walks for several years. But this year, COVID-19 has dictated no guided Jane's Walks in Leaside (or anywhere else).
COVID-19 has changed many aspects of daily life, but as in so many areas, we are discovering the possibility of converting the group experience to a solitary or virtual experience. We will start simply with a solo guided walking tour of West-Central Leaside. Each walk takes 60-90 minutes.
Now, given that these solo guided walks are brought to you by the "Saving Leaside" guy, please indulge me as I remind you of what I believe to be an essential background context to all the walks: Leaside as a designed cultural heritage landscape – features that make Leaside Leaside – the Todd town plan (streets layout), the tract development of the 1930s through to 1953, and the few "stranded" settler homes, all of which are set over the earlier Colonial grid.
1. Leaside is believed to be the first new town in Ontario based on Garden City principles, designed as a complete community with residential (west) and industrial (east) uses in 1912 by American-born Frederick Gage Todd, the Montreal landscape architect and one of the founders of the Canadian Society of Landscape Architects. He apprenticed at Olmsted, Olmsted and Eliot in Brookline, Ma. and was responsible for other model towns in Canada: Mount Royal (Montreal), Shaughnessy Heights and Port Mann (Vancouver), Bowling Green (Port Claire, PQ) and Point Grey, BC. Todd's street layout sits within the meta grid of Bayview and Eglinton, the railway lines to the southeast, and the Don River.
2. Leaside presents gently curving and diagonal streets with a rhythmic consistency of uniform setbacks and Modern Classicism style architecture including Tudor and Georgian Revival, and Art Moderne and Beaux Arts (former Bayview Playhouse and Agnes Macphail House). The planned diversity of housing types includes single, semi, multi-family and bungalow house forms, and one/two/three storey heights.
Unique (for Canada) is a concentration of "garden apartment" style multi-family walkup apartment buildings, i.e. Garden Court Apartments (1477 Bayview Avenue); the Talbot Apartments (three blocks – Kelvin Grove, Strathavon, and Glen-Leven – Bayview) and Crestview Apartments (Leacrest/Mallory).
3. Several "stranded" houses of early settlers (John Lea Jr., James Lea, Thomas Elgie) are placed in relation to their farms, and the lanes by which they were connected to Bayview and ultimately to Yonge Street, but misplaced in relation to the current street pattern.
4. And finally, Leaside was an independent municipality from 1913 until 1967, when it amalgamated with the Township of East York, and in 1998 it was amalgamated with the other five municipalities to become part of the City of Toronto.
To see details of walk click here.