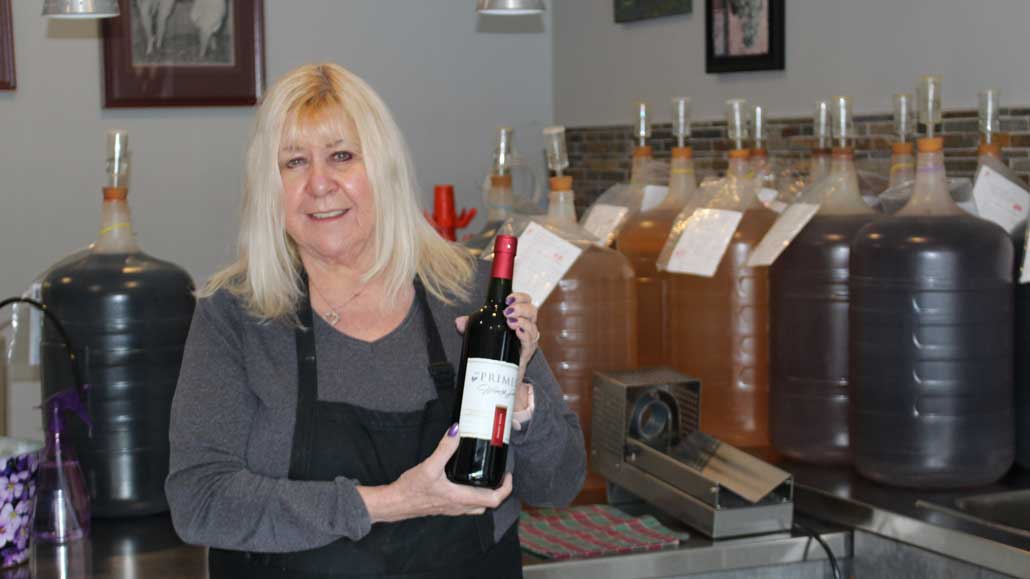 According to J.R.R. Tolkien, the most beautiful phrase in the English language is 'cellar door,' and according to Wiktionary, a 'cellar door' is "the part of a winery from which wine may be sampled or purchased."
With that preamble, allow me to introduce you to Heather Banks, owner of Cellar Door Winery at 884 Millwood Rd.
Twenty-five years ago, a recently-divorced Heather was enjoying dinner with friends. All customers of "Winenot" on Bayview Avenue, they had just learned the franchisee was going to be selling the business. Since Heather was at a bit of a loose end, they dared her to buy the franchise. She took the dare, the very next day. And it's something she's never regretted.
She continued with the business on Bayview for the next 15 years, but a few years in, decided to go independent and held a naming contest with a prize of $200. The prize name was submitted by a customer now living in Australia, who explained the connection between 'cellar door' and a winery. The location on the street was good – her upstairs neighbour was Alex Cheese – but over the years, the rent climbed and those stairs up to street level from the business were hard for everyone to manage.
Driving along Millwood to her home in East York, Heather saw the FOR LEASE sign at 884 Millwood. The landlord was happy that her business hours would be regular, as he lives upstairs, and Heather was happy because this location was at street level, had customer parking right at the door, and featured more attractive rent. A decade later, Heather is still happy with her mid-Leaside location. "I love my store, and I love coming to work."
The basics for a business like Cellar Door involve having access to reputable suppliers for the wines to be made. Heather is pleased to be able to offer wines supplied by Winexpert, Vineco and Arterra. In January, she was sending out the list of limited-edition wines to her customer base – wines from Chile, Spain, Argentina, Australia, France and Italy. Customers can place their reservations or these special wines for the year, but specify when they want to bottle and pay for each 30-bottle batch. Her customer base includes regulars who now live in Niagara-on-the-Lake and Haliburton, and places in between, but come back because they love the wines Heather can provide and enjoy doing business with her. In other cases, someone will receive a bottle of 'her' wine as a gift, and then show up at the store to make their own.
Her winter wines come in a number of varieties, but most people choose reds with corks. The high-end reds take six to eight weeks to make, and then should be put away for six to 12 months. Just about all her summer wines are Pinot Grigio, from California or Italy, with corks or screw-tops. Her son, Sean, and her boyfriend, Frank, help out when needed but Heather usually manages the store on her own. She's even picked up some computer skills along the way, from never even touching a computer at the start.
Heather is grateful that when COVID-19 restrictions shut down many retail businesses, hers was decreed to be essential. "The phone was ringing off the hook," she says, so much so that her suppliers were having trouble keeping up.
If you phone Cellar Door Winery (416-486-9463) and Heather doesn't pick up, listen to her message. As well as giving business particulars, it says: "A day without wine – what's the point?" Heather's philosophy to a T.