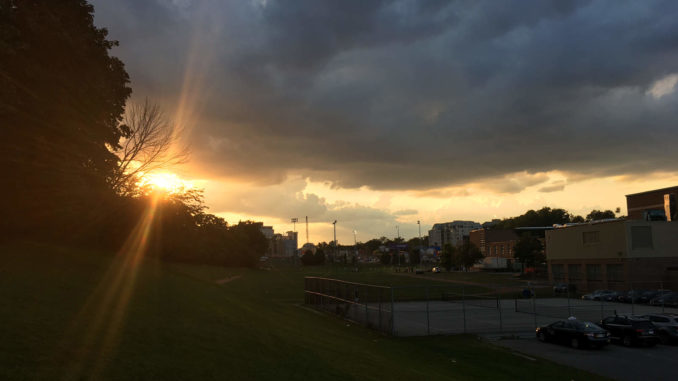 According to MacNaughton Rd. resident Michael Stevenson, Talbot Park outside Leaside High School is still "a disgrace" even after he's been complaining about it for over 15 years.
"The track is encroached on by grass. The whole thing is a shambles," he says. "If Mr. Talbot could look down he would say, 'Damn, what are these people up to?'" The "people" Stevenson refers to include members of Leaside High School's administration and Councillor John Parker, whom Stevenson has contacted over the years about the park's condition.
"I've telephoned him several times and written to him," he says, "and all he says is that 'We have to keep the balance'."
The latest letter Stevenson sent to Parker was on Oct. 9. In it he asked why there had been no follow-up on his request of three months earlier for an update of plans for the park.
In December, a report on park planning was tabled at city council, with no notification to Stevenson and still no reply from Parker. The report was general, and not about individual parks.
Shortly after the meeting, in an interview with me, Roger Macklin, general supervisor for Parks and Recreation, North District, said that the problem with the field at Talbot Park is that it is in use for many more than its recommended 700 hours per year. In fact, in 2011 there were possibly 1,800 hours of use, including 1,000 by Leaside High School students.
That use goes back to a 1947 agreement between the school board and the former Town of Leaside to let the school use the field from March through June and from September through to November each year during weekdays. By comparison, regular city parks don't start giving permits until mid-May and close at the end of September.
This means that Talbot's field has a smaller window of time to be re-sodded, over-seeded, top-dressed and maintained. Sodding and re-grading were done in 2011, and a partial turf tarp was put on the field last winter to try to help, but without much success.
"They spent hundreds of thousand of dollars resurfacing the track, then within six months ruined it again because they had no rules on when not to use it, such as in inclement weather," says Stevenson, who is wary of the report's conclusions.
Macklin agrees that in the future the school should not use the field when it is particularly wet.
He notes that in other well-used parks in Toronto, artificial turf is being installed. But at Talbot the turf would be on top of a sanitary pipe close to the school. The field is also too narrow for the standard turf dimensions, 46 metres as opposed to 67 metres.
Meanwhile, as long as it snows, the field at Talbot Park gets a bit of a rest from organized sports – to be replaced by disorganized ones – like tobogganing. That's why Parker last year asked that there be no tobogganing down the hill.