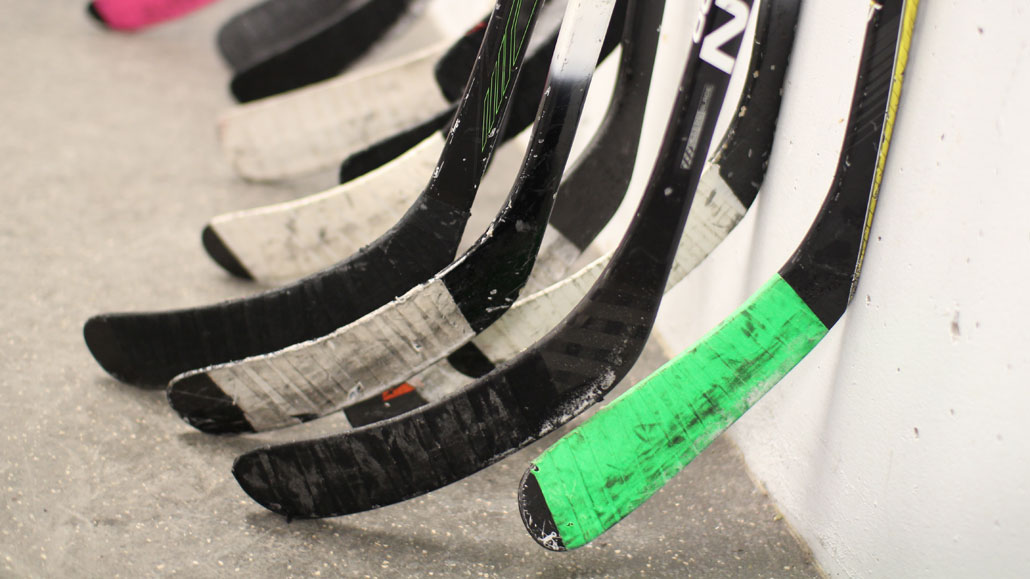 As we turn the corner on the hockey season, both in the NHL and at good old Leaside Memorial Gardens, I'm reminded that I became the hockey player I am today – enthusiastic, competent, but with deteriorating hand-eye coordination as I age – thanks to endless hours of road hockey in front of our house in the '60s and '70s. As odd as it sounds, playing road hockey back then was an act of civil disobedience. In fact, road hockey was technically against the law. Signs were sometimes posted reminding us of our delinquency, but we accorded them the same respect we extended to the signs prohibiting golf in Howard Talbot Park, and "boisterous play" at the Leaside pool. In other words, we ignored them.
Nobody seemed to think our flagrant rejection of law and order at such a tender age might set us on a path to a life of crime. But still, whenever one of the old bright yellow Toronto Police cars would cruise along Parkhurst and glance in our direction, we'd immediately drop our sticks, and saunter nonchalantly down the street as if returning from Sunday school. It seemed to work, though it was tough to pull off while wearing goalie equipment. Clearly this was a law that was seldom enforced, but I suppose if we'd chosen to play on Bayview Avenue, we might have caught some heat. But our games were in front of our house on Donegall Drive, a very quiet street.
For years, we didn't even have a net, so instead, we propped up an old and dilapidated piece of plywood against a garbage can. It worked remarkably well. Whenever we shot wide of the plywood target – and we shot wide a lot – the ball would sail into our dense hedge that bordered our backyard. That hedge is still there. I have no doubt there remain dozens of tennis balls lurking there amidst the foliage. Our games usually ended when we lost our last ball.
It's become a cliché in Canadian road hockey lore that kids would yell "car" whenever a – yes, you guessed it – car rolled down the street, driving right through the area where our Stanley Cup playoffs might be in full flight. But on our street, we never yelled "car." That would be too predictable, too pedestrian, if you will. No, our signal, shouted loudly and proudly, was the word "weasel." And no, I have no idea how that came to be, but it stuck. I wonder if kids playing road hockey on Donegall today are still using "weasel," passed down from generations of road hockey players before them. I suspect not.
It's worth noting that a couple of years ago, Toronto City Council lifted the ban on road hockey, effectively grandfathering – or perhaps the word is pardoning –all those kids, like my brother and me, who'd defied the prohibition in the preceding decades. While clearly falling into the "better late than never category," Toronto City Council made the right call. Who knows how many Connor McDavids or Mitch Marners might now emerge because they're finally freed from the regulatory scourge of the road hockey ban?
My twin brother Tim and I still play a version of road hockey. We've played ball hockey on Thursday nights in a community centre gymnasium since the early 1980s. And we also play in a wonderful men's ball hockey league at Withrow Park in Riverdale. In the heat of the game, it still feels the same to me as it did as a kid, although cars no longer interrupt the action. It's the recovery time that has changed. Growing up, we could play all day, every day, and frequently did. Now, I need a week before my legs are ready for another game. And that first day after a game is, well, ugly. I walk like a 90-year-old with bad hips and artificial legs accompanied by moans and groans that can be quite disconcerting to those nearby. But any skills I still possess, any hockey sense that still circulates in my brain, any ability I still have to snap a shot to the top corner once in a while, you can trace to all that ball hockey I played in front of our house on Donegall Drive with a piece of plywood for a net. It was part of growing up in Leaside.