Garden Court Apartments on Bayview Avenue – Leaside's Beaux Arts masterpiece (Leaside Life, February 2018) – comprising 10 buildings set around a landscaped courtyard, features a unique laid back Art Moderne elegance. Or at least it did! In the last three years tenants have experienced ongoing renovations, noise and dust.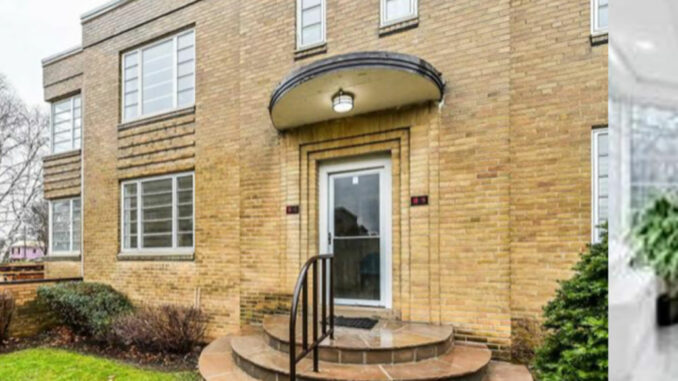 Of course, Leaside residents close to the growing number of redevelopment projects are familiar with these problems, and for Garden Court residents, there's more to come, with the Valu-mart across the road expected to bite the dust shortly, and a new mid-rise to appear in its place. There will be more years to come of construction chaos.
But Garden Court tenants' concerns are not just about noise and dust, but also ongoing erosion of what they consider to be the "heritage aspects" of the property. Tenants I spoke to say that "little by little they are making this place look nothing like a heritage property. …It looks more and more like a downtrodden old building."
Here are just a few examples:
-Trees being cut down with no replacements
-Balconies redone with shoddy workmanship
-Replacement entrance railings and unit numbers that look nothing like the originals
-Porch overhangs (that were one piece of copper originally) ripped off and replaced with multi-piece aluminum
-Walkways with thick flagstone replaced with thin stone that just looks "cheap."
To their credit, the owners have undertaken some restorative work, including replacement of the windows while retaining the original window features, infrastructure upgrades to the HVAC system, and renewal of the landscaping.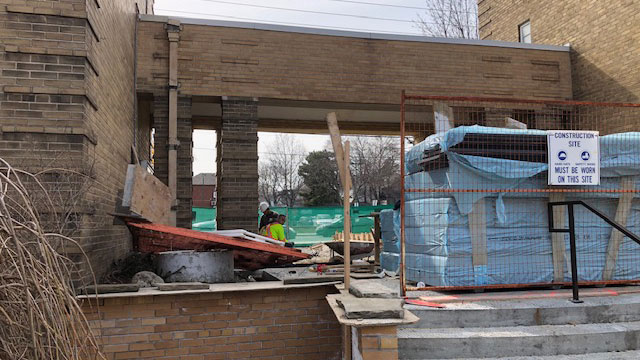 Affordability is another issue. For each of the past three years rents were raised above guidelines – this year 5.5% (the guidelines are 2.5%) – presumably because of the upgrades and renovations. For seniors on a pension this is a real concern: will they end up homeless because of the increased cost of living?
The property was included on the heritage inventory of the former Borough of East York in 1982, and designated under Part IV, Section 29 of the Ontario Heritage Act in 1987. The City revised and updated the reasons for designation in 2016 but these were appealed by the owner. They were finally approved in 2018 after the owner dropped the objections at the Conservation Review Board.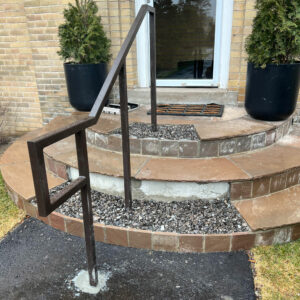 Are the current changes contravening the reasons for designation? Despite repeated requests to Heritage Planning, no inspection has been undertaken to date. Of course, Heritage Planning may be overwhelmed right now – thanks to Bill 23 they have to look at all the "listed" properties and potentially bring them forward for designation, and all by December 2024.
Unfortunately, this picture of chaos and unfairness seems to be an increasingly common situation with tenants across Ontario facing long delays at the Landlord and Tenant Board, and with older rental buildings targeted for intensification and tenants "demovicted." Could this be the hidden motive: to let the building run down and then return with a new plan to intensify?
Hard to say, but take a walk though Garden Court and take a look for yourself. And spare a thought for the hard-done tenants who struggle, in their formerly tranquil, still beautiful haven.