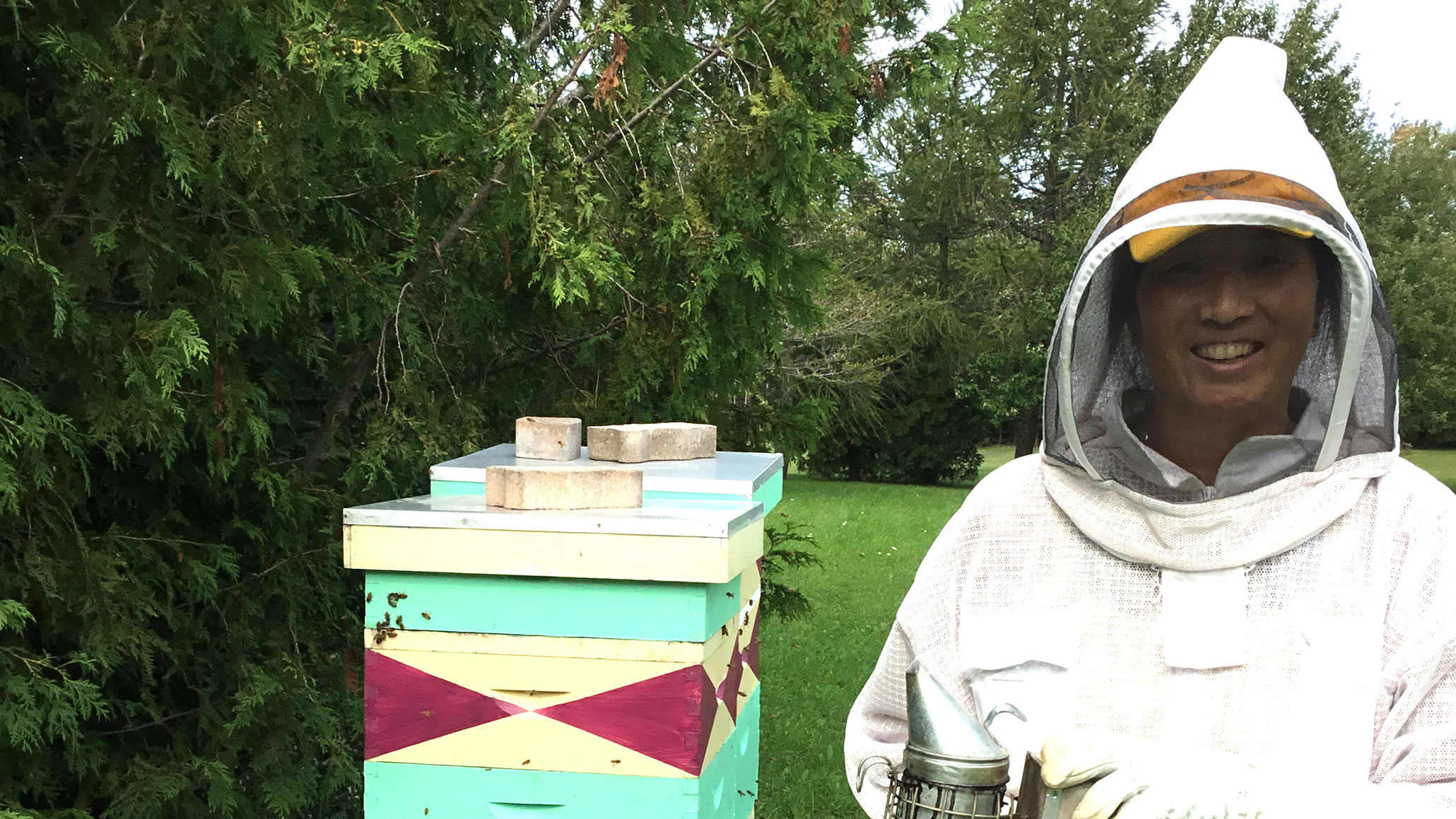 What's your plan for retirement?
While some retirees choose hobbies or sports such as book clubs, gardening, or cycling as their new pursuits, one Leasider has adopted a unique undertaking.
Julia Edey took up an activity before taking early retirement which has become an absolute passion.
Beekeeping!
Yes. She's incredibly brave. She's also, as she notes, "smitten."
Edey's interest in beekeeping was first piqued when one of her son's teachers at Rolph Road School told her class about her work in the field.
But Edey was too focused at the time on gardening both at her Leaside house and her family's property in Collingwood.
While she initially contemplated opening a nursery, her reading and studying about the topic kept bringing her back to the need for bees to keep a garden growing, and the importance of bees to our whole ecosystem.
Not waiting for her to make her mind up, husband Glenn stepped in, and under the Christmas tree, left his wife the book Beekeeping for Dummies.
That did it. Edey completed an introduction to beekeeping course in the town of Innisfil and notes that from the moment she entered the "bee school," she was "mesmerized."
Buzzed, really.
In 2018, her first year of beekeeping in Collingwood, Edey purchased a "nuc," (a nucleus colony from a larger colony with a queen bee) of about 5,000 bees. That year, she focused on practising and mastering the skills necessary to maintain, and increase her apiary.
With climate change, the use of herbicides and pesticides, and a variety of mites, there has been a worldwide decline in the bee population.
Avoiding chemicals and working diligently, Edey has increased her apiary to two hives but would ultimately like to double that number.
At the height of this past summer, each of her two hives had about 60,000 bees in each. Yes, she has been working with 120,000 bees.
Now in her fourth year of beekeeping, Edey is a fount of bee knowledge. She can easily identify each member of the bees in her hives by role. (Did you know that worker bees actually have various jobs such as being guards, housekeepers, nurses, nannies, etc.?)
Edey is thankful and ecstatic that she found a new passion at the age of 50, pointing out that it's never too late to learn and undertake new adventures.
While she works hard, often losing track of how long she's tending to her hives, she's found another benefit to her craft. Her work "calms (my) mind a lot. You have to be mindful, and very focused."
With bees producing different tasting honey depending on the flowers they visit, Edey would love to grow a field of lavender.
To find her comb or pure raw honey, visit the Leaside Community page on Facebook to purchase her sweet products.