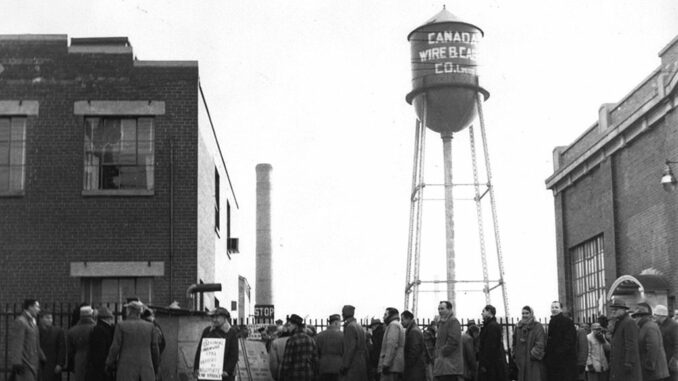 If you're like many Leasiders, you may not know about the Canada Wire and Cable company's water tower. Like other bygone Leaside landmarks – from the Bayview Ghost apartment building and the old CP train station to the rotating "Sangamo Electric Meters" sign at the corner of Laird and Eglinton – it has passed into oblivion.
But for almost 40 years, the structure was a familiar and reassuring sight along Laird Drive, announcing to all who saw it that Leaside was a growing and important community – home to some of Canada's major industries and employers.
When the water tower was constructed in 1919, Leaside was still largely a community of open fields and few houses. The nearest water source, other than well-water, was supplied by a six-inch wide pipe terminating at the city limits on Eglinton west of Bayview. This couldn't meet the needs of Canada Wire, which required substantial water pressure to support its expanding operations.
The company therefore built its own pipeline, connected it to the city's watermain and built a 120-ft. tower and 75,000-gallon storage tank to ensure sufficient water pressure. The cost was just under $13,000.
The new water supply not only benefited Canada Wire, it also attracted other companies to Leaside – acting as a major growth catalyst for the young community. Proud of its achievement, the company inscribed in huge letters "Canada Wire & Cable Co. Limited" on the tower for all to see.
For the next several decades, the water tower was an integral and visible part of the Leaside landscape. Canada Wire employees, who at their peak numbered more than 2,500, saw it daily as they entered and left work. Leaside residents used it as a reassuring beacon to help guide them home in the days before modern street-lighting became commonplace.
By the mid-1950s, though, the tower was no longer in use, although it still stood tall and visible as a landmark. It was finally dismantled in 1956 and sold off as scrap. Three years later, Canada Wire built nearby a 100-ft. vulcanizing extruder tower. Ironically, it too became a Leaside landmark for many years until its demolition in 2002.
Just before the water tower was demolished, Globe & Mail ace reporter Ralph Hyman wrote a tribute which touchingly captured the tower's significance:
From the Globe & Mail, April 26, 1956: "Perhaps a plaque will be placed on the spot where the tower stood for nearly 40 years. Old timers in Leaside…would like to see the past remembered in the present. Many were young men courting their girls when the tower went skywards in all the brightness of spanking fresh paint. To a younger generation it may seem silly to wax sentimental over something so strictly utilitarian, but to middle-aged men and women who have seen Leaside grow from a scattering of houses to its present size the old water tower holds memories that span the past and the present."
This article was guest contributed by Ted DeWelles, Leaside Heritage Preservation Society