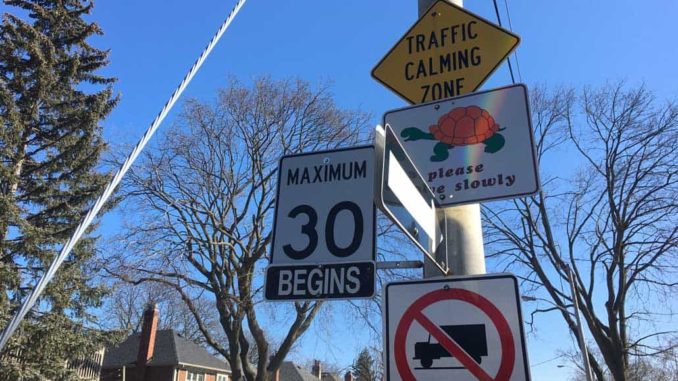 Fed up with congestion on our streets, both local and arterial? Tired of coping with road closures for road repair work and condo construction? Running out of creative strategies for avoiding anywhere along the LRT construction route?
We all need some good news in the traffic category, and it looks like we're about to get some, although it won't happen right away. Still, good news from City Hall is good news. And here it is:
It's Vision Zero 2.0, an important set of staff-proposed city-wide traffic policies undergoing evaluation at committee and City Council. Aimed at safety and accident reduction, it recommends lowering speed limits on both arterial and local roads. Speed limits on arterial roads like Bayview Avenue, Eglinton Avenue, and Laird Drive would be lowered from 60kph to 50kph; collectors from 50kph to 40kph; and local roads from 50kph or 40kph to 30kph. These changes would be phased in between 2020 and 2026, with arterials having the priority beginning in 2020. Changes on local residential streets would begin in 2021.
Community councils would have the authority over changes to the speed limits on local roads, and after identifying what are referred to as "designated areas" (i.e., individual residential communities like Leaside), these policies would come into force and be imposed on a whole-neighbourhood basis, not street by street. It is called a holistic speed management strategy.
Vision Zero 2.0 does not just propose speed reduction. It also proposes measures such as traffic calming through road design improvements, public education, and automated speed enforcement. Importantly, the city's Transportation Services has already been instructed to review the current warrants for traffic control measures, since in the past traffic warrants have emphasized maintaining efficient traffic flow, not safety considerations.
All in all, Vision Zero 2.0 is a very positive initiative. However, I am concerned that the timeline for these changes is so extended. Many of the proposed signage and traffic calming changes need not be expensive, and could be introduced earlier.
We should not have to wait till 2021 (let alone 2026), when we already experience many traffic-related incidents on Leaside streets, and when we need more safety measures now.
The traffic calming plan proposed by the Leaside Property Owners' Association at the end of 2018 should be a good fit with Vision Zero 2.0. If there is support from Leasiders for a shorter timeline, and supportive work on our behalf by our Councillor, I feel optimistic that real change – real improvement – may actually happen.
The next LPOA Board meeting is Wednesday, August 7th, at 7:30 p.m., in the Trace Manes building on Rumsey Rd. We invite you to attend and learn what is happening in our community. Our meetings, which are always open to the public, take place on the first Wednesday of each month.