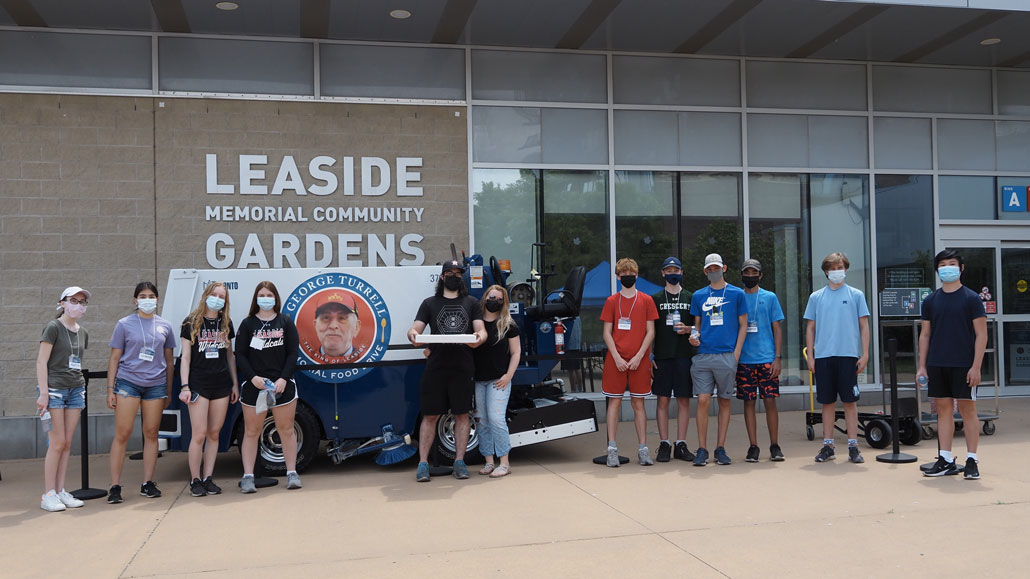 Last September I optimistically wrote the headline "Leaside Gardens: Welcome to the New Normal" because, in addition to gearing up for a return to the classroom, there was added excitement as the 5,000 visitors Leaside Garden's normally welcomes in a typical week were anticipating a return to play. Fast forward 12 months and I can honestly say there has not been much "play" at all. Now, I am pleased to report that for the first time since Nov. 23, 2020, Leaside Gardens welcomed its first skaters back on the ice at the end of July.
For those new to the community, Leaside Memorial Community Gardens (LMCG) opened its doors in 1951. A Leaside community-led expansion rallied in support of LMCG to raise nearly $3 million, since fundraising was the only way a desperately needed second rink could come to fruition. The effort paved the way and The Dr. Tom Pashby Play Safely Rink opened in 2013 – the first new rink built by the City in over 30 years. The National Post ran a story at the time reporting that "under the proposal, the city will front the arena management board $7.5-million (called "recoverable debt") and contribute $1-million; Ontario will loan the project $1.5-million…the board plans to pay back the loans over 25 years. [Thus] Toronto gets a new public rink at minimal cost to taxpayers."
New organizational structure to support innovation and growth
Loan repayment remains a top priority for the LMCG board, as being shuttered for such an extended period without sources of income has been a major challenge to overcome. To date and with the City's support, LMCG has not requested or received outside funding or financial assistance and the board of management continued to pay its staff. During this period, the board worked closely with City finance representatives to address outstanding issues and confirmed with the Capital Works department their commitment to investing approximately $6 million towards upgrading and renewing older parts of the facility between 2023 and 2025.
In addition to vigilant cash management, the LMCG board worked during the shutdown to identify ways to operate more efficiently by making improvements to facility operations, updating its procedural bylaws, and optimizing its organizational structure – one that had remained largely unchanged since 1951 – to reflect the skills required to meet the needs of the post-expansion facility. Moving forward, the role of general manager has been replaced by two new positions: director of business and finance, and director of operations. To this end, the LMCG board was pleased to announce that Catherine Shaw has assumed the role of director of business and finance as of August 5, and the role of director of operations is currently posted.
Leaside Gardens welcomes two new board members
Leaside Memorial Community Gardens Arena is one of eight City of Toronto indoor ice arenas operated by a board of management. These City boards were established as a means of engaging the local community in the decision-making for managing these facilities. On May 22, the City appointed two new members to the LMCG board of management: Jennifer (Jenni) Purves and Craig Uyeno. Jenni is an accomplished financial expert with considerable experience in regulatory compliance and corporate governance. Craig is an equity analyst who learned to skate at the Gardens, came up through the Leaside Flames youth program, and went on to play NCAA Division 3 hockey at Tufts University. In addition to the new members, the City also renewed the terms for Chair Kathleen Mackenzie, Chair, Operations & Community Relations Committee Chair Janice Ivory-Smith, and former Vice Chair Glenn Asano. Navin Katyal was elected vice chair and Chris Forbell continues his term as treasurer.
This unprecedented past year has also brought staff and board departures. The LMCG board wishes to thank former general manager David Hamilton for maintaining the facilities to a high standard. The board would also like to thank former treasurer John Masterson for his years of unwavering commitment to Leaside Gardens, and former board member Donna Howard for her contributions. The board would also like to acknowledge the outstanding work of Anna Donadio for her 26 years of service to Leaside Gardens and wish her all the best for a healthy and happy retirement. Anna served as acting general manager from 2018 to 2020, which is the first time a woman has held the GM role at a City of Toronto board-run arena.
Whether a fourth wave is on our horizon or not, the planning and changes made this past year bode well for the continued success of Leaside Gardens and its ability to successfully support its user groups and the community. Finally, I am happy to write, Leaside Memorial Community Gardens is open, and on behalf of the board and staff, we look forward to welcoming you back!
Did you know that LMCG together with its user groups donated 47 boxes of food to Thorncliffe Park's TNO Food Bank this summer? Did you know in Ontario, concussion-related rates for children have quadrupled between 2003 to 2013, and the last Wednesday of each September has been designated as Rowan's Law Day to help raise awareness about concussion safety? Let us know at .