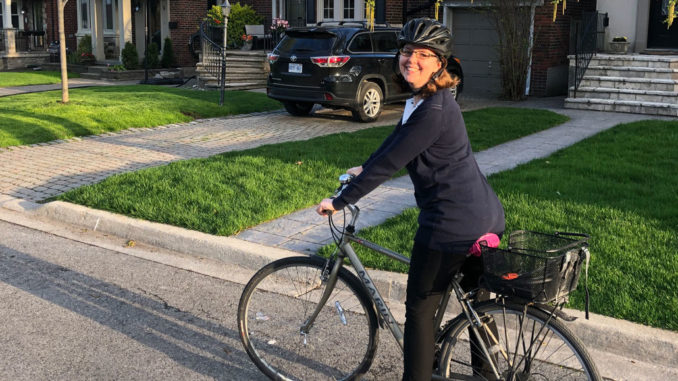 Just in time for Bike Month in June, Cycle Don Valley Midtown is launching a Cycling Commuter Coach program to help people considering commuting by bike give it a try. Carmen Jones, who lives in Leaside, and Daphne Jackson, who works in Leaside, are heading up the program, which pairs individuals with experienced cyclists for route planning, equipment checks, safety tips and a practice ride on the weekend.
The better way
Carmen, who works as an oncology nurse at Princess Margaret Cancer Centre, converted to commuting by bike a few years ago. "I was finding my commute by TTC unreliable and wanted a better way. Even though I have cycled all of my life, commuting by bike felt intimidating. A colleague at work told me that I could do this, got out a map and showed me the way. That was two years ago and now I commute just about every day, unless it's pouring with rain or there's snow on the road. I love it!" Since then, other co-workers have asked about commuting by bike and she's helped them get started.
Save time and money
A physiotherapist at Holland Bloorview Kids Rehabilitation Hospital, Daphne commutes to Leaside from her home at Yonge and Lawrence. She also strives to do most of her errands by bike and knows her way around midtown. "You can get to work so much faster by bike and that may let you sleep in a little longer, which is a bonus. Plus, it's cheaper – no gas, no insurance and no parking to pay for."
Overcoming the barriers
According to the Ontario Traffic Council, about 60 per cent of people who bike in urban municipalities can be described as "interested but concerned." Cycle Don Valley Midtown's Cycling Commuter Coach program aims to help people overcome the barriers preventing them commuting by bike. Feeling confident and safe are key, and that means having a bike in good working order, lights so motorists and pedestrians can see you, a bell to let others know you are there, comfortable clothing appropriate for the weather, a lock to keep your bike secure, and a tested route that gets you to your destination in the safest way possible.
Daphne notes, "People worry about arriving sweaty for work, but there are lots of ways to minimize this. Taking it a little slow and enjoying the ride will help you keep cool both physically and mentally." As Carmen explains, "Everyone has different concerns, and you can be assured we have overcome many of the same barriers. I am frequently altering my route to find a safer option."
Ready to give it a try?
Email to connect with Carmen and Daphne. With better weather and quieter roads, the summer is ideal for getting started. And June is Bike Month in Toronto, so check the Events section for more stuff to do.
Holly Reid is a recreational road rider and cycling commuter. An advocate for safe cycling, she is a member of Cycle Don Valley Midtown, Cycle Toronto's advocacy group for Wards15/16.