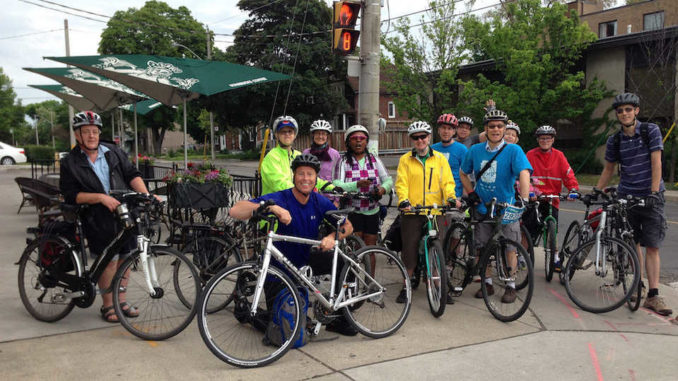 Earlier in the year, a few Leasiders from Cycle Don Valley Midtown attended the launch of a new report from The Centre for Active Transportation (TCAT) about biking beyond the downtown core. The report highlights the different needs and challenges when building a cycling culture in the suburbs. Toronto's cycling network in the downtown core is considered to be "developed." Outside the downtown core, not so much.
Cycling infrastructure 
says "suburban"
As noted in the August 2018 Leaside Life, Leasiders have access to great biking routes through the trail system and neighbourhoods to the south and east. And as Susan Scandiffio wrote in the same issue, we have amazing mountain bike trails on our doorstep in Crothers Woods. But within Leaside proper, our only cycling infrastructure is a signed route on Broadway Ave. This would suggest that our cycling culture is suburban, focused on recreation and not transportation.
With some changes on our local roads and better connections to and from our neighbourhood, Leasiders could enjoy the best of both – safe connected routes for utility cycling, such as errands and commuting, and easy access to Toronto's multi-use paths and trails for recreation. According to TCAT, Toronto's suburbs (of which Leaside is one) have 1.5 million daily car trips of 5 km or less that could be comfortably cycled, eliminating the estimated 1.25 kg of CO2 emissions associated with each car trip of the same length. Toronto is targeting 75 per cent of these trips to be biked or walked by 2050.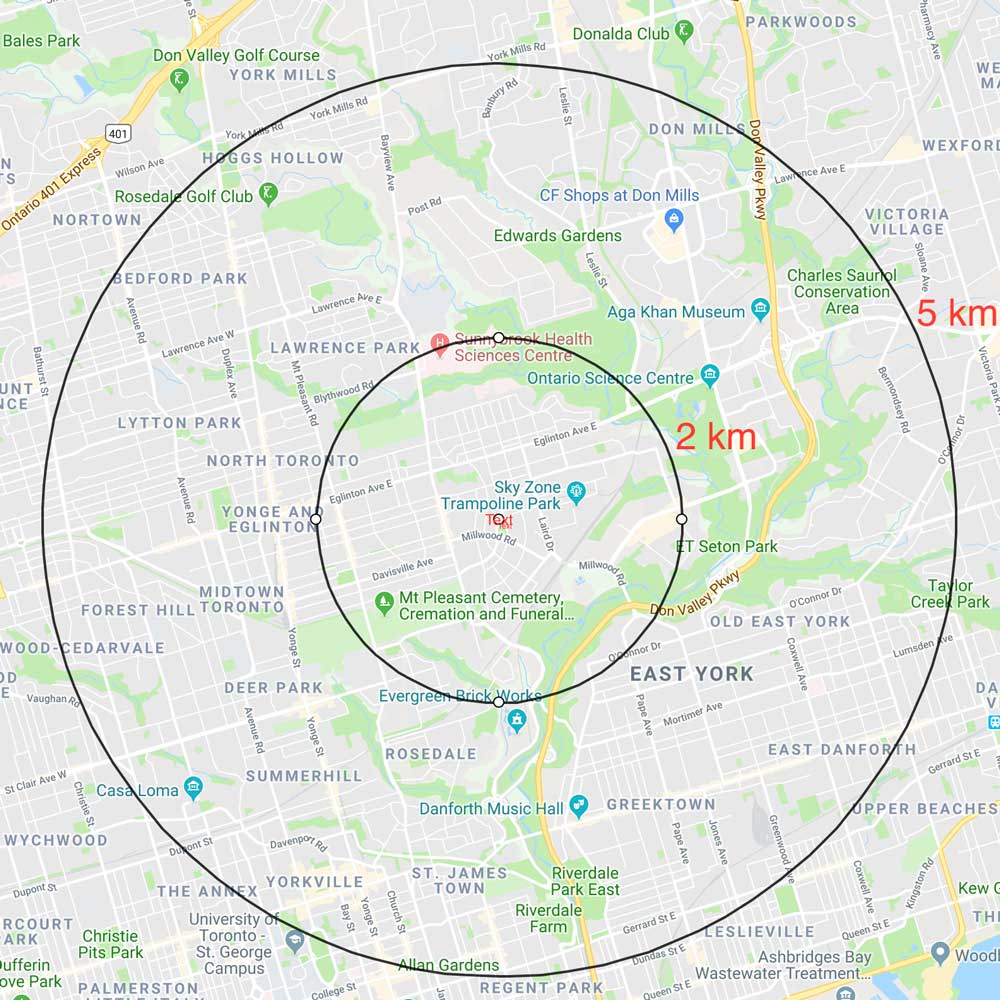 More urban-style 
infrastructure needed
As the accompanying map indicates, a 5-km radius from Leaside library covers considerable territory. Destinations, such as Sunnybrook Hospital, the Shops of Don Mills, amenities on Eglinton, Mount Pleasant and Yonge Street, and subway stations from Rosedale to Lawrence, are all within reach by bike. Dial the distance down to 2 km, an easy distance for walking or cycling, and you have covered all of Leaside's amenities – schools, sports facilities, places of worship, the library, community centre and local shopping and dining.
While destinations may be close, the route to get there by bike can sometimes be intimidating. Cycle Don Valley Midtown is developing a proposal for safe and connected routes within Leaside that complement the LPOA's traffic plan. Eglinton Connects is on track to deliver protected cycle tracks for east-west crosstown travel by bike. Both Laird in Focus and Midtown in Focus include transportation studies to examine cycling options on major corridors. If these plans come to fruition, Leasiders will be in a cycling sweet spot with access to both urban and suburban facilities.
Holly Reid is a recreational road rider and cycling commuter. An advocate for safe cycling, she is a member of Cycle Don Valley Midtown, Cycle Toronto's advocacy group for Wards15/16.