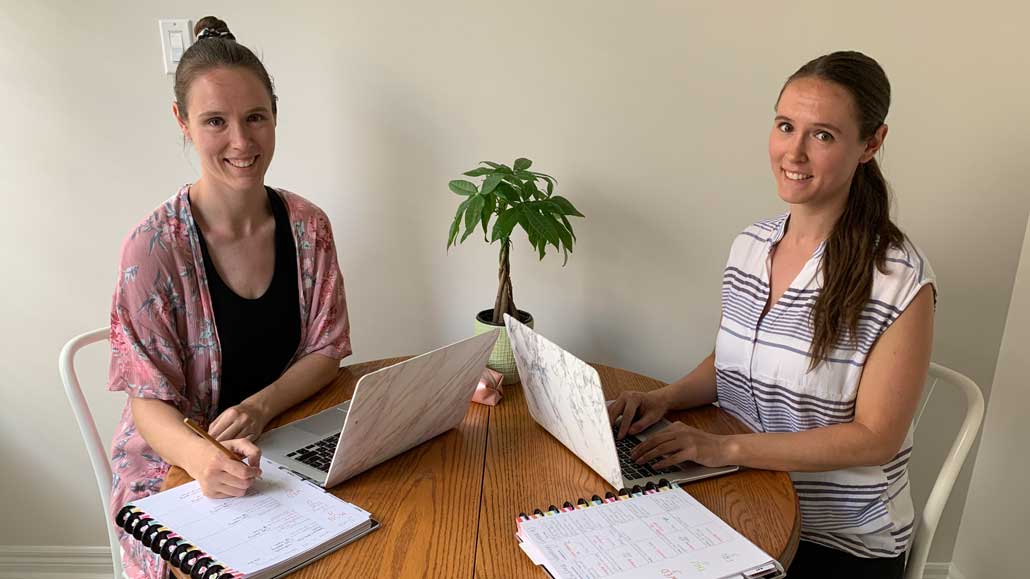 Even as children, Leaside twins Kimberly and Laura Malouin knew they wanted to be teachers when they helped their aunt set up her classroom. Now, with their years of preparation and varied experiences, they are facing their most challenging assignment: teaching online during the COVID-19 pandemic.
After attending Bessborough Public School and Leaside High School, Laura and Kimberly pursued their dream in the Trent-Queen's Concurrent Education Program, graduating in 2013. Both started in the TDSB as supply aquatics instructors, then became occasional teachers and obtained their permanent contracts in 2018. Currently, Laura is back at Bessborough teaching a variety of courses in Grades 7 and 8, primarily History, Geography and Language. Kimberly is teaching a Junior/Intermediate Autism Program at Bedford Park Public School.
This was Kimberly's second year in the autism program, and she used Google Classroom as a platform to deliver her "intensive support program" starting in April. Because consistency is key for her students, she allocated specific subjects to each day of the week and posted activities for the students to complete each day to maintain a routine. She and her child and youth worker also used Google Meet to continue their regular morning meetings to guide and support the class. Her approach worked well, judging by the appreciative feedback from parents.
Since Laura's classes were already using Google Classroom as part of Bessborough's technology initiative, the transition to online learning was easier for the students. For most of her classes, she posted lessons and assignments on Monday to be completed by the end of the week, allowing the students to follow their own schedules. She also conducted Google Meet with her homeroom twice a week to maintain a sense of connection and address common questions. 
Both teachers spent their days planning lessons and activities, marking assignments, providing feedback and taking part in video meetings. Their work clearly had positive outcomes, as the sisters report that the students were dedicated to learning and completing their tasks. The sisters were impressed by the students' resilience in adapting to the changes, and said that most of them did very well, though some found it difficult to focus on their work. But as Kimberly said, "During this time, handing in assignments and meeting deadlines was not the number one priority; rather it was the students' mental health and well-being."
While both the students and their devoted teachers were thankful for the chance to connect on Google Meet, they found it a challenge not to be able to see each other in person to discuss their work and everyday events. Kimberly missed "cheering her students on and witnessing their 'aha' moments," while Laura added, "Everyone has now realized the importance of face-to-face interaction even in our technological world, and has come to value it more."
Both sisters feel they've learned more about themselves as educators, have become more flexible, and have improved their technology skills over the past few months.  Still, they will never again take for granted the sheer pleasure of going to school every day.