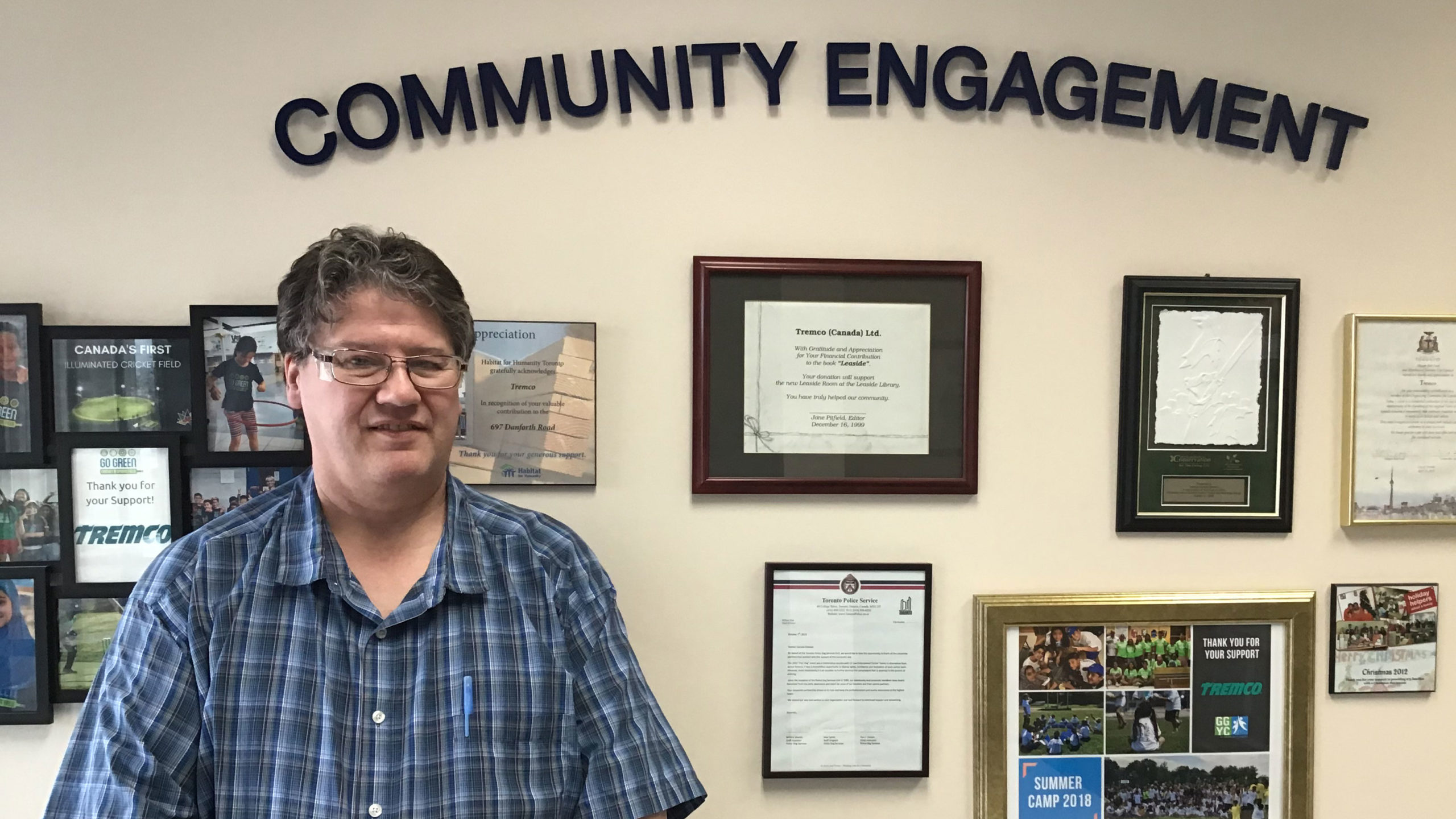 It is fortuitous that Tremco, in the Leaside Business Park, is the company we wanted to tell you more about for this April issue, when we are emphasizing environmental responsibility.
Tremco, from the time they first set up shop on Wicksteed Avenue more than 60 years ago, knew they were in an environmentally sensitive location, abutting the Don River. Since their business is to produce commercial and industrial roofing products, sealants, caulking and waterproofing, there are a lot of chemicals involved. The company puts great effort into environmental health, safety and sustainability. They measure their footprint and try to improve year by year. Containment of any spill is vitally important.
They work hard to reuse, recycle, and produce less waste. At the end of the cycle, absolutely nothing goes to landfill. Instead, material is shipped to Energy for Waste to be repurposed. In addition, any contractor hired has to meet Tremco's standards for their treatment of waste as well.
Even though the company has been in the neighbourhood longer than many of us, most people only know the name from driving the back road to Thorncliffe via Wicksteed, or seeing the Tremco name on the side of a tractor trailer.
I learned more about the company from Paul Vergunst, plant manager for the past decade.
A lot of product leaves the plant. In prime season, for instance, there can be 10 tractor trailers a day on their way across Canada, the US and even headed overseas.
Tremco tries to be a good neighbour, by adjusting the timing of their arrivals and departures to very early morning, and then early afternoon, to avoid jockeying into position off Wicksteed when there is other heavy traffic.
In total, there are 190 employees on Wicksteed, some of whom have been with the plant for their whole career. And there are jobs to be had at Tremco – either on the plant floor, in the warehouse, or in sales, marketing, accounting or IT support.
Dealing with chemicals means employees need to work safely all the time. Vergunst and his staff encourage a safety culture by being coaches rather than managers, training staff to have "the right protective equipment for the right job, every time." Because equipment and processes are updated as technology changes, employees need to be nimble in assessing risks, and ensuring all workers know and use the current protocols.
The company is very aware of their close residential neighbours. Tremco staff engage with the Leaside Business Park Association and the City of Toronto to understand neighbourhood issues, and then do their best to find the right solutions.
As you can see by reading the testimonial plaques in the front entrance to the main building, Tremco boasts strong connections to the neighbourhood – supporting the Go Green Cricket Field, having student placements from Marc Garneau Collegiate, and being part of the Leaside 100 sponsorship group, among others. An old neighbour, and a green one.