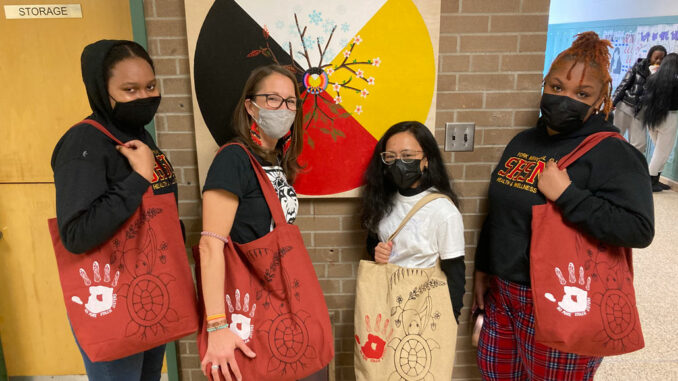 Tobie Loukes is fiercely proud of her Indigenous roots.
And for those students lucky enough to be taught by her, Loukes is an inspirational wealth of knowledge about Indigenous culture and history.
Coupled with her passion for, and skill in artistic ingenuity and instruction, Leasider Loukes provides her students with multiple creative outlets to express their understanding of Indigenous identity, relationships, and sovereignty.
Loukes's father is Anishinaabe from the Alderville First Nation Reserve. Loukes maintains strong ties to the reserve, where she stays during her time away from the classroom.
She has been teaching Arts, Fashion and Design since 2004 and currently teaches Grade 9 art and Grades 11 and 12 fashion and design, infusing Indigenous content into all of her courses.
Imparting her knowledge of anti-Indigenous racism, Indigenous world views and culture, Loukes invites her students to explore various art forms used by Indigenous artists and learn to identify and describe relationships between the art forms and traditions, philosophy, and culture.
Her innovative approaches and projects with her students have not only resulted in beautiful artwork, but her students, inspired by Loukes, have also sold various pieces of their work to raise money for Indigenous organizations.
Leading up to Remembrance Day, students used water colours to paint poppies. They then transferred their designs onto buttons which they sold to raise money for the Legion as well as the Indigenous Veterans Initiative.
In November, her Grade 12 students learned about the Indian Act and its link to the epidemic of missing and murdered Indigenous women.
Using one of Loukes's designs, students sewed tote bags which they sold to raise money for the Native Women's Association of Canada.
As they sold out almost immediately, the students are now sewing more bags leading up to May 5th, the National Day of Awareness and Action for Missing and Murdered Indigenous Women, Girls and Gender Diverse People, also known as #RedDressDay. (Some bags will be sold on the Leaside Community Facebook page.)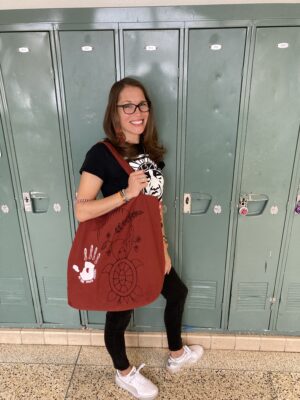 "The students," Loukes notes, "are excited to be able to sell their art. They love being entrepreneurial."
Several of Loukes's students have become passionate about sewing, and with the donation of machines from Leasiders, Loukes was able to accommodate 12 students who didn't have machines at home. Students have been using the machines for their own projects and are sewing additional tote bags as part of the volunteer hours they must complete before graduation.
Leasiders also pitched in to help with a sculpture project which Loukes is working on with her students.
Using women's shoes donated by those in the neighbourhood, each student will create a sculpture with a shoe and found objects. The shoes will be spray-painted red and used collectively as part of a large installation to mark the National Day of Awareness and Action for Missing and Murdered Indigenous Women.
Loukes's expertise in the field of Indigenous studies has led to her facilitating a First Nations, Métis and Inuit (FNMI) course with York University.
The course is designed for teachers wishing to effectively integrate the rich cultural history and traditional teachings of the FNMI into their own instruction.
With her passion for imparting her Indigenous teachings and culture, Loukes has become a treasure for students and anyone fortunate enough to be able to listen to and learn from her.