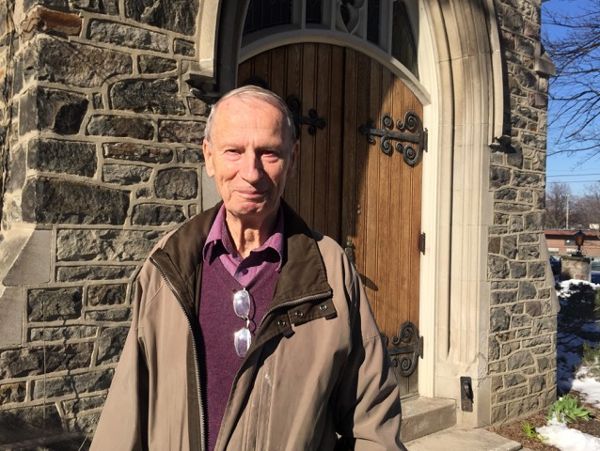 June 1 marks the 75th anniversary of the official opening of Leaside United Church at Millwood and McRae.
"The building was designed," says North Leaside resident Doug Brown, "in the Gothic Revival style that was very popular for churches built in the first half of the 20th century, modelled on an English cathedral but on the scale of a parish church."
He ought to know.
The retired architect was the third generation member of his family to head the architectural firm that was once the leading designer of churches in Canada and designed Leaside United.
Doug's grandfather, J. Francis Brown, established the firm in 1891 when he set out on his own after serving apprenticeship for several Toronto architects, including Wm. Kauffman for whom he worked on the Gooderham (Flat Iron) Building. Doug's father, Bruce Brown, took over leadership of the firm from his father in 1942; Doug joined the firm in 1962 and was senior partner from 1972 until his retirement 20 years ago.
"Our firm designed over 120 churches across the country – from Halifax to Lethbridge – including at least 80 in the Toronto area, and five right here in Leaside. For a while in the 1950s we were building 10 or 15 churches a year.
"We've designed churches for all denominations but more United than any other."
Leaside United is special for Brown because all three generations of his family were involved.
"My grandfather designed the original church sanctuary – it was actually one of the last projects that he worked on – that was built in 1940-41. My father designed the north wing, including the hall, that was built in 1950-51, as well as the organ chamber in 1956, and I designed the south wing, including the offices and Sunday School rooms, that was built in 1968. It's been a family affair."
He shows a photograph taken on the front steps of LUC on opening day, June 1, 1941, showing his grandfather in the back left, along with the minister, the Rev. Harry Mellow, in front, and eleven other officials of the congregation and the denomination – all men.
Today the minister, director of Christian education and director of music are all women.
The Rev. Emily Gordon just assumed her duties as minister on April 24. Leaside United is her first call (permanent placement) after an internship in Kincardine and a short term appointment at Trinity St. Paul's in Toronto.
April 24 was a big day for the church. In addition to welcoming Gordon and thanking The Rev. David Macdonald who had served as interim pastor for the previous six months, the church also celebrated its new status, after two years of education and preparation, as an Affirming Congregation, "meaning one that is inclusive and welcoming of all people," says Gordon, "without barrier due to age or disability, gender or sexual orientation."
The guest speaker that day was The Rev. Judith Evenden, one of Canada's first openly gay ordained ministers, and attending that service were both the MP, Rob Oliphant, and his partner Marco Fiola, and the MPP, Premier Kathleen Wynne, and her partner Jane Rounthwaite.
"It was one of the most uplifting experiences of worship that I've ever attended," says Bob Lister, who along with his wife Lis, have been attending Leaside United since the 1970s.
Lister chairs the Refugee Settlement committee. "Another way that we're inclusive and welcoming is that we've been sponsoring refugees for almost 40 years," says Lister.
"Our first family came from Viet Nam in 1979. Since then Leaside United has welcomed refugee families from Guatemala, Cambodia, Sri Lanka, Ethiopia, Iran and Iraq. And now we're working with other churches and groups in the area to bring two Syrian families to Toronto."
Leaside United is well-known for its Awesome Sale held twice a year and organised by stalwart George Hurst and a big team of volunteers. This fall's sale, held May 13 and 14, raised $32,000 to reach more than $700,000 over the past 20 years.
"A few years ago we made a decision that at least 25 percent of the funds raised had to be used on outreach," says Lister. "It's about the people and many of those who help are not necessarily from the church but are from the broader community."
The focus on people over property is apparent in the fact that Gordon and Lister said the congregation had so far made no special plans to mark the 75th anniversary of their church building. "It's a challenge between celebrating the building and not being confined by it," said Gordon.
"But maybe we'll do something in the fall," added Lister. "The fall is the time for anniversaries."