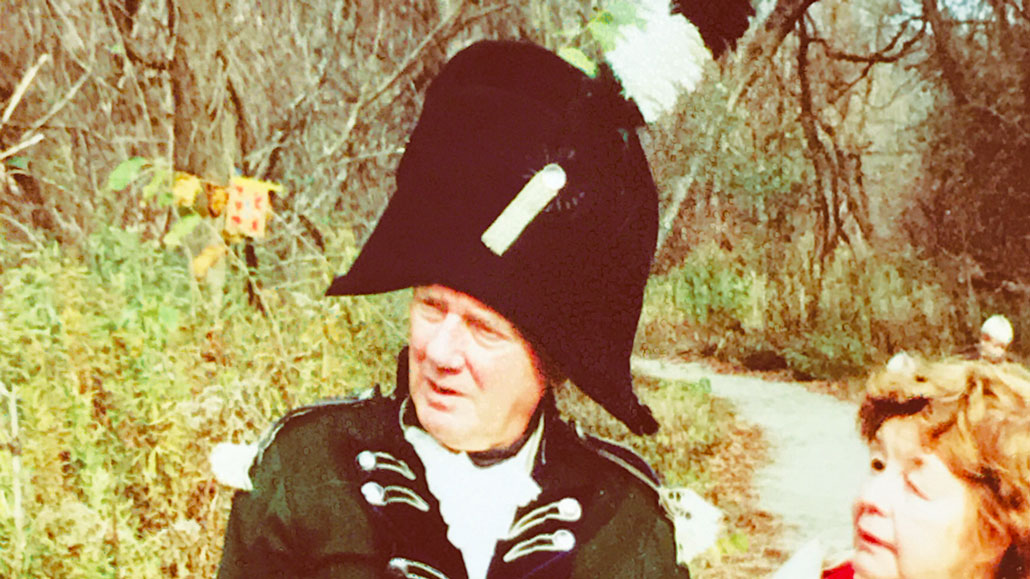 Why is this man dressed in a military uniform from the early 1800s?  
Michael Stevenson, a Leasider for over 50 years, is originally from Yorkshire. After completing training at the Royal Military College at Sandhurst, he served in the British Army all over the Commonwealth. (Read Allan Williams' interview with Michael in the Nov. 2016 issue of Leaside Life to learn more.) All told, he served and visited 42 countries.  
In charge of British Week in Regina in 1967, he met up with the Commanding Officer of the Queen's York Rangers in Toronto on his way home to Britain. The CO made a persuasive case for a move to Canada for Michael and his family that saw them take up residence here that same year. Once in Canada, though no longer serving in the military as his day job, he kept his military connections through the Queen's York Rangers, a Canadian Armed Forces Reserves unit.
The Queen's York Rangers happened to be the regiment connected to John Graves Simcoe, the first Lieutenant-Governor of Upper Canada (now the province of Ontario), and the City of Toronto was honouring Simcoe by giving his name to the August civic holiday.  
It also just so happened that Michael took command of the Queen's York Rangers at this time. He wondered, why not get some publicity for the regiment by having "someone" dress up as Simcoe? By default, he became the "someone" when no one else volunteered. This was also the time when the Honorary Colonel of the Queen's York Rangers was David Stewart from Montreal – who had recently sold Macdonald Stewart Tobacco to set up the Macdonald Stewart Foundation, and had a keen interest in Canadian history. He bankrolled having a replica of Simcoe's uniform tailored in England for Michael to wear.
For the next several years, Michael Stevenson donned his Simcoe uniform regularly to preside and speak at any number of Simcoe events in and around Toronto, including locally at Todmorden Mills in what was then the Borough of East York, laying wreaths at Simcoe's statue at Queen's Park, attending dinners at the Royal York Hotel, appearing at public events in the City of Toronto, and even "being Simcoe" at the naming of a bridge honouring Simcoe's wife, Elizabeth, near Newmarket.
The uniform is now on display in the Museum of the Queen's York Rangers at the Fort York Armories. Michael is still here in Leaside.