Ever made that age-old New Year's resolution to lose weight?
Out of all the New Year's Resolutions made, an estimated 30 per cent focus on losing weight. But not all make a date to beat the scale. For some, the desire to gain weight is often just as, if not more, challenging.
Kenzie Forbes, a 17-year-old Leasider, found herself needing to gain weight when, at the age of 15, an injury forced her out of her 15 to 20 hours per week of synchronized swimming. Hoping to maintain her figure, Kenzie reduced her caloric intake while at the same time increasing her exercise. The young athlete dropped to 85 pounds before she realized that her health was dramatically compromised.
Knowing there are a number of health issues and genetic reasons that people want, and need, to gain weight, Kenzie set out to discover how to do just that in the healthiest way possible.
Choosing to use her co-op option at Leaside High School in Grade 11 to shadow physical trainers, Kenzie discovered correct and safe ways to gain weight.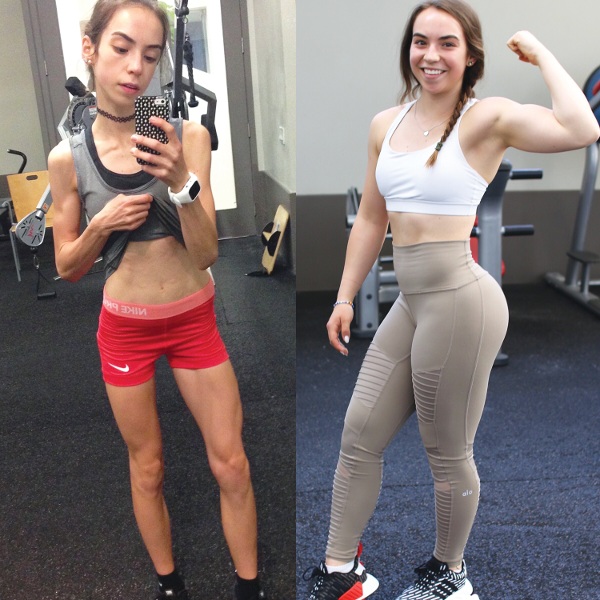 An extremely driven young woman, Kenzie has worked with multiple trainers and nutritionists to develop a strategy she shares with an astounding 300,000 followers on her Instagram account (kenziefitness). Now at a healthy 140 lbs., Kenzie happily asserts that she has "never felt happier and healthier." Kenzie's program comprises eating healthy food as fuel and exercising to build muscle strength correctly. Her messages of striving for fitness and wellness versus perfection have inspired countless numbers. It's not, as she contends, about being skinny, but rather, being healthy.
Kenzie, along with Jolene Kohne, a registered kinesiologist and personal trainer, has put together programs for anyone wishing to work out at home (no equipment necessary) or at the gym. The programs provide pictorial and detailed instructions on exercising in a healthy and safe way. To date, the programs have been sold to hundreds and the business is beginning to take off.
While Kenzie did not start out with the intention of growing her own business around her personal journey to good health, she has motivated many to start on their own journey and has truly found her calling. Now hoping to hone her skills in marketing, social media, and business to help impart her knowledge, the young woman is applying to various universities for September.