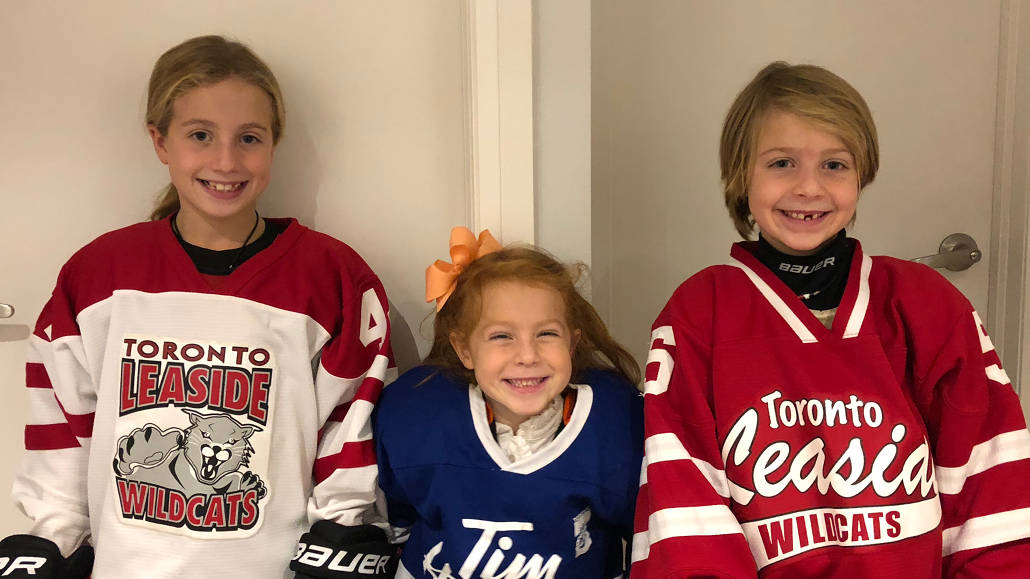 There are two things I have wanted almost my entire life that just aren't in the cards. From the age of 9, I desperately wanted to be on Hockey Night in Canada as a colour commentator or interviewer. And, I always wanted a sister. (Three older brothers didn't always cut it.)
This month in our running series of hockey profiles, we introduce you to the DeMelo sisters. Three sisters. Three hockey players. A dream team in my eyes!
Charlotte, Grade 4, Simone, Grade 3, and Annalise, SK, are students at St. Anselm's School, and all play with the Wildcats. They're a tight-knit group of sisters who obviously have each other's backs, finish one another's sentences, laugh at each other's stories, and cheer one another on.
While they all love playing hockey, they have other interests and their own personalities.
Charlotte, according to dad David, is the rule follower who hates being late. She runs cross-country, plays soccer, swims, skis, bikes, loves to make slime, enjoys birthday parties with great loot bags, and (with her dad wincing), reveals that she loves to watch wrestling if she discovers him watching it! She is also a naturally talented dancer who is amazingly flexible.
Simone, meanwhile, plays all the same sports as Charlotte, but also wants to snowboard. She is an artist, according to mom Amy, who likes to check out multiple library books so she can study what interests her. She's currently studying how animals create their natural habitats.
Annalise is the family fashionista who wears a different hair accessory every day (her collection of bows is unrivaled). She loves to play with babies, whether they're her cousins, or dolls.
When it comes to hockey, they come from great hockey parents. Amy and David negotiate TV hockey watching time, drive countless hours for practices and games, annually purchase a hockey sticker book which the girls fill, build an outdoor home rink, and David coaches their teams.
All three girls are lefties (a much-sought-after asset in hockey), but each has slightly different strengths and interests in the game.
Charlotte, currently in her fifth year of hockey, is a Pittsburgh Penguins fan and plays centre and winger. She has a great analytical mind when it comes to the game, breaking down the opponents' strengths and weaknesses. As Wildcats teams are made up of girls from two grade levels, she and Simone play together every other year, and last year Charlotte scored the winning goal in a shootout as the Wildcats won gold at the extremely competitive Brampton Canadettes tournament.
Simone, meanwhile, is a Golden Knights fan as she is an admirer of Marc-André Fleury.
She was a goalie (like Fleury), but now much prefers playing forward as, she points out that she likes "getting breakaways and scoring goals." She is also analytical, pointing out that her team has become more successful in "starting to spread out and pass better." A highlight for Simone was playing in a scrimmage during an intermission of a Leafs game.
Annalise, a classic youngest child (like myself) is confident, forthright, and funny, saying that she likes to play goalie, "just kidding!" She loves "Cindy" Crosby as they share the same birthday, begged her parents to let her play hockey, and is currently in the Learn to Play program. While her parents point out Annalise's love for the social side of the game, she is also clearly an ardent follower, rhyming off her favourite Leaf players.
The girls have important hockey knowledge, including which hotels to avoid during tournaments (there may or may not have been a gross bug incident) and which off-site tournament activities are most fun (trampoline parks are a favourite).
The DeMelo sisters are a force to reckon with. They're strong together and confident apart. And their love for the game of hockey is unsurpassed. A definite dream team.