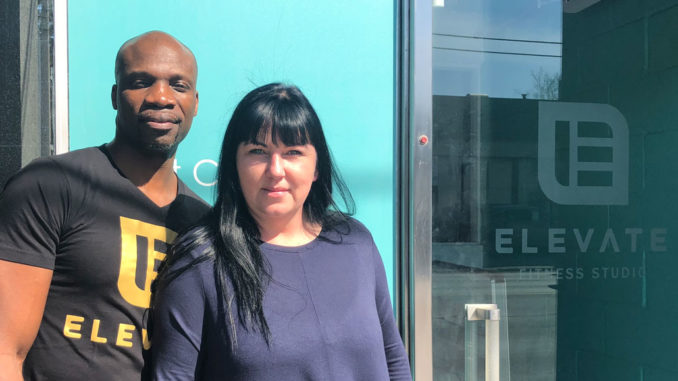 Leaside boasts a wealth of independent business owners, many of whom are personally committed to our community. One such business moved into the neighbourhood nearly a year ago with a particular commitment to youth.
Elevate Fitness Studio opened its doors on Laird Avenue last June. In that short time, the owners have forged great partnerships with clients of all ages but made it a key focus to mentor teens and involve them in their community in a special way.
Operated by husband and wife team, Angela and Garfield Watson, Elevate has a clientele from the neighbourhood as well as loyal fans who have moved with them from their former location. With Angela referring to Garfield as "the talent" and herself as "the boss," the two are a close-knit couple who share the same values when it comes to family and community: giving back is paramount.The gym itself has a family feel and appeals to participants of all ages, from toddlers to seniors. But, while Garfield has worked with many high-profile and highly successful amateur and professional athletes over the years, he is a strong advocate for fitness education and mentoring for kids from a young age. He has developed youth programs on behalf of the Ontario Olympic Committee and worked at many schools developing fitness programs for kids. He has also volunteered in lunch-time and after-school kids' fitness programs.
Aiming to get as many kids moving as possible, Garfield partners with local organizations to offer free registration to those who may not otherwise be able to afford classes. All registered kids are offered classes in cardio and circuit training, and for those aged 8 to 16, boxing (with pads and heavy bags – non-contact). In order to move onto higher levels in the boxing classes, kids are required to perform one hour of community service with their instructor. In the past, Garfield and Angela have worked with their students in community clean-ups, planting, local seniors' homes, and they have already forged many volunteer relationships in Leaside. The studio will be offering a summer camp designed specifically to promote confidence, self-awareness, teamwork, and volunteerism.
Providing kids with the vision of community building and volunteerism is, for Garfield and Angela, a prime focus of their lives and their business. They believe deeply that kids need mentorship, whether from themselves at the studio or from others in their lives, to encourage a lifelong devotion to fitness and community.