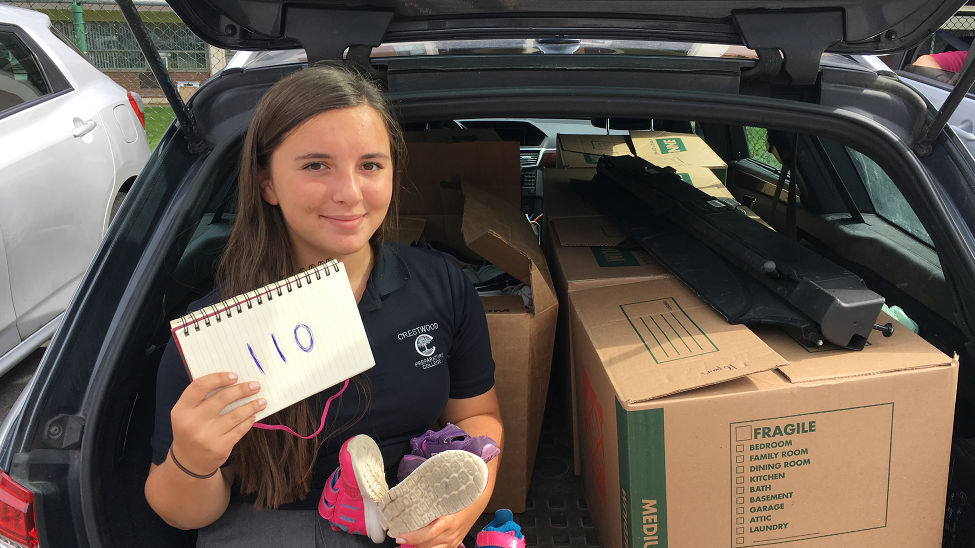 Physical activity. It's essential for developing strong bones and it lowers the risk of several diseases. It helps you keep a healthy body weight and improves mood. Importantly, for students, physical activity has been shown in study after study to improve academic achievement. But what if children don't have access to physical activity where they spend their day?
MacKenzie Bier discovered that many of the almost 1,500 students at Thorncliffe Park Public School were unable to participate in gym class as they didn't have proper footwear. Then she took action. She began collecting running shoes on their behalf. In her four years at Leaside High School, Bier worked tirelessly with local residents, schools, and merchants, and collected hundreds of pairs of shoes.
This past year, with Bier off to university, Caroline Spitzer stepped up to continue the project and collected an impressive 110 pairs of shoes in the drive, which ran this past May until August.
16-year-old Spitzer, now in grade 11, not only collected the shoes, she also washed them and scrubbed their soles and uppers. And when faced with shoelaces without aglets (the piece of metal or plastic at the end of a lace which helps keep the lace from fraying), the extremely resourceful Spitzer did a quick YouTube search and managed to make repairs.
The project, Spitzer notes, "really put things in perspective. It made me think about what I have and other kids don't."
As one of the five physical education teachers at Thorncliffe Park School, Tracey Hamilton notes that kids must have running shoes to participate in gym class not only for comfort and ease of movement, but also for safety, and that with Spitzer's assistance, all kids now get to participate. The shoes are laid out in the gym and at the beginning of each class, students without running shoes can take a pair.
As Spitzer points out, though, there can never be enough shoes with 1,500 or so kids needing them in all sizes. And for the smallest kids (there are over 900 kids in JK to Grade 3), there are never enough shoes with Velcro, which are easiest for the kids and the teachers to work with.
Spitzer is extremely grateful for all the support (and shoes) she received this past spring. She'll be working on the drive again next spring and hopes to deliver even more shoes to students. Because, at the end of the day, kids deserve (and need) the tools to play.