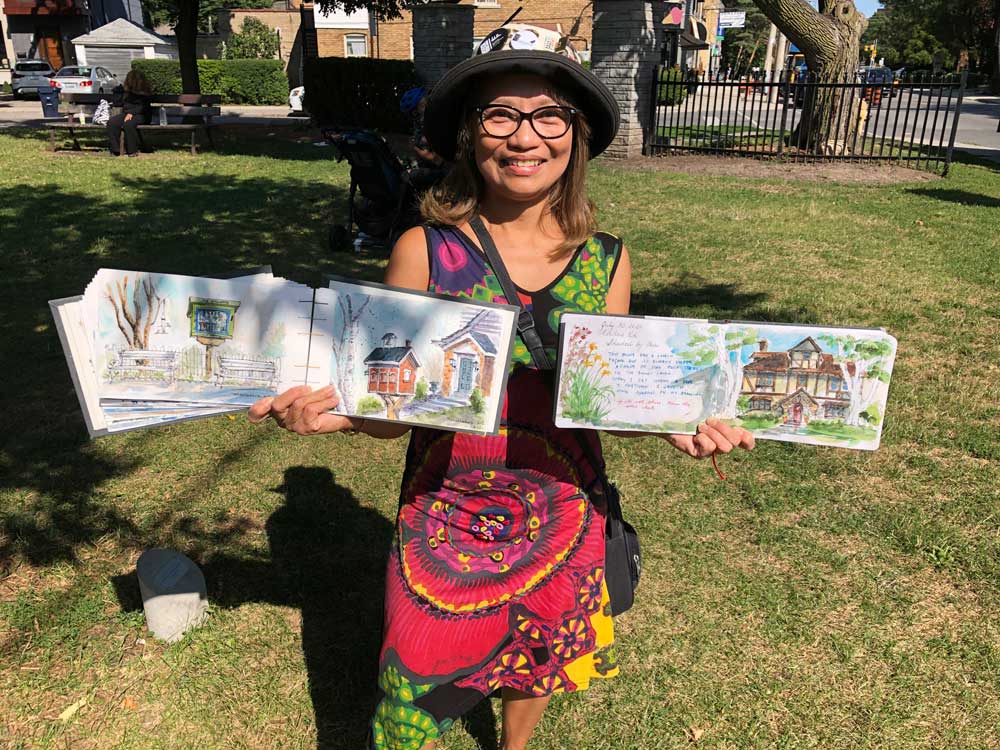 When Isabel Santos was growing up in the Philippines, her mother bred parakeets, sometimes caring for up to 40 at a time. When the numbers became too much to handle, she sold them to pet shops.
Isabel brought this love of birds with her when she immigrated to Canada eight years ago after being impressed with the warmth and friendliness of Canadians while on a trip to North America. She first lived in Oakville, but soon got a job in sales and marketing in downtown Toronto, which prompted her to seek out a more conveniently located residence. She was attracted to the shops and services on Bayview and has been enjoying the activities and quiet, safe environment of Leaside for the last five years.
While working downtown and living in Leaside, Isabel was surprised to notice such colourful migratory birds as scarlet tanagers, warblers and chickadees. Looking them up on the internet in 2016, she found an ad for FLAP (Fatal Light Awareness Program) Canada. Her interest was piqued and she attended a meeting to learn more. What she learned had such a major impact on her that she became a volunteer with the organization.
According to their website, FLAP's mission is "to improve and educate people to take actions that keep birds safe from bird-building collisions" as over 25 million birds are killed this way every year. Since 1993, the organization has become a leading authority on the issue, "safeguarding birds through advocacy, policy development, research, awareness, education and outreach" with various campaigns and initiatives. In fact, they played a part in Toronto's implementation of bird-friendly development guidelines and have acted as consultants to other cities.
As a field volunteer, Isabel patrols designated hot spots for bird collisions before dawn. She used to patrol buildings downtown, but now that she is working online, her regular areas are the RBC building and the Salvation Army headquarters on Overlea and the high rises on Concorde Place near Wynford Dr.
On a busy day, she might find eight to 10 birds. When she finds a stunned bird, Isabel puts it in a paper bag with tissue for cushioning. If it recovers in a few hours, she releases it back into nature, often in the Mt. Pleasant Cemetery – a rewarding moment for Isabel. An injured bird is taken to the Toronto Wildlife Centre, and dead birds are tagged, placed in plastic bags, and sent to the ROM for their Annual Bird Layout, an artistic display highlighting the seriousness of the problem artistically.
In addition to her work with FLAP, Isabel is involved in Urban Sketchers Toronto, for which she acts as the main administrator and organizer of various workshops and events. She and her fellow sketchers enjoy exploring interesting city landmarks with their sketch pads. Sometimes her two passions converge such as in her sketches of the Bird Layout at the ROM.
For more on FLAP's programs and initiatives for a bird-friendly environment, visit flap.org and birdsafe.ca.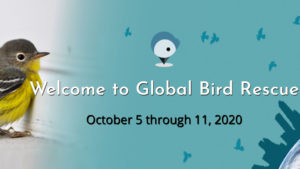 And in October, you can help save the world's birds! Join us for Global Bird Rescue from October 5th to 11th, 2020, as FLAP Canada, bird conservation groups and members of the public around the world rescue and document birds that have collided with buildings in their community, while working to make the built environment safer for birds. To learn more, visit globalbirdrescue.org.
Information about making windows safe can be found at toronto.ca under "Bird-Friendly Guidelines" and www.conveniencegroup.com/featherfriendly/feather-friendly.