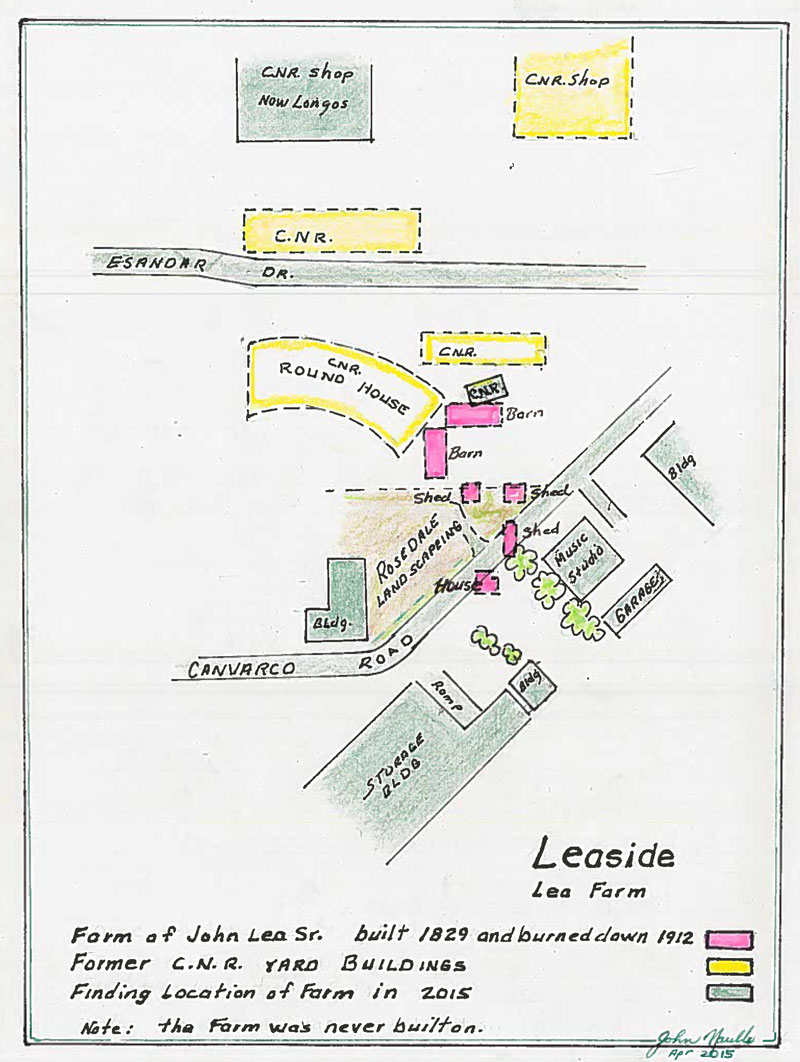 What's in our name?
John Lea and his wife Mary were the first of the Lea generations in this part of what was the Township of York.  In 1820 they purchased a farm with a log house at what is now Laird Dr. and Lea Ave.
They came with their son William. Their son John Lea Jr. was born on this farm.  It was son William who first named the Village of Leaside in the 1850s and built a fashionable octagonal house near where the Leaside Memorial Community Gardens is now. He also called the house Leaside.
The Lea name certainly stuck – Lea Ave., Leacrest Rd., Leadale Ave. are all streets in Leaside and Leaside Park Dr. is in Thorncliffe Park. And of course, there is the Town of Leaside incorporated in 1913.
It is strange that the street name that should most directly honour the Lea family, Lea Ave., is only three blocks long and has no houses fronting onto it.
The most people living in buildings with a Leaside name?  That would hands down be the hundreds of people who live in 85 and 95 Thorncliffe Park Dr., the two tall buildings aka Leaside Towers.  Also in Thorncliffe is the outdoor Leaside Pool on, what else, Leaside Park Dr.?  And adjacent to that pool is Leaside Park. This is all from the time before the 1967 amalgamation when Thorncliffe Park was part of the Town of Leaside.
If you want to do something using minimal brain power, count the number of businesses or shopping areas that start with the name Leaside.  Some of them are even around here, but all of them presumably are looking for our custom.
Someone, when asked where he lived, answered, "Leaside".  When asked where specifically, it turned out to be on the other side of the Leaside Bridge around where Pape and Donlands split.  I guess that was South, South Leaside.
I also remember being surprised a few years ago to see a London bus circling Trafalgar Square with the name Leaside on it.  Really should have hopped on to see where it was going.
Sometimes you need to read all the words in a description.  When we first moved to Leaside, I saw an announcement about a Remembrance Day service at a Memorial Garden.  We live not far from Leaside Memorial Community Gardens, and I knew there was some sort of monument there, so I was quite happy to walk over there for the service.  Of course, surprise, there was no service there – it was at the Memorial Gardens at Coxwell and Mortimer, and the monument I had noticed was honouring Leaside, the octagonal house.
One place we don't often see Leaside anymore is in postal addresses. We are all now part of the City of Toronto, so our most correct postal address would use that. But it amazes me to see how many people continue to use Willowdale, Don Mills, Rexdale and Weston as just a few examples when asked to give their mailing address.
Are any of you using Leaside on a mailing label? I must admit that I have a fondness for using East York, having been indoctrinated when the Borough of East York still existed.