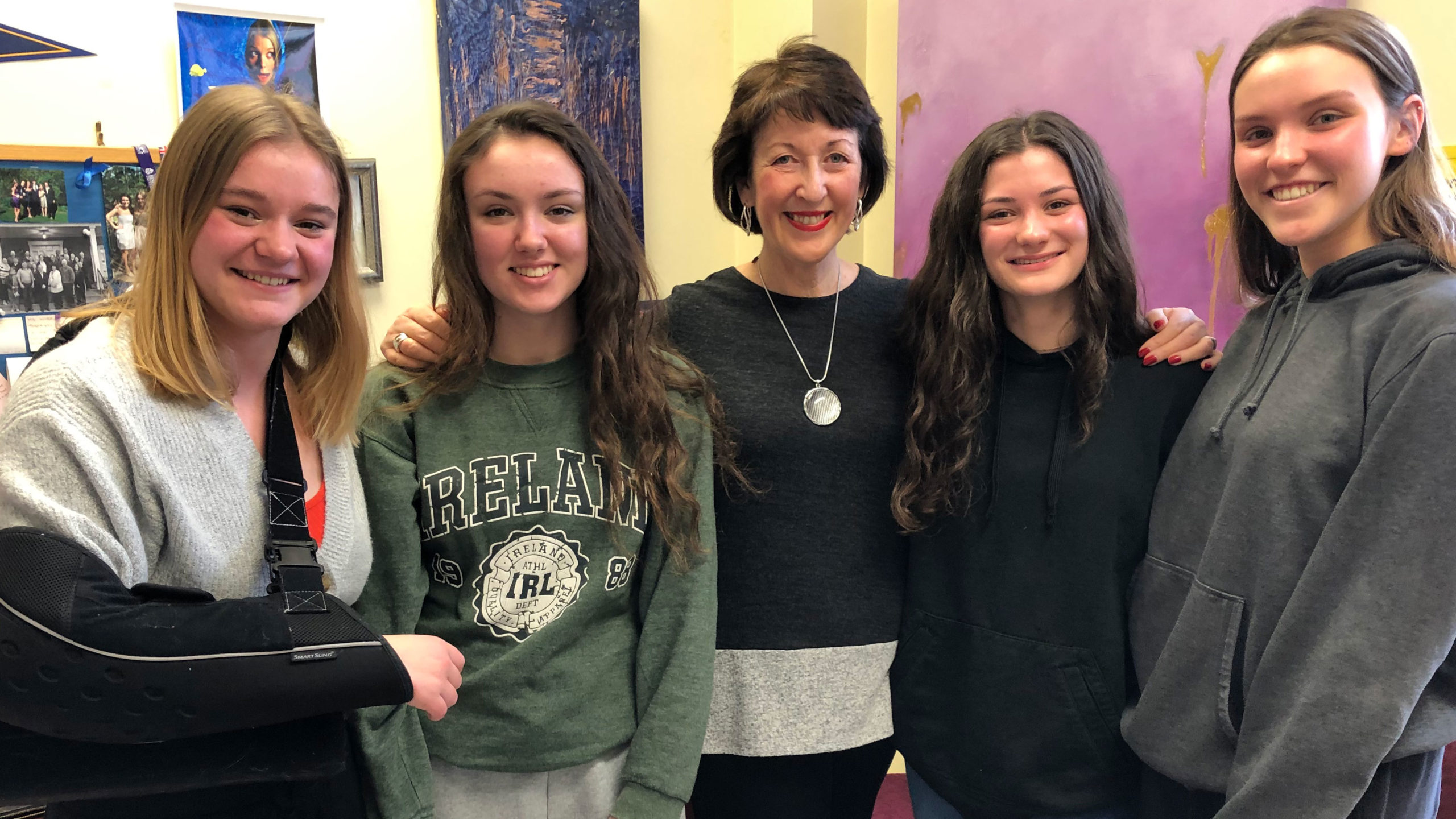 Since 2012, 21 Leaside High School graduates have attended university in the United Kingdom. According to Denise Wilson, curriculum leader for guidance, there are several reasons for this recent trend:
First, students can enter professional programs such as medicine and law directly from Grade 12 rather than getting an undergraduate degree first, as is the case in Canada. In addition, a bachelor's degree can be earned in three years in England, some places offer an integrated bachelor's and master's degree in four years, and in many cases, tuition is lower than at "equally ranked" American schools. Ms. Wilson adds that these students are looking for a "global experience in an English-speaking environment with a similar culture and institutions."
She herself is an expert on the UK from her many visits and connections there starting in her years at private schools. She has been invited to many schools such as Oxford, Edinburgh, St. Andrews, Durham and York, and their representatives regularly make presentations to Leaside students.
In fact, LHS is a registered centre to support UK applications, so Ms. Wilson oversees and monitors the progress of the applications, providing valuable information and advice.
Meet this year's four applicants:
Delaney Brookes
A childhood fascination with animals, a film about Jane Goodall and Grade 11 biology sparked Delaney Brookes' "excitement about studying animals." When she attended Ms. Wilson's information session on UK universities, she was happy to learn she could specialize in biology right away in her first year.
The UK holds a special attraction for Delaney, who has visited many times with her parents to visit her two uncles in London. She appreciates its cultural diversity and proximity to Europe and Africa, where she hopes to study animals, and its many opportunities for graduate studies.
Delaney is excited about going overseas, and her parents have encouraged her to pursue her passion. She is leaning towards Durham University and its beautiful campus, which she toured last year, and is looking forward to a career in biological research.
Danielle McBean
Danielle McBean is also drawn to the UK because she can go into a chiropractic or physiotherapy program, and follow in her parents' footsteps, directly from Grade 12. She has also lived in France, spent time in Wales and London visiting relatives, and values the opportunity for convenient travel to Europe.
Danielle has some experience of being on her own from summer camp, but her confidence was boosted by her father's observations when they visited the University of South Wales last summer, saying that he was "comfortable with the atmosphere and level of safety there." She plans to return to Canada after getting her degree and some travel or work experience.
Maeve O'Halloran
Maeve O'Halloran's strong interest in medieval and British history led her to apply to three English universities to study history, English literature and languages. That has been her dream since travelling there with her parents to visit family friends.
Maeve is also motivated by her desire to have a unique educational experience and by the easy access to Europe. Her parents support her goal and the choice of the UK because of their friends' proximity and the UK's safe environment. She feels she is "pretty independent" and is looking forward to her time there before returning home for teacher training.
Jorja White
Jorja White was born in Surrey, England, but when she was in Grade 9, her family moved to Toronto because of her father's new job. So, it is natural for her to attend university there as she would be considered a "foreign student" in Canada. She has applied to three schools for programs in criminology and hopes to pursue a career in the police force or government.
Her leading choice is the University of Loughborough in Leicestershire because it is highly ranked for both criminology and sports. Since Jorja's other passion is rugby, she and her parents agree it provides a "happy marriage" of her two loves.