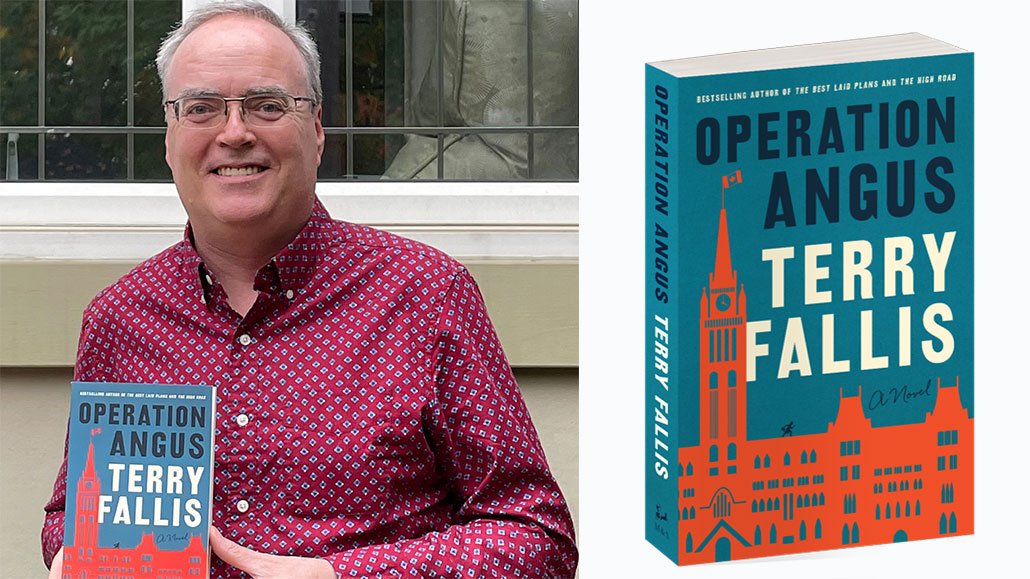 Terry Fallis' 8th novel, Operation Angus, is already a bestseller
Multi-award winning author and Leaside Life contributor, Canadian novelist Terry Fallis, has published his 8th novel, Operation Angus. Fans will be thrilled with the long-awaited follow-up to his now classic debut novel, The Best Laid Plans (2008) and The High Road (2010). Operation Angus is a comic spy story featuring the return of Angus McLintock. Fallis's own time working within and around government has certainly given him a unique and often amusing insight into the inner workings of our fine Canadian government. Through the fictional character Angus McLintock, described as an accidental Member of Parliament, Fallis leads us into a hilarious spy story involving espionage, covert M16 meetings and international intrigue. And the best part is that Leaside Life and the Curious Idler are giving away 10 signed copies of Terry Fallis's newest novel, Operation Angus. The first 10 astute readers who email the Idler at and mention code "Operation Angus" will win.
Stephanie Bowman nominated as provincial Liberal candidate for DVW
At a virtual nomination meeting held on October 13th, the DVW Liberal riding association officially nominated Stephanie Bowman as their candidate to replace Kathleen Wynne. Bowman, a 25-year resident of the riding, was both a former senior vice president at Scotiabank and a board member of the Bank of Canada. Kathleen Wynne, the first woman Premier of Ontario, said she will be around for the campaign and has extended her full support to the Bowman campaign. Wynne commented that the current provincial political environment is not unlike her first provincial campaign in 2003. Provincial Liberal leader Steven Del Duca and recently re-elected DVW MP Rob Oliphant also were on hand virtually to share their well wishes and support. The provincial election is slated for June 2022.
Jumping for joy? Look honey, the neighbours just got a trampoline!
As the Covid crisis has continued to grind on our collective patience, the Idler has heard about a new emerging noise issue within Leaside. With parks closed and warnings to "stay home," it seems more Leasiders have been acquiring backyard trampolines. And who wants to jump alone, so these trampoline hubs have become hotbeds of happy but noisy jumpers. As one reader commented: "This affects the rest of us non-trampoline owners who still would like to continue using our backyards as a place to enjoy a meal, read, garden, or relax in peace and quiet." Property owners do have the right to the quiet enjoyment of their property, but the Idler thinks it is always in your best interest to try to work things out as amicably as possible as we will likely be neighbours for a long time.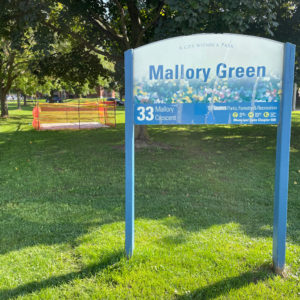 Mallory residents fight to protect their green space
One of Leaside's lesser known parks is hidden away near Leacrest Road and Mallory Crescent. This small, triangular shaped patch of green space is much loved and cared for by its local residents. Mallory Green is simple by design with only a single bench, a few trees and green grass – just how the locals like it. So, it was a big surprise when without any apparent public consultation that the City Parks department started the installation of numerous concrete pads meant to support new picnic tables and benches for the park. One resident commented that having five picnic tables and four benches on a postage stamp-sized lot did not make any sense. The residents have contacted local councillor Jaye Robinson, and it does appear that the work has been halted and Mallory Green will remain, well, green.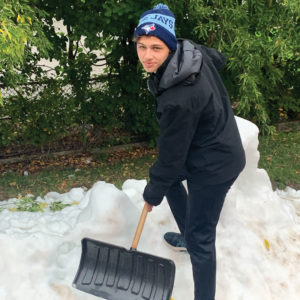 Here comes the snow – Shovel Me to the rescue
Leaside resident and LHS student Jason Van Humbeck is literally putting his back into his work again this winter. As he and his team of teen shovelers prepare to keep our sidewalks and driveways clear of snow, this entrepreneurial 12th grade student is connecting Leaside homeowners with local student shovelers through his website 
shovelme.ca. With more than 20 local teens ready to get to work when the snow flies, Van Humbeck is looking to grow this innovative, Covid-safe small business. Kids helping kids helping Leasiders – the Idler thinks this is all good.