Doggie doo not!
There's nothing prettier than a fresh snowfall…until a few days have passed and the snow is all brown…and yellow. Recently, the Idler noticed a social media kerfuffle regarding the Rolph Road school playground. Apparently, after the recent deluge of snow, the children had built snowmen and forts only to find them covered in dog pee after the weekend. Evidence that owners had not scooped the poop was also documented.
Dog owners maintain they always pick up after their dogs, but of course pee can't be cleaned up and snow provides the visual proof of what's really there all year. The TDSB is clear, with the signage to prove it…no dogs are allowed on school property at any time…We need to remember it's not a park, it's a playground. And it's not a public area, it's private property. Technically, unless you're a student, parent or staff you shouldn't be there…although as a community space we should all be able to enjoy it – within reason. However, we've witnessed this standoff between the school and pet owners for years…with, we might add, most pet owners behaving responsibly. Let's try and be better neighbours and keep dogs out of the school playgrounds. We do have an off-leash park at Sandy Bruce just around the corner!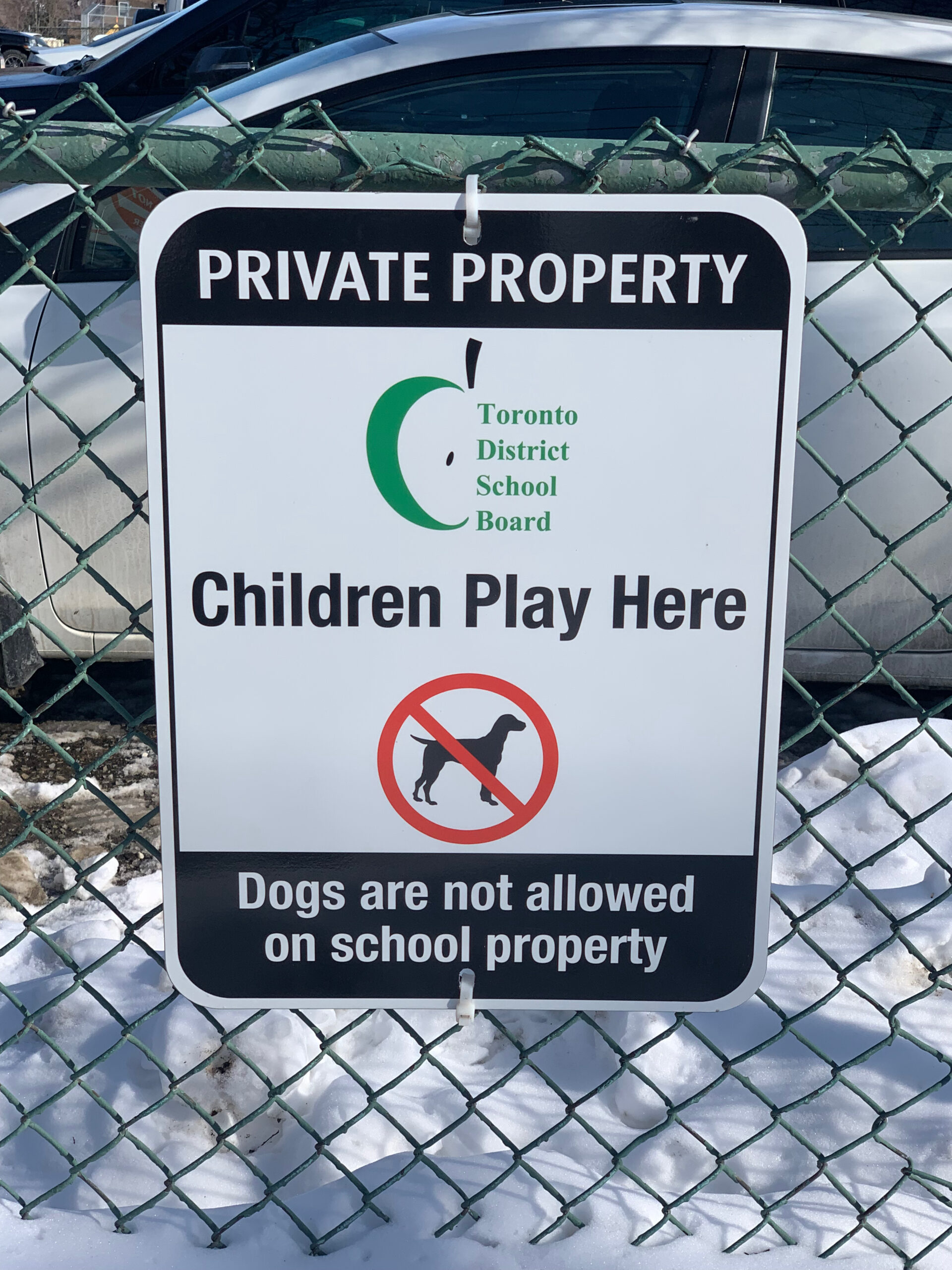 Local business partners with Team Canada
As we watched the Olympics last month, it was gratifying to see the success of so many Canadians. A long time advertising supporter of Leaside Life, Access Storage with their local outlet on Wicksteed has become an important partner to our athletes on Team Canada. Their partnership with Team Canada allows them to "connect and support athletes from coast to coast, share their positive stories and assist them through all of life's transitions. We are grateful to have the opportunity to support athletes and communities across our diverse country" says Celeste Blackmore, StorageVault's national director of corporate partnerships. "It is with great pride and patriotism that we include Team Canada and the Canadian Olympic Committee in our Partnership Family."
Good neighbours
Speaking of good neighbours, after our note last month about Leasiders helping others, the Idler received word about the amazing support neighbours showed after the blizzard of January 2022. One Rumsey resident was impressed with how many of her neighbours enthusiastically helped others shovel their walks and driveways and dig out their cars. Walks were shoveled and salted and snow blowers were used up and down the street. Social media also featured thanks and kudos for Leasiders helping stranded vehicles and isolated seniors. Huzzah!
Olde Yorke Fish & Chips celebrates 25 years!
On March 16, our famous and ever popular local fish and chips restaurant celebrates 25 years in Leaside. Owner Rachael Feather says, "We are so blessed by our community to have survived through COVID with the support of the people of Leaside." See our extended story on Olde Yorke in the March 2017 issue on leasidelife.com.
Container gardening for spring speaker series
Is it spring yet? The Leaside Garden Society continues its virtual speaker series with guest Anna Leggatt on Container Gardening. Anna has been a Master Gardener for over 30 years. She has an extensive gardening background as a writer, board member with various garden societies and has received several awards. She is a former high school teacher of botany and chemistry and worked for 30 years at the Kortright Centre for Conservation. April 14, 7 p.m. New members and guests are welcome to join the Zoom meeting. Visit www.leasidegardensociety.org.
Plus…Gardening Society student scholarship
Calling all students with green, eco thumbs! The Leaside Garden Society Founders' Scholarship will award $1,000 to a student in a horticulture-related program. Must be a Canadian resident enrolled full-time in an eligible program at a post-secondary institution. Deadline: June 30. For application, full details, eligibility and deadlines, visit: leasidegardensociety.org.
And speaking of scholarships…
Leaside High graduating students should be reminded that Leaside Life is offering a yearly $1,000 scholarship to a student intending to pursue journalism or creative writing in a post-secondary environment. Deadline is April. Visit the guidance office for more info!