Leaside – sold out?!
Did you know? In 1950, Mayor H.H. Talbot and Reeve Trace Manes declared that the population had hit the 11,000 mark. They suggested a "sold out" sign should be hung on the Town of Leaside sign. Can you imagine what Talbot and Manes would think today, with more than 11,000 new residents expected in Leaside over the next several years?
Quiet skies over Leaside
Have you noticed that Leaside has been considerably quieter since the start of COVID-19 pandemic, especially overhead? The Greater Toronto Airport Authority has reported that passenger activity has decreased 69.5% during the nine months ended September 30th. As the global aviation industry faces continued challenges, I must admit that I actually miss the whir of a jet engine overhead as it carries it passengers to destinations unknown.
Shop local!
At every opportunity, the contributors to Leaside Life encourage our readers to Shop Local. With the Ontario's government continued State of Emergency, the need is greater than ever. The Idler is calling on Leasiders to first think how you can support a Leaside business before spending your money elsewhere. Many Bayview and neighbourhood merchants are offering curbside pickup and local delivery, or are able to ship your orders to you at home. The hallmark of Leaside businesses has been the outstanding support they give to our community; now it is time for us to show them our love and dollars.
We're still standing
I'm Still Standing – did you happen to see the amazing video produced by Leaside's own Dr. Ben Chan and friends? The video, which celebrates the resilience of our local enterprises, was released at the virtual New Year's Levee co-hosted by MP Rob Oliphant and MPP Kathleen Wynne. Ready to watch? Google: Dr. Ben Chan Youtube and enjoy.
Eco6ix Contest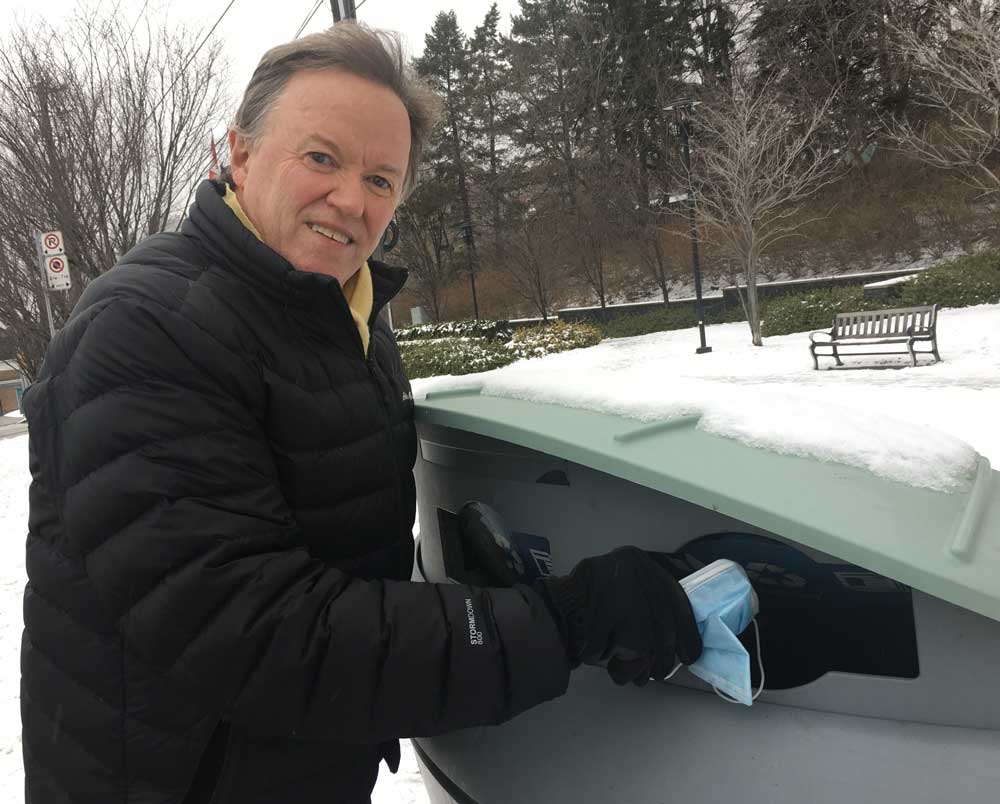 Local resident Paul Bolte and a couple of friends, John & David, are great examples of the entrepreneurial spirit that is alive and well in Leaside. Their new company, Eco6ix, manufactures and sells Canadian made, eco-friendly, non-medical grade, bamboo-cotton face masks. They also want to help reduce plastic pollution and are encouraging us all to take action and safely pick up any plastic on the ground and place it in the proper recycling bin. You can even win a prize, check out eco6ix.ca for more details on Project Plastic Pickup.
Scammers
Leaside resident Maria G. sent a note to warn Leasiders of the two scamming folks who have been "working" on Bayview lately. She states "One is positioned in front of Shoppers Drug Mart. The other in front of the Dollar Store and seen leaving with a middle aged man in a blue Audi SUV. She suggests that once people stop giving them money, they will leave. Have you seen them?
Leaside Day?
There is Family Day, Canada Day and Victoria Day. What about a Leaside Day? Do you think there is any community interest in choosing a day when our community celebrates itself? How about April 23rd – the date when the Town of Leaside was incorporated or March 11th – the birthday of Frederick Gage Todd, the American-born landscape architect who was responsible for the Leaside Garden City design we all enjoy to this day, or perhaps October 26th, which marked the completion of the Leaside Viaduct in 1927 that led to the rapid growth of Leaside. Send your ideas to .
Happy Valentine's Day!