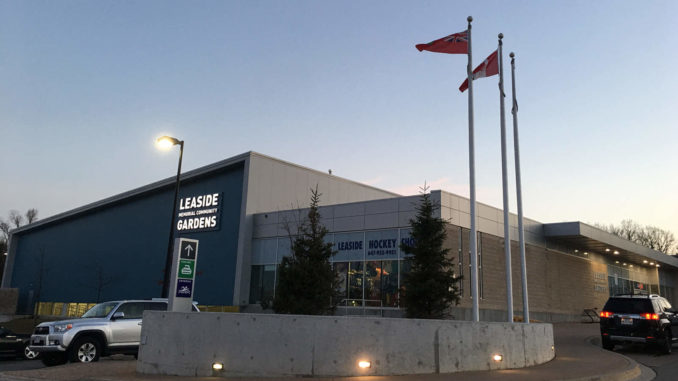 New rink at Leaside Gardens to be named for Doc Pashby
"Rink A" at Leaside Gardens will be renamed the "Dr. Tom Pashby Play Safely Rink," arena board chair Ray White has announced.
An agreement between the arena board, the East York Foundation and the Dr. Tom Pashby Sports Safety Fund was signed on December 21st. A special event will be held early in the new year.
"We are grateful to the Pashby Board of Directors and Bill, Bob and Jane Pashby for making this extraordinary gift possible," said White in an email; "it will be a lasting legacy to Doc Pashby, his community spirit and important work in sports safety."
Dr. Pashby (1915 – 2005) was a lifelong Leaside resident and an advocate for mandatory helmets and face guards for minor hockey players; and for penalties for cross-checking. For his pioneering efforts he was awarded the Order of Canada, inducted into Canada's Sports Hall of Fame, and was an inaugural inductee into the Leaside Sports Hall of Fame in 2013.
Listen up! AM640's latest on-air talent is Leasider Matt Gurney
A former columnist and editor for the National Post, Matt Gurney is part of AM640's new lineup of hosts. He is co-hosting the morning show with Supriya Dwivedi and Jeff McArthur. Tune in to hear Gurney offer his always-interesting opinions and analysis beyond the headlines.
There's a good dog owner
And while we're on the subject of breaking the rules, a concerned citizen who prefers to remain anonymous contacted us recently to complain about Leasiders walking their dogs off-leash on Bayview and many of the side streets – one man doing so while riding on a speeding bike.
The rules for dogs in the city are straightforward. They're allowed off-leash on an owner's property and in the 57 leash-free parks across the city. At all other times, dogs must be on a leash. The fine for failing to comply is $360.
The city encourages residents to contact 311 to submit a service request if you have a complaint about a dog at large or dogs off-leash outside a designated off-leash area. Woof. Woof.
Leaside Select Invitational Tournament, Feb 2-5, 2017
This is one great weekend of hockey! The entire Leaside community is invited to come out to the Leaside Memorial Gardens Arena to celebrate the opening ceremonies for the 27th Annual Leaside Select Invitational hockey tournament. The tournament kicks off with four games hosted by the Novice division teams (5:45 -7:45 p.m. on Friday).
Games continue all weekend with the Championship games taking place on Sunday afternoon. The Opening Puck Drop Ceremony dignitary will be confirmed. The tournament is organized primarily by the Novice team parents and volunteers, and features 116 teams from Ontario, more than 2,000 athletes participating, ages 6-17.
There's a terrific silent auction, as well as food by Grill Time in the William Lea Room all weekend and coffee by Kicking Horse (brewed on site). Organizing committee co-chairs are Jennifer Peel & Tavia McLachlan, Amy Joliat.