Noodles and rice with fragrant sauces, Chinese style…my 'go to' comfort foods. Must have something to do with my Chinese heritage. So imagine my excitement when the marquee, 'Tao, northern Chinese cuisine', went up at the former Leonard's location at Parklea and Laird.
Eager to try Tao's food, I could not wait for my friends. I invited members of my multi-generational household. My son and daughter-in-law, whose tastes have been influenced by the multi-ethnic diversity of our city, were quick to accept. Their two pre-school daughters, familiar with a healthy mix of diverse foods, would test for 'family-friendliness'.
A Sunday family dinner was planned, a great way to try a new eatery! A friendly server helped us to settle in comfortably. The server explained the items on the temporary, but comfortable-sized menu. Right away we were taken aback by the signature Peking duck dish, served in fusion style options, with sauces including green curry, General Tao, ginger-lemongrass, black bean or sweet and sour. Such presentations of a traditional dish were very foreign to us. However, to our delight – and great relief – the server explained that a whole duck could be prepared in the traditional way, with the skin and breast meat served with thin flour, mandarin pancakes and bean sauce, followed by a secondary dish of the shredded dark duck meat, sautéed with vegetables.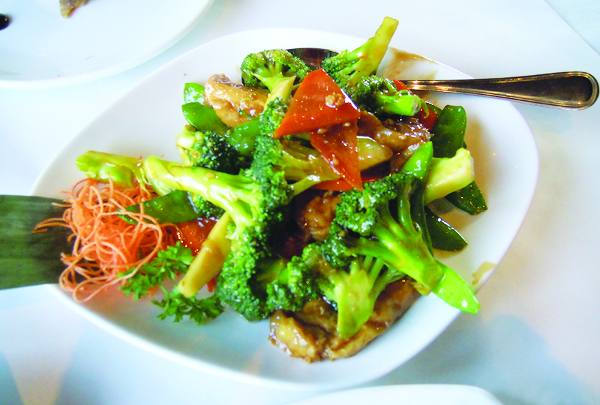 The server patiently answered all our questions, and suggested minor changes in the level of spiciness of different dishes, ensuring that each dish would be suitable for everyone.
We were pleasantly surprised when a complimentary plate of edamame ($7), seasoned with soya and a fragrant spice blend, was brought to our table. This appetizer of tender, garlicky beans, lightly salted, helped, indeed, to ease the wait for the Peking duck.
Our order of a traditional Peking duck ($55) was served. So ready were we to dig in that we overlooked the fact that the skin of the duck, the most sought after part of the dish, was not as crispy as we expected. Nevertheless, this dish was tasty. The soft mandarin pancakes, for wrapping duck skin, meat, scallions, carrots, cucumber and thick sweet bean sauce in little packages, kept their shape, not getting soggy or tearing. These were so good that we got an extra order of six pancakes. In the secondary duck dish, fresh lettuce cups added a crispy crunch to the flavourful, shredded duck meat, onions and deep fried vermicelli noodles.
Crispy Tofu ($7) with a sweet dipping sauce was specifically for the children, but, it turned out that the deep fried tofu was too crusty and dry for everyone's taste. We decided that mixed vegetables and tofu might be more suitable. The server suggested, that, since we had ordered Snow Peas and Broccoli ($14), she would ask the chef to just add tofu to that dish. Now, that's accommodation. As it turned out, this alternative was a hit.
The Drunken Shrimp ($16), with a savoury beer sauce, proved to be an excellent choice for all, particularly the two-year-old. The aromatic, caramelized onion and crispy garlic added complexity to the flavour and velvety texture of the dish…so good with the jasmine rice.
A generous plateful of Hakka Noodles ($13) with cabbage, chicken and shrimp, prepared with mild flavouring, as we requested, paired well with the main course dishes we shared. Some of us would have preferred the noodles with the original spicy chili.
As content as we were, no one passed on dessert. The youngest diners were quick to make their selections…Molten Chocolate Cake and Coconut Sorbet. One of each was enough for sharing. Although such desserts are not typical of Chinese cuisine, these sweets offered a light finish to a satisfying meal. My older granddaughter's comment tells all…"Ooh, so, so delicious!"
Article by June Chiu.