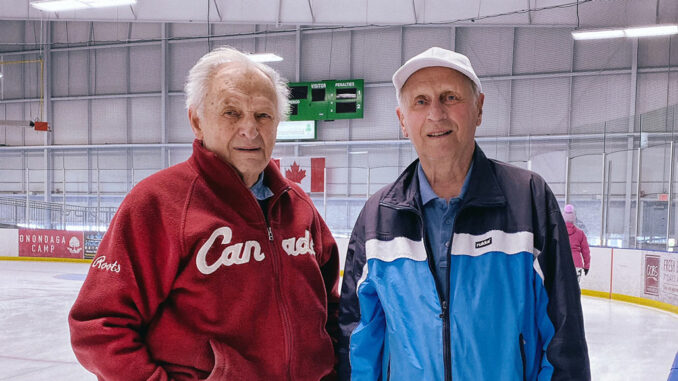 Stan Kelar and Urpo Wallin would have us believe they are in training for the "Senior Olympics" by skating about once a week at Leaside Gardens during hockey season. They've hung up the skates for now, but plan to be back at it in the fall when the ice is back on the rinks. They lament that the difficulties of Covid "hurt their training program," but still regard their skating as "poetry in slow motion."
Both live at Suomi-Koti on Eglinton at Laird where there are a number of exercise options available, including a pool… but no skating rink, so off to Leaside Gardens they go! They describe themselves as being part of the "90-plus club," since both were born in 1932.
Stan has been skating since he was a boy, originally in Windsor, then St. Catharines and Toronto. He can remember being on the 1964 team that won the City Championship in the Intermediate "A" Division of the old Toronto Hockey League. He continued to play hockey for many years at the East York Arena and subsequently at Leaside with a Friday 11 p.m. time slot.
Urpo started his skating career somewhat later. Originally from Lahti, Finland, he skated there as a teenager. A few years after he came to Canada, in 1953, he treated himself to new skates just for pleasure skating. He wasn't a hockey player, but does own a Finnish National Team jersey.
Stan's parents were from Poland, so Polish was his first language. He met his wife Raija when he was installing alarm equipment at her place of business. Raija is Finnish, and coincidentally, also from Lahti. When Stan and Raija married, they chose the common language of English for their family. But Raija kept her Finnish polished when she worked at Suomi-Koti for 30 years. Stan says he can be polite (when speaking Finnish), but with just a few words of the language even now.
He was adamant that Leaside would become the home for their family. And they found one – right across the street from the library, where they lived until moving into Suomi-Koti eight years ago.
Urpo and his wife are both Finnish. Working first as a machinist and then as a carpenter, Urpo moved frequently, but his mother lived in Suomi-Koti until her death in 2004. Visiting her often, he and his wife decided to make Suomi-Koti their home too. They've now been Leasiders for nearly two decades. Urpo and his carpentry skills have been a boon to Suomi-Koti, as he has voluntarily supervised and worked on a number of projects in the building, including a patio in the back yard and deck on the seventh floor.
Stan and Urpo are only two of the extraordinary residents of the Finnish seniors' home that's been part of Leaside for so many years.