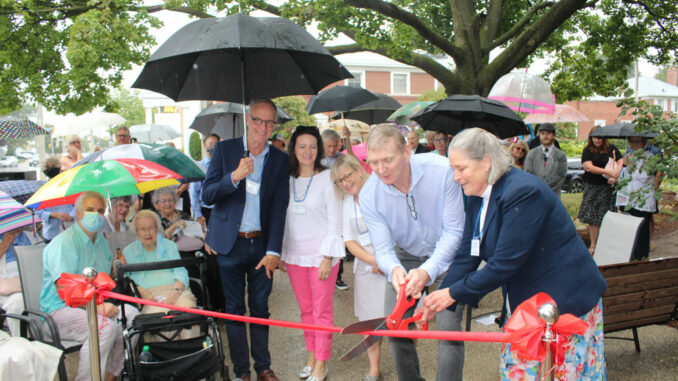 And the heavens opened!
Sunday, September 18 was the official opening for the Bayview Garden on the north side of St. Cuthbert's, Leaside Anglican Church on Bayview Avenue.
Many braved the rain for the outdoor ceremony. The Hon. Rob Oliphant, MP Don Valley West, Stephanie Bowman, MPP Don Valley West, and Trustee Rachel Chernos Lin shared an umbrella as they observed the official ribbon cutting by Bayview Garden Committee Chair Ian Beverley and St. Cuthbert's, Leaside incumbent, the Rev. Canon Janet Read-Hockin.
Luckily, there was an opportunity to chat, mingle and munch away from the rain inside after the ceremony.
When you are on a Bayview stroll, make a point of stopping by this restful and peaceful garden we want to share with our community. There's a fountain, benches, and of course, beautiful native plants.