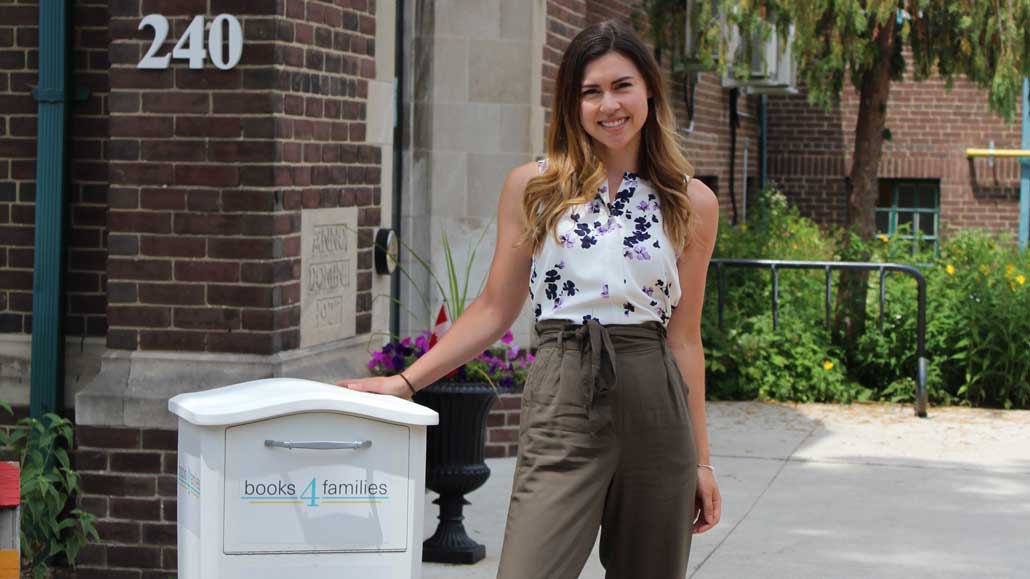 Leasider Kate Uhlman is a young woman on a mission.
When COVID-19 turned the world upside down, Uhlman sought a meaningful way to help others with the aid of the Leaside community.
She consulted with her mother, a retired elementary vice-principal who had worked as a teacher-librarian for many years, and discussed the importance of reading for children. With kids out of school, libraries closed, and many families unable to afford to purchase books, Uhlman "thought about how challenging it would be for both parents and children in need," and came up with the idea of corralling books to be donated to the Children's Book Bank, a Toronto organization which provides free books to children and families in high-needs neighbourhoods across the GTA.
In order to collect books with no "contact" issues, Uhlman reached out to local contractors for their ideas of the best contactless solutions. With the help of Geoff Woodmansey of GPW Construction, Uhlman settled on a drop box sold at Home Depot. Woodmansey negotiated with the Home Depot in Leaside to receive a discount, and Ulhman used her line of credit from school to purchase three boxes, which have been placed outside Northlea United Church, Manor Road United Church, and St. Cuthbert's Church. The logo for the charity, "books 4 families" was designed by Uhlman's graphic designer brother-in-law and has been printed on waterproof decals on the front of the boxes.
Uhlman hopes to register the project as a charity in order to receive donations for the purchase of additional boxes. She also plans to reach out to Elephant Trunk, the company that makes the boxes, to see if they might be willing to provide some at a low, or no, cost.
A team of volunteers will be checking the boxes bi-weekly, and the books will be placed in isolation for decontamination purposes before delivery to the book bank weekly.
Uhlman thrives on being busy. Having already completed an MBA and a Master of Science in Health Care Quality, she is now in her third year of medical school at McMaster University.
Uhlman was a national level synchronized swimmer, a member of the student council in high school and university, and is currently president of the McMaster Medical Student Council.
Volunteering and altruism have been a part of her life for many years. Throughout high school and undergrad years she volunteered at Sunnybrook Hospital and the Hospital for Sick Kids. She went to the Dominican Republic with nurses and other healthcare providers to provide medical care to individuals in rural areas. During her MBA studies, Uhlman volunteered with various healthcare organizations and is now working on a consulting project with Hamilton Public Health.
She comments that "in my spare time I love to bake, go for runs and exercise!" With the extent of her academic and volunteer work, it's incredible to think she could even find "spare time" in her life.