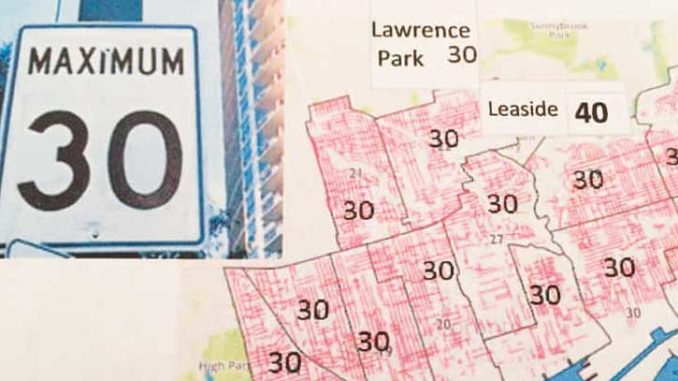 We all complain about speeding drivers, no matter where in Leaside we live, and we're all concerned about safety. But some people actually decide to take action. Since mid-May, almost 1,500 Leasiders have signed a petition initiated by Rosa Spizzirri and Judy McKenna calling for a reduction in the speed limit from 40km per hour to 30km, on all of Leaside's local streets.
Rosa and Judy are local residents who contacted parent councils, daycares, retirement homes, condos, business storefronts, and the Leaside library. Everyone they talked to had tales to tell about accidents and near misses caused by drivers going too fast. Everyone they spoke to wished that something could be done to make Leaside safer.
When Rosa and Judy did some research, they found that lowering speed limits across entire neighbourhoods (not just on selected streets) results in fewer accidents and less serious injuries. They looked at the experiences of other cities, such as Boston, and neighbourhoods here in Toronto where this approach has been successfully implemented, like the Beaches and Lawrence Park. Why not Leaside as well?
Implementing a constant speed limit has been shown to have a positive impact on driving patterns, enhancing a larger sense of community. Rosa describes this as Leasiders "taking our streets back." Safer for pedestrians, cyclists, children, seniors – and other drivers, too. She notes that the current 40kph speed limit encourages cyclists to use sidewalks instead of the roads, making the situation even more dangerous.
Neighbourhoods all around Leaside have 30kph speed limits. If you look at the map, Leaside stands out as the exception, a speed zone with 40kph. Rosa and Judy asked a basic question: why are we not like those other neighbourhoods when it comes to traffic speed, considering we are like them in so many other ways?
They see support for this initiative as an opportunity for Leasiders to foster a greater sense of community and safety: not just on one's own street, but throughout all of Leaside. Yes, some drivers continue to ignore other kinds of signs like turn restrictions during peak periods, Rosa says, but if residents "lead by example," acting proactively, there will be greater compliance.
At a June meeting held by Councillor Jaye Robinson to discuss traffic issues, attendees unanimously supported reducing the Leaside speed limit to 30kph.
The City requires 25% of local households to support a petition before next steps are taken. This level was reached by early summer, so further discussions are underway.
Note: the link to the petition is here: https://www.change.org/p/councillor-jaye-robinson-reduce-leaside-speed-limit-to-30-km-hr