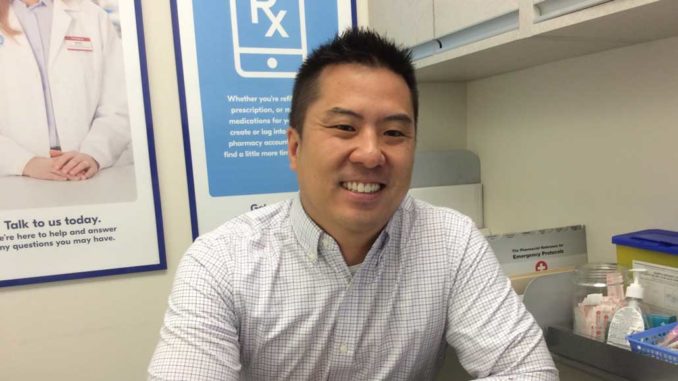 Brian Mok is where he wants to be. The owner of two local Shoppers Drug Mart locations – one on the Bayview strip and the other at Bayview and Broadway – celebrates 13 years of owning the Bayview strip location this November.
Brian has practically grown up in the Shoppers family. He started with the company as a cashier at their Bloor and Spadina location while at university and more or less fell into pharmacy as a career. He enjoyed the idea of being able to help people one on one, so he applied for and was accepted in the pharmacy program at the University of Toronto. 
One of his favourite extracurricular activities while doing his degree was being part of a 20-person dragonboat team. After graduation, he returned to dragonboating to help coach an undergraduate pharmacy team, where he met the woman who was to become his wife. They are now the parents of two small children.
While he grew up in North York and attended Newtonbrook Secondary School, Brian knew this area because his grandparents lived on Soudan and an aunt lived on Cleveland. 
When the chance came to become the owner of the Shoppers on lower Bayview, he leapt at the opportunity. Recent changes within the Shoppers organization meant he could also apply to own the upper Bayview location as well. All Shoppers are owned by pharmacists.
Head office makes many decisions that affect individual stores, such as their actual location, but Brian gets to make the hiring decisions for his business, and is a big believer in building long-term relationships with his staff. He has known his cosmetic manager, for instance, since they both worked at Bloor and Spadina, and the other two full-time pharmacists, Barbara and Harriet, worked at the store before he became the owner.
Each Shoppers must participate in women's health initiatives fundraising, but Brian is permitted each year to choose the local charity his stores will support. Tree of Health at Wellspring and Michael Garron Hospital Breast Cancer Centre are recent examples.
Provincial regulations for pharmacies mandate that there always has to be a pharmacist on duty and on site. This means careful time management – no professional staff rushing out to do an errand unless there is another pharmacist present. Those same regulations are the reason the pharmacy is located upstairs at the Fleming location. Certain non-prescription medications need to be within a fixed distance from the actual pharmacy, and that configuration wasn't possible on the main floor. He's proud that health regulations now give pharmacists more of a role in active healthcare, such as the 2,000 flu shots administered last year.
And Brian makes a point of talking to other local businesspeople, especially to newcomers. He loves this neighbourhood and the relationships customers and neighbours enjoy with each other. "It still feels like a small-town community."