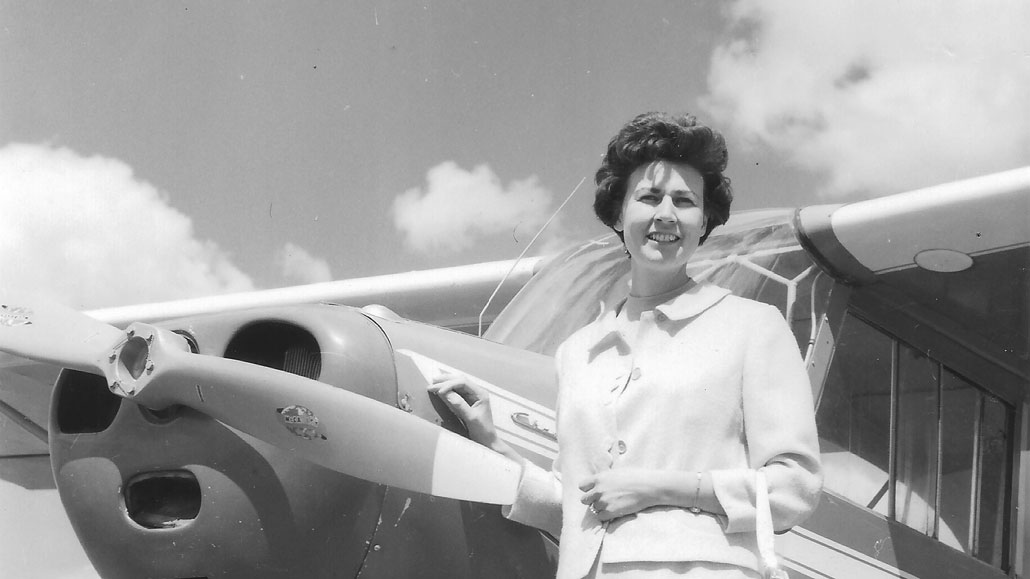 What is significant about the accompanying photo of Shirley Macdougall? You may guess it was taken in the 1960s, but you probably don't recognize the plane – a Tri-Champ – or realize that Shirley Macdougall had a pilot's licence and could fly this plane.
Shirley's story starts in Mount Forest, Ont. After finishing high school, she worked for a lawyer before moving to Toronto. As a member of the Trident Club at Timothy Eaton Memorial Church, she and friends went to a dance at Fantasy Farm where she met Neil Macdougall. It took a few years for that meeting to blossom into marriage, on March 1, 1957. During that time, Shirley took an extended trip to Europe on her own, when her travelling companion friend decided to get married instead.
After reading Flights of Fancy by Frank Kingston Smith, Neil and Shirley decided to take flying lessons. They chose the Oshawa Flying Club (a former air force base), partly because of its long runways. Shirley might have soloed first, but when she became pregnant, she wasn't allowed to fly with her student permit. She finally got her licence in 1965.
As one of only two women in a graduating class of 44, she joined the 99s – an organization of women pilots founded by Amelia Earhart. She was an active member for over 50 years – doing everything from refreshing paint on runways, to chairing the local chapter and being on the board of directors of an international pilots' organization.
Shirley and Neil did a lot of flying together. The plane they flew most often was a four-seater Cessna 150 or Cessna 172. They owned a 172 for some time and kept it at Oshawa. Once or twice a year they would fly to Vancouver or Calgary in their own plane – a chance to do what they loved when Neil had business out west. It took two days to fly there in such a small plane in addition to any delays due to weather.
They were members of the Civil Air Patrol out of Texas for 22 years when they wintered in South Padre Island.
They also flew with Civil Air Rescue in Canada and the Civil Air Patrol in the US, and were involved in over 70 special missions, including searching for missing aircraft and providing earthquake relief.
When we met, Shirley described her feeling of flying as being "boundless, with no restrictions. … (there is) a freedom you don't get anywhere else." But she pointed out that within that freedom, there were restrictions relating to requirements for safety – checking "fuel, tires, oil, the weather, that the flaps work – to check before you get in and strap in."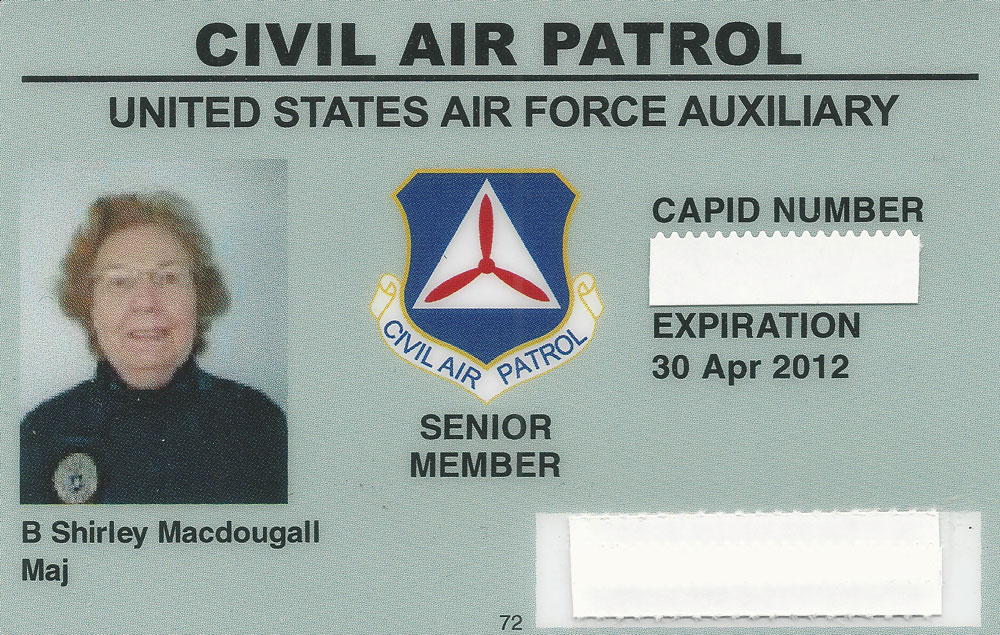 At home in Leaside
The Macdougalls moved to Leaside in 1966 and lived on Divadale for many years. During those early years, at home with two young children, Shirley started studying part-time at the University of Toronto and earned her BA.
That degree introduced Shirley to the Canadian Federation of University Women, of which she is still a member at their Leaside-East York club, meeting at Northlea United Church.
She also spent many years as a volunteer at the Royal Ontario Museum, receiving an Ontario Volunteer Service Award for 25 years of service.
But nothing can quite match the exhilaration of her years in the cockpit.