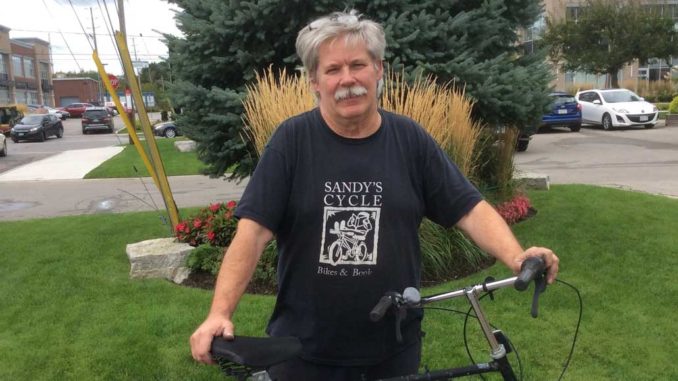 Saying goodbye after nearly five decades isn't easy. 
Saying goodbye to Sandy's Cycle Shop & Books (known as Sandy's Bikes & Books) will be especially hard, since this quirky shop has been such a local fixture.
We first wrote about Sandy's in June, 2016 – "Ever heard of this kind of bike shop? (See article here.) David Sandquist's father, the original "Sandy," started Sandy's Cycle Shop on Millwood in 1971. The business moved to Laird and then to Research Road, but as of Sept. 30, Sandy's Bikes & Books will be no more.
David's lease was coming up, and he didn't see himself running the business for another five years from that location. Also, he and his wife bought a home in Stratford – a long commute from Leaside. Their two children work in the arts, so Stratford is a good choice for them too.
Ten per cent of the shop's books may go to Stratford, where David will continue to buy and sell books online. A few of the bikes might also make the trek (pun intended) and then be sold from Stratford. There won't be a free-standing shop, though, but if you wander into one of Stratford's bike shops next season, maybe you will see him working as a bike mechanic once again.
David knows himself well – "I am by no means a neat freak, but it is who I am" – and being self-employed in a non-traditional retail building suited him.
Farewell to a neighbourhood institution, and David Sandquist.