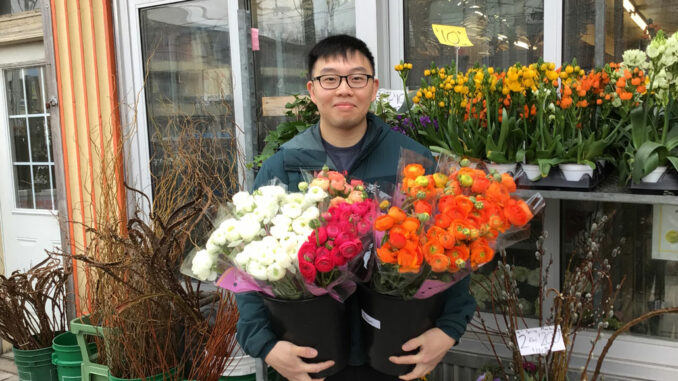 Chen Cho, his wife Diana and sons Sydney and Kevin are the heartbeat of Passion Fruits and Savory Thymes. They enjoy being part of the Leaside neighbourhood, and the neighbours return the compliment. As I was asking questions for this story, one woman, talking to herself, said "I could buy everything in the store."
This is a family business with layers. Many years ago, Chen and Diana owned a flower shop on Yonge Street, which they then moved to Summerhill Avenue in Rosedale and named Passion Flowers.
Seeing an opportunity to set up a similar business on Bayview Avenue about 20 years ago, they decided to keep the original business and its name, but name the new one Passion Fruits, and expand their product line. They made sure to add a large temperature-controlled flower locker at the back of the store. At the time, they were part of a triumvirate along with White House Meats and Alex Cheese. As Alex Cheese moved across Bayview and White House Meats moved three doors south, the family spotted an opportunity for a second business along Bayview.
They might have been a bit ahead of their time, deciding to have a café serving healthy food, which they named Savory Thymes. Those "thymes" didn't last for long in that format, so they decided to expand into groceries and more produce and cut a wide doorway inside the two stores to combine the two businesses inside, even as they retained both names.
The result is a vibrant display of flowers, plants, greenery, fruits – whatever is most eye-catching at the time – outside the front of both stores. Are they legally there? In a word, yes. Those of you with good memories might remember the time when there was a painted yellow line on the east sidewalk all along Bayview, to show where the private property of a shop-owner ended, and where the public sidewalk began. It is courtesy of that old yellow line that the store extension is permitted.
Chen Cho has always been the main flower buyer, who purchases directly through local growers as much as possible. Diana worked in the Bayview store for many years, but is now mainly at the Summerhill location. Adult sons Sydney and Kevin work the Bayview location. Even though they have been in the stores since they were quite young, they didn't immediately join the family business. Sydney put in a few years with general arts courses at university, while Kevin attended Osgoode Law School before both decided to join the family business.
Sydney is now the main produce buyer, Kevin the groceries buyer. Sydney is at the Ontario Food Terminal before 6 a.m., usually four times a week, replenishing the produce lines. Kevin searches out small independent distributors to find interesting items not found in larger stores.
As a holdover from the days of the café, there is still a working kitchen in Savory Thymes. That means there is usually one of the staff willing to make a lunch all the employees share.
Over these past few years, while the Cho family don't have a website for ordering, they did start to advertise an email address for customer pickup during pandemic times. It is still in use, along with a sign mentioning customer parking at the rear of the store for those busy parking times on Bayview. Sweet!