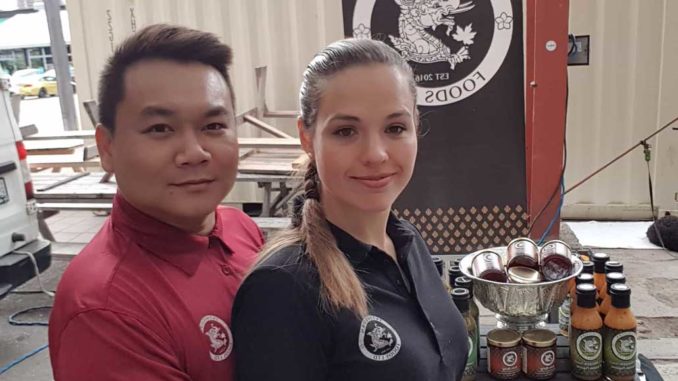 When he was two years old, his parents bundled him into a small canoe in darkness and they floated from Laos to a refugee camp in Thailand where he spent the next seven years of his life. Now Kemp Inthisorn is an awarding-winning sauce maker in the heart of Leaside.
He arrived in Canada in 1990 with his parents and two brothers, who were born in the camp.
His company, Inthisorn Foods, recently won the distinction of being named one of the city's top 20 sauce makers by Toronto Life magazine. It was a milestone for the new company he founded and runs with his wife, Jeanette, from a small commercial kitchen on Vanderhoof Ave.
The startup is a prime example of the changing nature of business in Leaside and the diversity and inclusivity of our community.
Inthisorn became interested in the sauce making business about four years ago after missing his mother's cooking, and tried to recreate dishes from the recipes she would send him.
"It took us just over a year to research the food industry and standardize our recipes for larger scale production. We incorporated in 2016 and started producing the sauces commercially that summer," he said.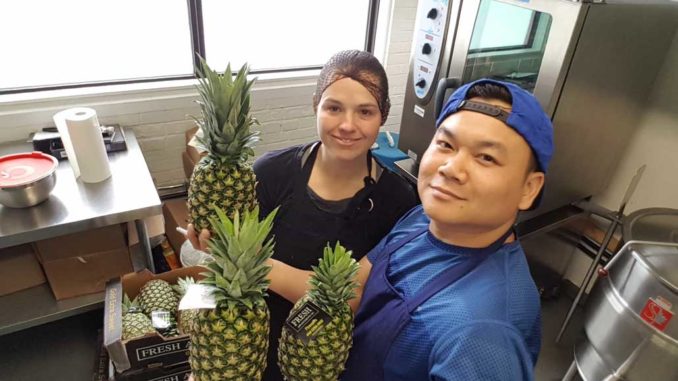 Laos, unlike its neighbours, is landlocked and historically has always had very limited food sources.
"Out of necessity, people were forced to be more creative with their meal preparations. The lack of variety is completely redeemed by the bold and flavourful sauces guaranteed to transform an ordinary meal into an unforgettable meal.
"I realized certain sauces that were hard to find here were a key component of many of the meals I used to eat growing up. Not being able to find them on the grocery shelves here was what led me to share these sauces with the community," he added.
The family fled strife-torn Laos under cover of darkness in 1979.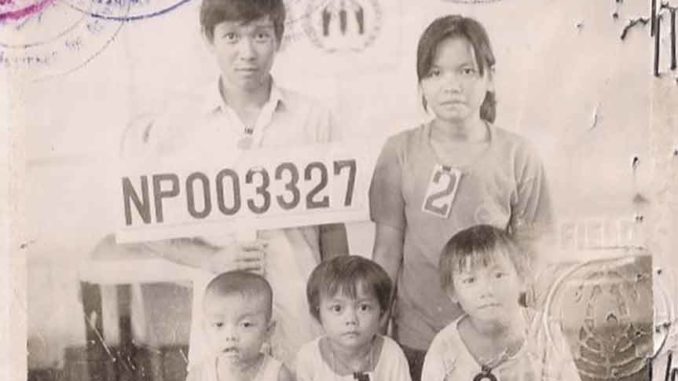 "Hoping that we would not be discovered, my parents and my uncle took a small canoe and slowly floated down and across the Mekong River into Thailand. A Thai villager saw us crossing the river, and when we reached the other side, he offered to help but instead robbed us and threatened to hand us over to the Lao-Communist authority. Luckily, we were turned over to the Thai authority. After pleading our case, we were processed and placed in the Napho refugee camp," he explained.
"We arrived in Canada together as a family of five in 1990, and lived in Leamington, Ont. with our sponsor. Once we were able to adjust to life in Canada, we moved to London and then to Huron Park, Ont. I attended university in Ottawa before moving to Toronto where I met my wife Jeanette. My parents moved back to London briefly before relocating to Holland, Michigan for work."
Both of his parents are still alive. After over 30 years of being away, they have since returned to Laos to do missionary work.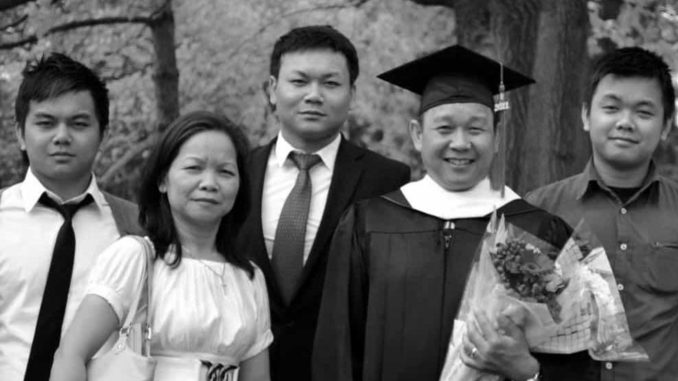 With his mother's recipes in hand, Inthisorn turned his attention to reproducing her delicious sauces.
"We were looking for commercial kitchens that were available for hourly rental. As soon as we saw Manning Canning – on Vanderhoof – we knew the facilities were ideal and it was close to where we live in Don Mills. (See June 2015 issue of Leaside Life for more about Christine Manning: https://leasidelife.com/we-are-calling-all-the-foodies/.)
"Manning Canning is a wonderful commercial kitchen, and a great information resource for local food startups. They don't call themselves an incubator, but I would," he added.
"They are much more than just a space to cook in. Christine Manning has been a great consultant when we were unsure of our next steps, helping to illuminate our path forward. She is years ahead of us in the food industry with a line of wonderful drinking vinegars and preserves, and she never hesitates to help connect people to the resources they need, before they know they need it."
In Laos, known as a tiny, laidback and friendly Southeast Asian country, the word sabaidee (pronounced sa-bai-dee) is very important because it is not only a form of greeting but also an active practice of reinforcing positive thinking. It describes your state of well-being: good health, state of mind, free of stress and relaxation. When greeting someone with sabaidee, the implication is that you wish "sabaidee" for them.
For this reason, the Inthisorns decided that there is no better word to embody their company's vision than: Sabaidee!
Inthisorn sauces are available from their own website at https://www.inthisornfoods.com and at McEwan's gourmet grocery stores in Toronto.