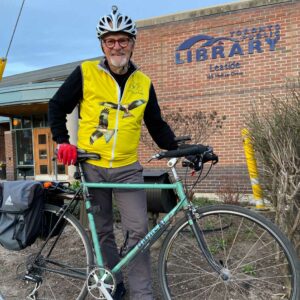 Ron Butcher fondly recalls cycling the streets of Leaside as a youngster. "My bike provided freedom, adventure and fun. I felt I could go any way and do anything. My school friends and I would set out in front of my house on Cameron Crescent and race around the block in opposite directions, riding as fast as we could to claim first back to the start. The roads had next to no traffic after school until just before dinnertime."
Ron's passion for cycling hasn't waned in the intervening decades whether he's at his current home, in England, or visiting Leaside. He moved across the pond in 2007 and visits Leaside friends and family, including his daughter Liza, regularly. "I moved for love and as I started exploring Britain on my bike, both city and country roads revealed interesting and scenic places," says Ron.
With few exceptions, cycling is his preferred mode of transportation. When in Leaside he rides everywhere, night and day, in all weather conditions, including snow. "I get around Toronto and Leaside so easily visiting family and friends, picking up and delivering things, enjoying restaurants and music venues."
He's dedicated to shopping local. "In Leaside it's the Bayview strip where it's a joy to see familiar shopkeepers and run into friends. In the UK my 25-mile grocery shopping route always includes elevenses, a cycling break at a café for a sweet and coffee." Ron also cycles to his various work gigs, even those in the heart of London. "I catch the train and disembark 10 miles from Harrods and ride along Grand Union to Paddington Station, then into Hyde Park, and the last five minutes on the busy streets. I feel safe everywhere I cycle thanks to the British traffic code giving pedestrians and then cyclists the right of way."
For the past 15 years Ron and his band of Brit buddies, aged 60s to mid-80s, have embarked on an annual cycling trip. "Our Scottish planner, Willie, spends six months doing all the research, charting out the route, calculating the budget and booking the meals and accommodations for the journey plus adding historical and unique sights to our itinerary. We have no support vehicle so we economize on what we bring, ensuring we're prepared for all weather conditions. Recent trips have included a week cycling in Glasgow and Mull of Kintyre (homestead of Paul McCartney), Northern Ireland, the Shetland and Orkneys and we have a long bucket list."
Ron's group uses the Strava app to track their trip. It charts their daily kilometres, duration of riding time, average and fastest speed, which Ron reported as 39km/hour, when cycling downhill.
These days he lives in Denham, a 50-minute cycle journey from Windsor, so on June 2, he and his friends cycled to the Royal Farm Shop Café to enjoy a coffee cake and catch the Royal flyover launching the Queen's Platinum Jubilee. As he says of his own cycling adventures, "Jump on a bike. Enjoy the freedom and adventure that awaits."