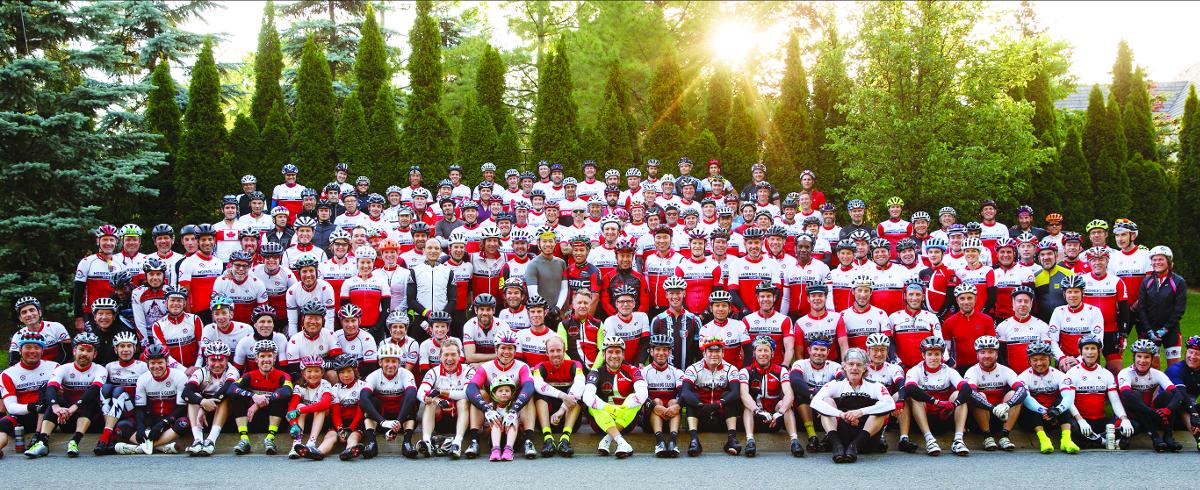 It started with a simple enough goal – two buddies looking to fit exercise into their busy lives.
Fraser Chapman and Chris Ferron, who had spent a couple of years riding their road bicycles most evenings after work, had to find another time to meet after the arrival of Chapman's first child, Sadie. They switched their daily exercise from 5:30 p.m. to 5:30 a.m. when schedules had fewer conflicts.
It was spring 2008 when the pair first hit the road in the morning darkness, quickly discovering they were not alone. Single and dual cyclists were everywhere, prompting Chapman and Ferron to frequently change course, chase those other riders down for introductions and to share email addresses so group rides could be arranged.
Three weeks in, their group numbered 40 and the Morning Glory Cycling Club (MGCC) was born.
"The goal was to get out, be physically active, get fresh air and be social, and still be home to be a parent or a husband or a wife and take care of all those responsibilities that come with getting older," says Chapman, the club's president and co-founder. "From there, it was just word of mouth."
Nearly a decade on, the MGCC is expected to top 1,400 members this season, which began April 1 and runs until Halloween. In addition to the original chapter in Leaside, there are now groups in High Park and Oakville, a racing program for all ages and skills as well as an under 23 Youth Development Team. A big focus of MGCC this year is growing their youth skills development program for riders aged 4 to 16.
Philanthropy has always been a core value at MGCC. About $80,000 in bursaries has been given to young amateur cyclists in recent years. Also, members participate in many of the organized charitable rides that take place throughout the season and raise about $1 million annually for various charities.
"The philosophy is one of extreme inclusiveness," says Chapman, adding that cycling can be an intimidating sport, especially for novices when it comes to such things as understanding equipment and learning how to get faster. "We've always tried to offer wide open arms to an activity where your first time out the big fear you have is slowing other riders down.
Seven days a week during the season, MGCC groups leave from the parking lot of Valu-Mart at Bayview and Davisville. Departure time is 5:40 a.m. on weekdays and 6 a.m., 7 a.m. or 8 a.m. on weekends. There are rides for all skill levels – from those averaging 20 km/h up to those at 35 km/h-plus – with distances ranging from 45 kilometres on weekdays and up to 100 kilometres on Saturdays and Sundays. Each ride features two marshals in safety vests at the front and back of the pack.
About 80 per cent of club members are men, with an average age of 42. Women's average age is 37.
"The bike breaks down all barriers," Chapman says of club rides where members will spend an entire journey in conversation with people whose paths they likely wouldn't otherwise cross.
And, although the club has seen tremendous growth since that first spring morning nine years ago, Chapman says there's still plenty of room for those who want to come out and give it a try.
"There's no limit to the amount of good people we want to ride bikes with," he says.