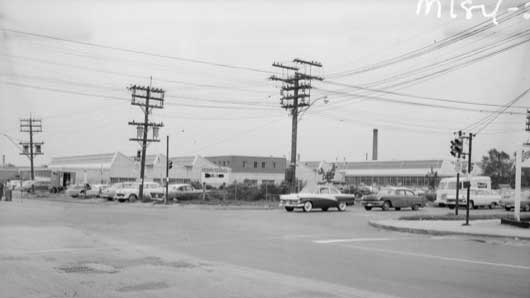 Long-time Leaside residents may remember the Sangamo Company Ltd. at 215 Laird Drive near Eglinton – a site now occupied by Canadian Tire and other retail establishments. Sangamo specialized in the production of electric motors and meters, which it shipped to dozens of countries worldwide. In its heyday in the 1940s-1970s, its offices and factories in Leaside occupied nine acres and employed 1,000 people.
Sangamo Ltd. was a subsidiary of Sangamo Electric Co. of Springfield, Illinois. The Canadian subsidiary had been in Canada since 1911 and operated a plant on Adelaide St. in Toronto. As World War II loomed, the company realized it needed larger manufacturing facilities. It chose Leaside as the site for a large, new modern factory which was up and running by 1942. It is said that Howard Talbot, Leaside's energetic and entrepreneurial mayor, played a key role in convincing the company to locate here.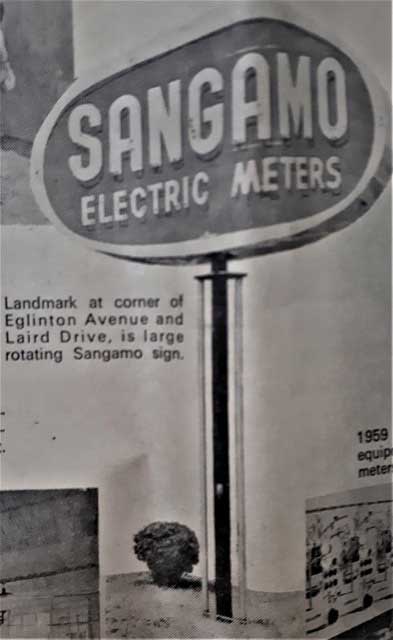 Sangamo was a progressive employer. Soon after coming to Leaside, it signed its first union agreement in 1945. Later in the decade, it became one of the first Canadian companies to form Labour-Management Production Committees – joint initiatives that fostered cooperation and mutual understanding between labour and management. With the help of these committees, Sangamo significantly improved its employee relations and production. In the 1960s, the company also joined two other Leaside-based firms – Philips Electronics and Honeywell Controls – to establish the Leaside Education Assistance Project (LEAP). The project provided facilities and courses (in English, Math and Science) that enabled employees to complete their high school education on the job – with no pay reduction. It became a model for other companies and helped many workers advance to higher-level, better-paying jobs.
Sangamo took pride in being a good corporate citizen. In addition to providing employment to many Leasiders and contributing to municipal revenues through its tax payments, the company was actively engaged in town life. During the war it participated in such key activities as blood drives and air raid precaution drills. After the war it was a major supporter and booster of the town's growth. In the popular 1958 booklet, The Leaside Story, by Charles Clay, Sangamo bought a full-page ad declaring how proud it was to have "played its part in the vibrant expansion of Leaside." When Leaside celebrated its 50th anniversary in 1963, Sangamo marked the occasion by buying another full-page ad – this time in the Leaside Advertiser – which highlighted its strong presence in the community.
Some Leasiders may recall that the company had a locomotive outside its factory, which it used as an emergency generator. Others will remember its large revolving sign at the corner of Eglinton and Laird. For years, the sign was a Leaside landmark. It is now long gone – as is Sangamo itself. By the early 1980s the company had been acquired by energy giant Schlumberger Industries. By the early 1990s it had left Leaside altogether, ending a 50-year presence in the community.
This article was guest contributed by Ted DeWelles, Leaside Heritage Preservation Society.