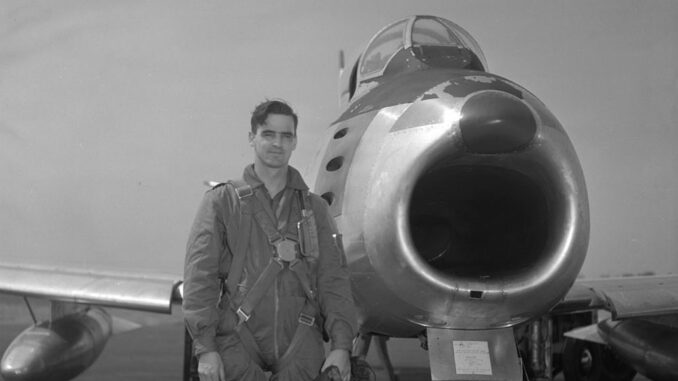 The Korean War (1950-1953) is sometimes called Canada's "Forgotten War," despite the participation of over 26,000 Canadians in the United Nations-led initiative to halt Communist aggression against South Korea. One of those participants was Flight-Lieutenant Ernest A. Glover, a Leaside resident who received not one – but two – Distinguished Flying Crosses for his heroism during the conflict.
Born in Niagara Falls and raised in Toronto, Ernest Glover (1922-1991), loved to fly. Shortly after WWII began, he joined the Royal Canadian Air Force (RCAF), earning his wings in 1941. Posted to England, he flew nearly 100 combat missions for the Royal Air Force, piloting both Hurricane and Typhoon fighters. Shot down by flak over France in May 1943, he spent the remainder of the war in a German POW camp – the same camp made famous in the 1963 movie The Great Escape.
Glover returned to Canada in 1945, working briefly for the Dominion Bridge company in Montreal. But flying was in his blood, and in 1948 he re-enlisted in the RCAF. By 1951 he was flying and mastering the new British-made Vampire fighter jets. The Korean War was at its height then. And so, when the opportunity arose to participate as an "exchange pilot" flying state-of-the-art F-86 Sabre jets with the US Air Force, Glover jumped at the chance. By June 1952, he was in Korea.
It was about this time that Glover and his wife Ruth bought a house in Leaside – a bungalow at 153 Glenvale – where they would live during his Korean tour.
Glover was in Korea only a few months, but he made his mark. From June to October, he shot down two Communist MIG fighters, caused another to crash by outmanoeuvring it, and seriously damaged two (by some accounts three) more. In total, he flew 58 combat missions. For his heroism, he was awarded the Commonwealth Distinguished Flying Cross and the USAF Distinguished Flying Cross – the only Canadian airman to receive these awards while Canada was technically still at peace.
Back in North America, Glover's success received extensive media coverage. Over a dozen newspapers carried stories of his exploits – including the Globe & Mail, Toronto Star as well as newspapers in Whitehorse, Saskatoon, Calgary, Vancouver and even Texas and Philadelphia. Virtually every article noted that the Canadian war hero was also a Leaside resident. The Toronto Star even quoted Ruth Glover affirming to reporters that "Leaside is our home, and we intend to keep our bungalow there."
Unfortunately, it was not to be. By 1954 he had left Leaside. Soon after his return to Canada in 1952, he was assigned to Europe and later to Chatham and Trenton, Ont. He retired from the RCAF in 1970 and settled in Frankford, where he lived until his death in 1991. He and his wife called Leaside home for little more than a year – but what an unforgettable year it was. Let us remember.
This article was guest contributed by Ted DeWelles, Leaside Heritage Preservation Society.