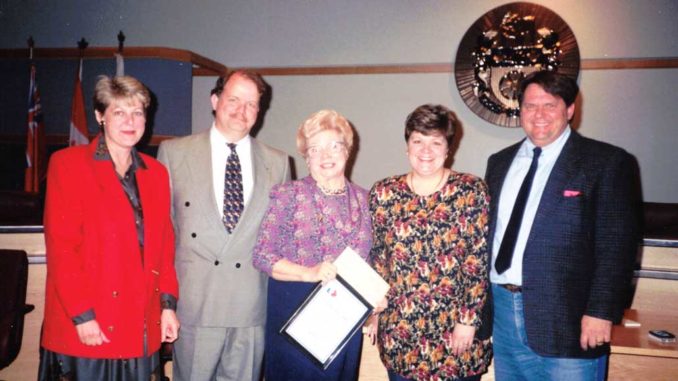 Sheila Lacroix knew Edna Beange for years, both at Leaside United Church and as winners of the Agnes Macphail Award. Sheila delivered this tribute to Edna at the 2019 Agnes Macphail Award Ceremony in March.
I know I am not alone in feeling the loss of the strong presence of Edna Beange on this 2019 Agnes Macphail Day.
Edna was the first award recipient in 1994 for her citizenship and leadership and continued to work tirelessly for the public good in the spirit of Agnes Macphail until the end of her long, full life. On this day last year, Edna was not just here, but helping as usual. I am certain she rarely, if ever, missed this event. AND she was an active member of the Agnes Macphail Recognition Committee almost to the end.
Imagine having your life and work acknowledged in the House of Commons! On January 30, Rob Oliphant, MP for Don Valley West, rose in the House to celebrate the life of Edna Beange. I cannot improve on Rob's presentation, so I have borrowed from his words:
"Edna was an East York icon, an East York alderman for three terms and later a councillor, and a great activist. She lived her 98 years fully and continued to advocate for change and helping others, even during her final days at Sunnybrook Hospital. Edna is a model of active life-long community service.
"Edna served as a leader with numerous agencies concerned with housing, seniors and youth, including the Toronto Council on Aging, East Metro Youth Services, the Canadian Mental Health Association, the Children's Aid Society and Stay at Home in Leaside."
In 2001, Edna received the Governor Generals' Caring Canadian Award. Like Agnes Macphail, she was a woman of firsts: the first woman tto serve on the board of governors of Toronto East General, now Michael Garron Hospital, and later an honourary director.
I have a fond memory of Rob Oliphant's Canada 150 July 1 celebration at the Toronto Botanical Garden. Edna was one of 20 Don Valley West recipients of the Canada 150 Award for Citizenship. Always with a sense of fashion, Edna wore red and white.
In addition to her 'day job' Edna was very involved in Leaside United Church, where she took on many positions of responsibility and contributed to its social life. In 1968, she and husband George took over the leadership of the Married Couples Club. They aptly renamed it the Saturday Night Club, which sounds more modern, inclusive and fun.
I don't doubt that leading a balanced life was a key to Edna's resilience. She remained fit and fashionable, loved theatre, her cottage and her family and friends, and had a strong faith.
According to Edna, those of us of a certain age, myself included, still have many decades – yes, decades! – ahead to work for change. She always had a goal to work towards, and a key to her success was her leadership in recruiting others to help. Her goals were never insignificant. Most recently it was a national, annual scholarship in the name of Agnes Macphail in recognition of the 100th anniversary in 2021 of her election to the House of Commons. Edna's expectation was that some of us in this room do something about it!
Every time I walk past SAHIL (Stay At Home In Leaside, a life lease building for seniors) at McRae and Bayview, I think of Edna. She was an active participant in this challenging and risky project and, late in the process, decided to live there. Aren't we happy that she was able to reap the benefits of this project and spend her last years in her lovely suite overlooking the gardens of Leaside?