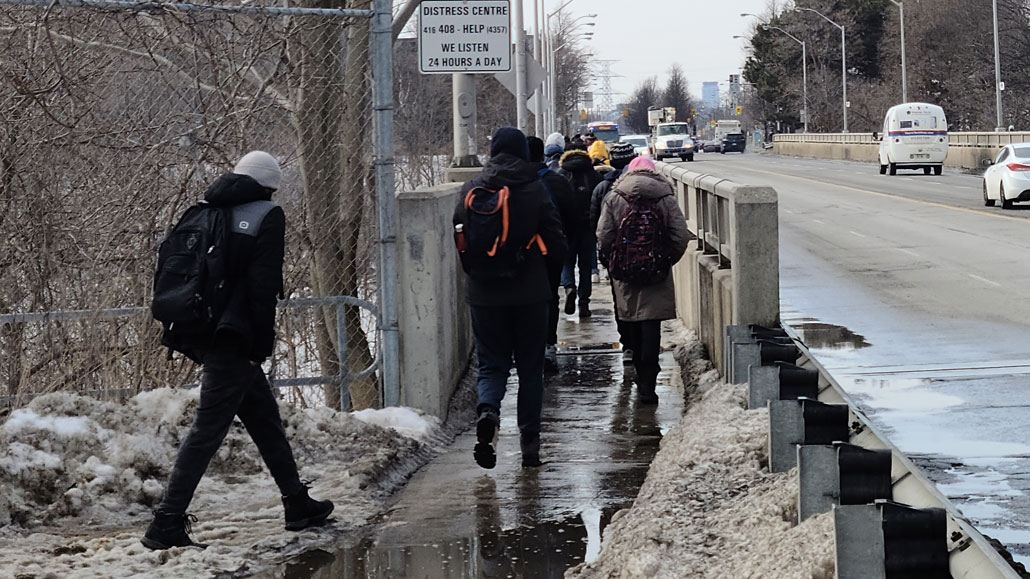 For over a decade, the communities of Thorncliffe Park and Flemingdon Park have expressed concerns over the safety of the Charles H. Hiscott Bridge, more commonly known as the Overlea Bridge.
Some 2,000 students from Thorncliffe Park cross the bridge daily going to and from Marc Garneau Collegiate Institute and Valley Park Middle School in Flemingdon Park. Another 1,000 pedestrians use the bridge every day to access places of work, stores, appointments, friends and families. The high volume of pedestrians makes Overlea Bridge the second highest used bridge in the city.
But with a walkway of only 1.5 metres wide, this volume creates congestion, most especially during student rush hour.
In addition to congestion, the bridge has poor drainage, resulting in icing and slippery surfaces on the walkway, as well as a buildup of rain and slush on the roadway which often splashes on pedestrians. The bridge also has very little lighting.
There are high guard rails on the traffic-facing side of the bridge, but significantly lower railings on the ravine side, leaving many pedestrians anxious, especially in heavy foot traffic. Bike lanes are unprotected, and high-speed vehicular traffic has left many cyclists fearful and resorting to using the walkway.
According to student Hafeez Alavi, "The bridge is only working for people who drive, and that's absurd as most residents in Thorncliffe and Flemingdon don't drive. We need a bridge that can work for everyone."
This past school year, the students, staff, and families of the two schools came together in a campaign named "Reimagine Overlea," designed to bring much wider attention to these issues.
What began as a study in Environmental Research and Technological Design Classes soon became a school and community-wide project.
With the vision of a safe and accessible bridge for pedestrians, cyclists, and motorists of all ages and abilities, students spent countless hours researching, analyzing, designing, organizing, and lobbying to raise awareness.
Surveys and polls gathered info on experiences and insights. Partnerships were forged with local politicians, cycling groups, residents' associations, school boards, architects, community groups, and environmental organizations. Training took place with a communications firm to learn the most efficient strategies to present their objectives.
And their effort has paid off.
Their advocacy captured the attention of the media, with pieces appearing on CBC and in the Toronto Star. The group was also invited to present their designs to the politicians and school board representatives in their school wards.
And on March 23rd, staff, students and parents deputed to the City of Toronto's Infrastructure and Environment Committee.
The message was simple. Overlea Bridge must be a link that everyone can use safely, and that the option to choose, and encourage, active transportation should be a city priority.
As parent Nazerah Shaikh noted in the deputation, "the students' vision to 'Reimagine Overlea' is completely in line with the city's Vision Zero road safety program."
While the current City plan is to rebuild the bridge in 2026, the student group is advocating for temporary changes including speed enforcement and the construction of higher barriers.
The project has not only brought attention to the issues of safety on the bridge, but has taught and inspired students to advocate on behalf of themselves and their communities. They have learned the ins and outs of effectively navigating the political landscape as leaders.
To keep up to date on the group's campaign, follow them on Twitter @BridgeOverlea and Instagram @OverleaBridge.