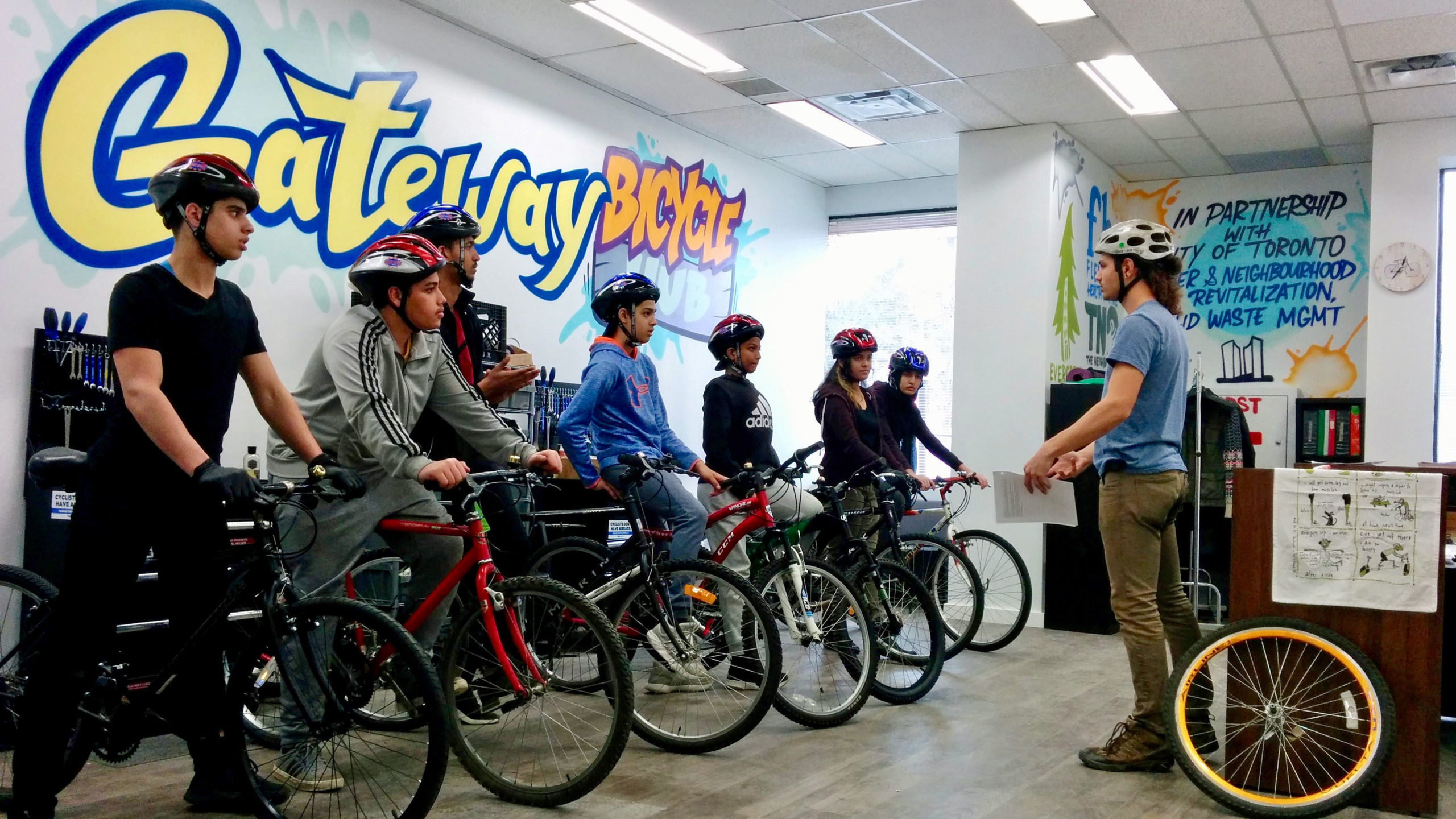 Getting around by bike is good for the environment, right? After all, it's powered by you and that means it's an emissions-free, sustainable mode of travel. But what about the bike? Since resources were consumed to produce it, extending the use of a bike also makes good green sense. Now, thanks to an innovative program from Toronto Solid Waste, bikes are being saved from the landfill and given a new life at the Gateway Bike Hub.
Diverting scrap metal
Located at 10 Gateway Blvd. in Flemingdon Park, the Gateway Bike Hub is one of three Community Reduce Reuse Programs funded by Toronto Solid Waste, and is operated jointly by longstanding community organizations – Evergreen, Flemingdon Health Centre, and The Neighbourhood Organization. Eliminating bikes and bike parts from ending up as garbage is a key goal. According to Manager Ed Mark, "in the first nine months of operation, we've diverted 5,510 lbs of scrap metal from the landfill."
Repair and refurbish
The Bike Hub is a fully functioning bike-repair shop where unclaimed stolen bikes as well as discarded, abandoned and donated bikes and bike parts can be repurposed. The hub offers DIY hours for people to drop in and work on their bike, plus Earn-a-Bike and Build-a-Bike participants learn bike mechanics by refurbishing a bike for themselves or a child. These skills not only help people keep their bikes in good working order but also can lead to employment opportunities. Lead programmer/mechanic André Harris notes that "since opening in May, we've trained 710 residents in bike mechanics and repaired 749 bikes while restoring 190 others for riding."
Beyond bike repairs
As community connector for Gateway Bike Hub, Abrah McKeen works to ensure the hub's
programming focuses on the community's needs. "Many of the people who want a bike haven't cycled for years, if at all, so we've expanded to include Learn-to-Ride classes as well," she explains. Today, more than 70 volunteers assist with hub activities that also include group rides and park repair clinics in the summer.
Aptly named, the Gateway Bike Hub truly is a gateway. As Michael Skaljin, the city's manager of solid waste planning and policy, says, "Other jurisdictions are following Toronto's lead to set up similar programs. We've shown that repairing bicycles is a means to a greater end, delivering skills development, access to employment opportunities and, especially for newcomers, integration into the community."
How you can help
The Gateway Bike Hub is temporarily closed but you can still help out.
Donate
Bikes, parts, racks and bags are always needed. Smaller adult frames and wheels are in high demand. Contact Ed Mark at or phone 647-637-2667 to arrange a safe drop off.
Get involved
Get up-to-date information at http://gatewaybikehub.org/
Find their newsletters at: http://gatewaybikehub.org/newsletters/
Follow on Instagram https://www.instagram.com/gatewaybikehub/
Join the Gateway Bicycle Hub Strava Club and track your rides:
https://www.strava.com/clubs/gateway-bicycle-hub-597603