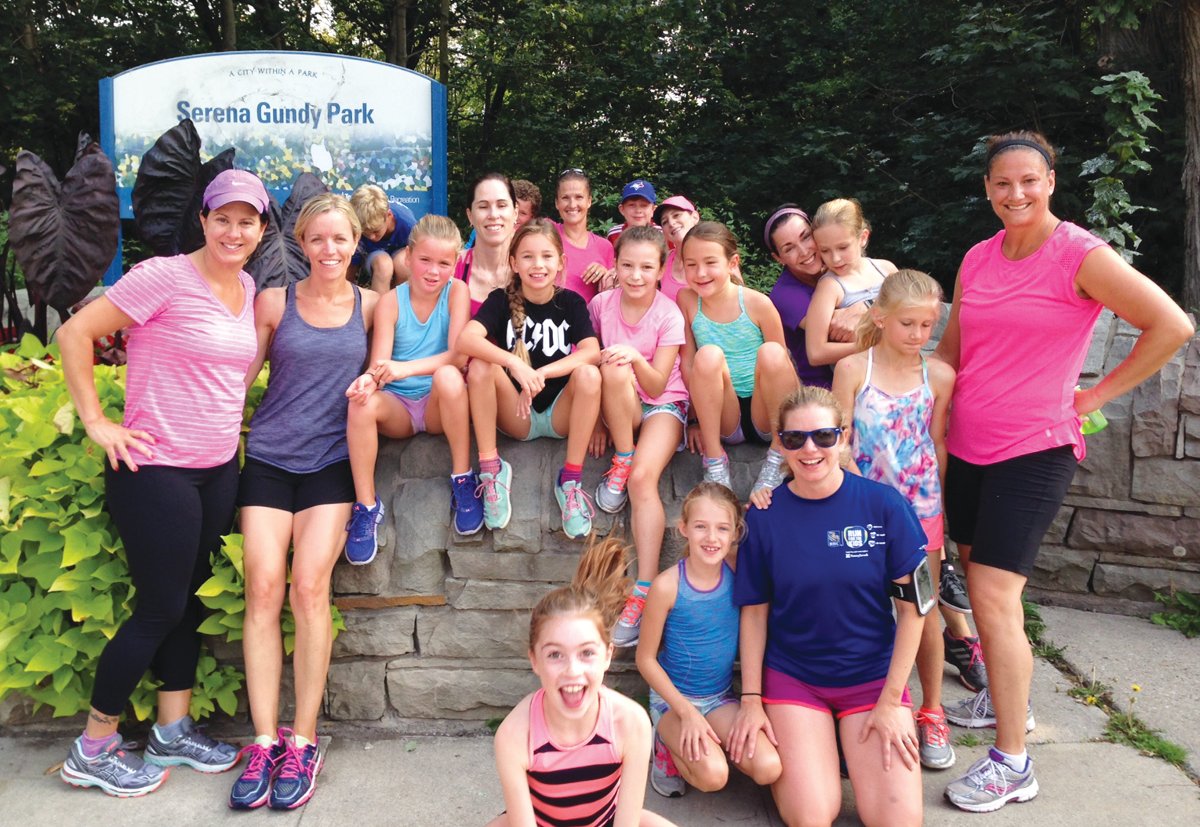 Put down those smartphones and turn off that Netflix. Step away from your homework. (Studies show that exercise increases brain function.) It's time to run, bike, hike, and walk your way into the hidden gems of Leaside's own outdoor playgrounds.
Ten out of 10 doctors agree that exercise is important for your health and wellbeing. But exercising on the streets of Leaside has become a little harrowing. (Unless, of course, one enjoys the thrill of dodging construction trucks or manoeuvring around traffic cones.)
But fear not, couch potatoes (or those using Metrolinx construction as an excuse for avoiding exercise), there are plenty of safe, FREE options in Leaside for jogging, biking, hiking, or walking! Get active outside and experience the joys of moving in nature.
Leaside is fortunate to have access to Toronto's extensive park and trail network. From our very own doorstep, Leasiders can enter Sunnybrook, Serena Gundy, and Wilket Creek parks at the north end of the neigbourhood. All are stunning locations with an impressive array of trees and animal species.
The three parks in the Don Valley are excellent spots for physical activity of all levels. Each boasts a variety of trail surfaces and offers options for the beginner to intermediate athlete. But each also has its own distinctive features.
Sunnybrook Park
Sunnybrook Park is accessible by foot or bike from Sutherland Ave. north of Glenvale Blvd. through the grounds of the Toronto Rehabilitation Institute. Its 147 acres of grass, woodchips, road, and dirt trails offer lots of great possibilities for beginner and intermediate hikers, walkers, runners, and mountain, as well as road, bike riders.
For a power workout, run the hill back up to the entrance, or the steep road up to the park's sports fields, a great spot for organized and recreational sports or just letting your kids run off some steam.
Serena Gundy
This gem can be accessed from Sunnybrook Park or Rykert Cres. just south of Broadway Ave. (Editor's note: I access Serena Gundy by heading north on Rumsey and onto the trails behind Bellwood Health Services.) You can descend the path from Rykert by foot or bike down a paved walkway or hike or mountain-bike down a fairly challenging off-road trail of dirt, roots, rocks, and bumps. There are multiple flat grassy areas throughout the park as well as paved trails for walkers and road bikes. And as an added attraction, Serena Gundy is home to a beautiful steel suspension bridge perfect for a bumpy bike ride.
Wilket Creek
Wilket Creek's 108 acres, accessible from Serena Gundy and Sunnybrook parks, are often the setting for organized charity walks and runs. The park features kilometres of wide, spacious paved trails perfect for all levels of activity as well as wooded space for more off-the-beaten track challenges. One of the most challenging is the 115 steps up to the Sunnybrook Sports Fields. (And yes, this intrepid writer did her full research by trekking up and down to count!)
Local mom and marathoner Sue Pribaz has been running in Serena Gundy and Sunnybrook for more than 30 years, but now that her family lives in North Leaside, she's thrilled to have the trails right at her doorstep. Says Pribaz, "Over the past few years, I have discovered trails that I had no idea were even there. Amazing that living in the middle of the city, you can run for over two hours with barely hitting pavement, and yet remain in Leaside! And this past year I have truly enjoyed sharing my love of running and the trails with an amazing group of kids weekly as we hit the trails for half-hour runs."
If you plan to enjoy all the options that these beautiful parks offer year-round, Sunnybrook Park and Wilket Creek have washrooms that are open even in the winter (from 8 a.m. until 2 p.m.). While the trails themselves aren't maintained year-round, they're still more than manageable with a good pair of boots and a great Canadian attitude.
Stay tuned for a spring piece on additional Leaside spots for physical activity. Crothers Woods, here we come!