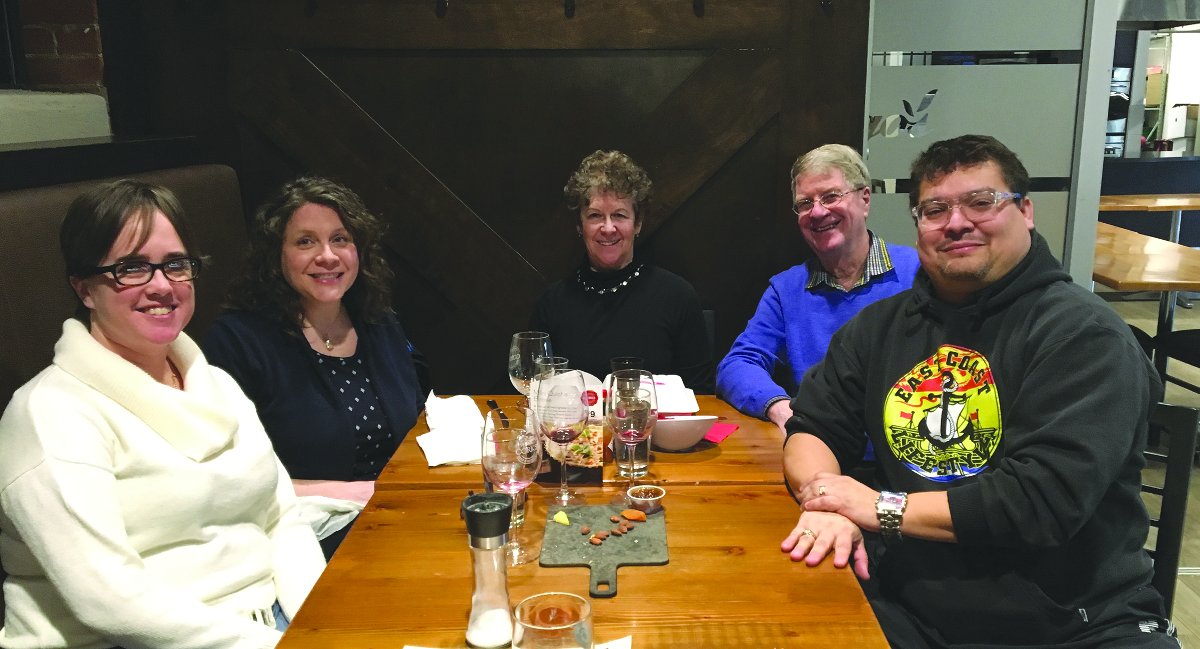 A full-service restaurant inside a grocery store? This sounds like a match made in heaven, with myriad fresh and varied ingredients readily available for a menu. But grocery stores are not exactly known for being places to kick back and relax with a great meal and stimulating conversation. This has certainly not been my experience as a registered dietitian for 20 years and counting, a career that has me regularly perusing grocery stores. The creation of the Corks restaurant in the Leaside Longo's definitely piqued my interest!
Situated in the open loft of a beautifully restored, cavernous old locomotive barn, Corks has a paradoxical modern feel. A long table near the bar lined with taps featuring local brews reminds me of a beer hall, but the cozy lounge chairs, booths and tables of reclaimed wood that fill the rest of the space remind me of a gastropub. Overall, the open concept space elevated above the grocery floor below in this grand heritage structure with 40 ft. wooden ceilings creates an ambiance that is comfortably casual, but with a subtle dignity that accompanies the legacy of such an important piece of Leaside history.
The character of this restaurant seems to revolve around the variety of local beers and wines. The menu focuses mostly on pub fare, which leans toward more carnivorous diners, and daily specials. I'm glad I brought along fellow Leasider reinforcements! A lifelong vegetarian, I quickly scanned the menu and found few non-meat options, and the restaurant is disappointingly unadventurous considering the proximity of myriad ingredients just steps below. Fortunately, I do sometimes enjoy seafood, and this would save me on Buck-A-Shuck oyster night!
We arrived at 6:00 p.m., which worked well because the place became packed not long afterward. We were greeted by a friendly server working with a broken wrist who worked hard to make sure we were looked after. We began with local beer and wine, and were pleased to be offered samples of some of the unique offerings before ordering. The Creekside Laura Red was divine. For appetizers, we ordered a few dozen oysters and a cheese board of three hard cheeses. The food took a while to arrive – fair enough – plus the oysters needed to be shucked, but the cheese board took surprisingly long. Turns out, it was being made up by the deli downstairs. Although using the deli was good way to ensure fresh product, it seemed to complicate and delay the process. Once the oysters and cheese arrived, the flavours were wonderful, and we enjoyed the accompanying basket of flatbread and toasted baguette.
During this first course, however, I did discover something that was a striking disappointment: the dishes were plastic. These dishes are the kind used in hospital kitchens, on food trucks that deliver re-thermalized food to hundreds of patients, not in a dining room.
Finally our entrées arrived, and they received mixed reviews from my dining companions. The Thai chicken soup was a hit, as was the traditional burger garnished with a gherkin. The side potato salad, ordered by two of my friends, looked like a bowl of mush. I might be biased, having grown up on German potato salad, but the consensus was that it was a bland disappointment. Similarly, the pulled-pork burger was also disappointing. The pulled pork was very dry, and strangely, placed on top of a beef burger, rather than just being served on its own.
Two of us had salads topped with salmon; I had Greek and my friend had Caesar. The fish was delicious, and well prepared. My friend was happy with her Caesar salad, but my Greek salad was a bit disappointing because of the generic bottled-typed dressing. I did note the generous sprinkling of feta cheese and olives, and this definitely helped make the salad worth ordering.
Overall, we had a nice evening, but there were definitely some disappointments. The main attraction of Corks, as the name might suggest, seems to be the variety of changing local beers and wines, perhaps along with the specials. The staff were wonderful, especially our hardworking injured server. It's a place with a fun vibe and potential to provide some great food. Hopefully Corks will consider more diverse dishes reflecting the diners of this city, and serve food on real plates.
Story contributed by Elke Sengmueller.