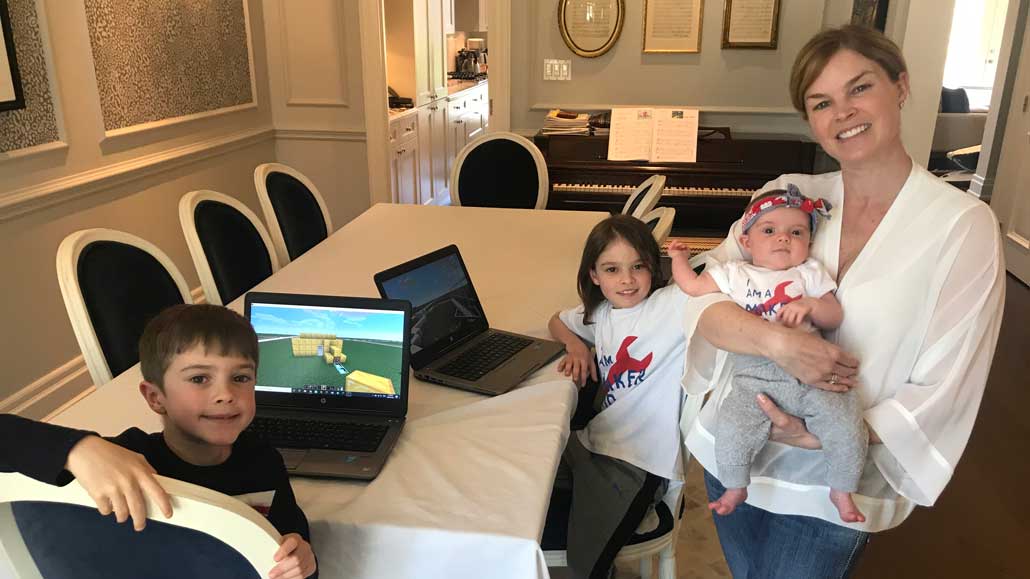 MakerKids, the "maker space" specializing in STEM (science, technology, engineering and mathematics) education for children, located at 1661 Bayview Ave., held its first virtual class on March 18, just days after public schools were closed due to COVID-19. Owner Aimee Savard reports that since all of their programs are computer-based, the transition to virtual classes was quick and smooth.
Students are now able to join virtual classes in their regular programs in Coding, Robotics and Minecraft in Grades 1 to 8. They can see, hear and share screens with instructors and other students in the class. Depending on students' age, classes are one or two hours long, and the groups work on projects together, focusing on key concepts. Instructors monitor the projects and chat with the students to engage and guide them.
Participants can attend their virtual classes at the same time as before with the same classmates and instructors, thus creating continuity with their regular routine. In addition, there are new options in the schedule, including weekend times, for a total of 25 different classes. They also offer multi-day programs, private and semi-private classes and online birthday parties.
Savard says the staff have "adapted really well" to the new classes. They are recent graduates or students with backgrounds in engineering, science and technology with "a passion for teaching." With the current demand, and anticipating a few more months of virtual classes, MakerKids is now looking to hire additional staff.
For their part, the staff are enjoying the new format and have seen an increase in students' participation levels and communication skills. They have praised the benefits of the program in creating a "tight-knit community," with the students getting to know each other better and receiving more help from the teachers.
Savard reports that the classes have received "overwhelmingly positive feedback from parents and kids." Parents are impressed by what the children are able to learn virtually and appreciate the fun and engaging activities that provide stimulation and alleviate boredom. She says that MakerKids will continue to offer virtual classes for as long as necessary, through June and potentially longer. They're also planning virtual summer camps. Savard thinks it will be a slow process back to pre-pandemic operations with a "blended approach as we transition students back into physical classes and continue our virtual programs."
One of the strengths of the MakerKids program is the fact that it combines STEM education and social skills development, says Savard. While the children are learning about the properties of electricity, for example, they are also "learning how to problem-solve, collaborate with peers, use computers properly and responsibly and think critically about the world" – skills that are becoming increasingly important in our challenging times.
For more info, visit www.makerkids.com/leaside.